Legal Rights Violations in Pakistan
Pakistan, like any other country, is expected to uphold and protect the fundamental rights of its citizens. These rights form the cornerstone of a democratic society and ensure the well-being and dignity of individuals.
However, despite constitutional guarantees, there have been instances of legal rights violations in Pakistan. This article examines three key areas where such violations persist: freedom of expression, minority rights, and women's rights.
Freedom of Expression:
Freedom of expression is on a fundamental human right that enables individuals to voice their opinions, ideas, and beliefs without fear of censorship or persecution. In Pakistan, however, this right has been subject to various limitations, resulting in violations of freedom of speech.
One notable example is the presence of laws that restrict criticism of religion, such as the blasphemy laws. While intended to protect religious sentiments, these laws have been misused to target individuals unjustly, leading to severe human rights abuses.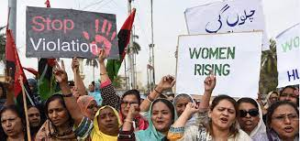 Cases of false accusations, vigilantism, and mob violence have tarnished the image of freedom of expression in the country. Moreover, journalists and media personnel face threats, harassment, and attacks for reporting on sensitive topics, including corruption, human rights abuses, and security issues.
These acts not only infringe upon the freedom of the press but also hinder the flow of information and transparency necessary for a functioning democracy.
Minority Rights:
Pakistan is a diverse country with various ethnic, religious, and linguistic minorities. Unfortunately, minority rights have often been neglected, resulting in discrimination, persecution, and violence against these communities.
Religious minorities, such as Christians, Hindus, and Ahmadis, face numerous challenges, including forced conversions, blasphemy accusations, and the destruction of religious places. These acts not only violate the rights of minorities but also undermine the social fabric of the nation.
Ethnic and linguistic minorities also encounter difficulties in the form of discrimination, limited access to education and employment opportunities, and marginalization. This undermines their ability to participate fully in society and hampers the country's overall development.
Women's Rights:
While significant progress has been made regarding women's rights in Pakistan, there are still areas where violations persist. Gender-based violence, including domestic violence, honour killings, and acid attacks, remains prevalent. Such acts not only violate women's rights to life, liberty, and security but also perpetuate a culture of fear and inequality.
Discrimination in access to education and employment opportunities is another challenge faced by women. Despite constitutional guarantees of equal rights, women often encounter barriers that limit their ability to participate fully in society. This denies them the opportunity to contribute to the country's progress and hampers its overall development.
Legal rights violations in Pakistan continue to undermine the principles of democracy, equality, and justice. The three key areas explored in this article, namely freedom of expression, minority rights, and women's rights, highlight the pressing need for comprehensive reforms and increased awareness.
Addressing these violations requires a multi-faceted approach. It involves reviewing and amending laws that infringe upon freedom of expression, ensuring their fair and just application. Protecting minority rights demands robust legislation, sensitization campaigns, and efforts to foster a culture of inclusivity and tolerance.
Similarly, women's rights must be safeguarded through comprehensive legislation, improved law enforcement, and the promotion of gender equality in all aspects of society. Education and awareness programs play a crucial role in challenging deep-rooted biases and stereotypes that perpetuate discrimination.
By recognizing and addressing legal rights violations, Pakistan can take significant strides towards building a more inclusive and just society. It is essential for individuals, civil society organizations, and the government to work together to protect and promote the fundamental rights of all citizens, irrespective of their religion, ethnicity, or gender.
Please follow and like us: