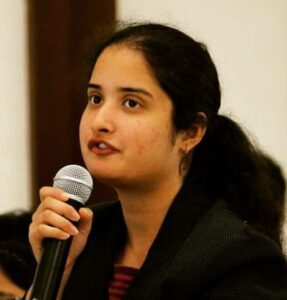 Ms. Ruchira Kaur Bali is currently pursuing her Ph.D. from LUISS, Italy, and had completed her LL.M specialization in International and Comparative Law from Trinity College of Dublin,
She graduated with B.B.A.LL.B from SLS, Hyderabad with a demonstrated history of internships both virtual and offline. incorporate. commercial IPR. Litigation and Alternative Dispute Resolution.
A curious person by nature She like to grasp more and more knowledge, for her it is her biggest strength. She believes in multitasking and has been involved in various activities along with her academics.
She believes that to learn new things, adaptability is important, and She lives up to that expectation. For her, a leader is not born but is developed over some time through consistency.
Her Academic Records:
Average CGPA of 8.12overall, and a 10 GPA in the final semester of the BBA LLB degree, having attained an 'O' in my thesis on 'Special Economic Zones: A Critical Analysis which is the highest grading to be received. 2: 1 overall in 1st and 2nd Semesters. Having scored an average of 64 %.
Subjects taken in LLM: International Aviation Law, EU Aviation Law, Contemporary Issues in EU Law, Contemporary Issues in International Law, International Economic Law, and International Trade Law.
She Wrote an LLM Thesis on, 'Resolving the crises of human rights law within the purview of International Investment Law: A path to reduce fragmentation. 'I have obtained a distinction on my thesis. In which I have attained a 70 %.
Her List of Academic Publications:
'Is International Law Eurocentric or Universal?' – Collection of Essays on National Security and Human Security- Centre For Human Security Studies.
'Competition Law in Aviation Sector: Indian Perspective'– publication date- Jul 1, 2018 publication- NALSAR: Indian Journal of Air and Space Law. Volume 8.
'Rights of Sex Workers In our Country'- publication date July 23, 2016 – http://youthforum.co.in/rights-of-sex-workers-in-india/.
Ruchira Kaur Bali, 'Are Economic Sanctions or Other Forms of 'Legal Outcasting' Short of Resort to Armed Force: An Effective means to Enforce International Law?', 4 (4) IJLMH Page 1357 – 1373 (2021), DOI: https://doij.org/10.10000/IJLMH.111430.
'Critical Analysis of Civil use of Drones: In relation to existing international laws and conventions and guidelines – LexForti Volume I, Issue VI. https://lexforti.com/legal-