Nepal PM Prachanda and Indian Prime Minister Modi engage in bilateral talks to address border issues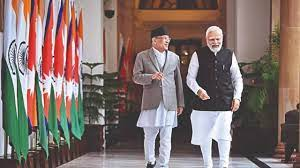 Nepal's Prime Minister Prachanda and his Indian counterpart, Prime Minister Narendra Modi, recently held bilateral talks aimed at settling long-standing border concerns between the two neighbouring countries, which was a significant diplomatic development. The discussions were held in a friendly setting and emphasised the value of cohabitation and cooperation.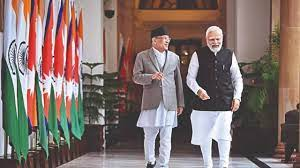 The diplomatic discussions were centred on resolving issues with border demarcation, boosting cross-border security, and strengthening bilateral trade and economic connections. Both leaders emphasised the importance of preserving a constructive discussion to promote good relations by recognising the historical and cultural ties that bind India and Nepal together.
Discussions.
Prime Minister Prachanda reaffirmed Nepal's dedication to settling border disputes peacefully and amicably during the meetings. The value of bilateral collaboration in fostering regional stability and shared prosperity was stressed by the speaker. In response, Prime Minister Modi emphasised how critical it was to overcome these problems in order to promote mutual confidence and collaboration between the two countries.
The bilateral discussions gave both nations a chance to discuss their own perspectives on the issues surrounding their shared border and look into potential solutions. The leaders decided to form a joint technical committee with representatives from both countries to conduct in-depth surveys and studies pertaining to border demarcation. To reduce disagreements, this group will endeavour to resolve any controversial regions and set distinct boundary markers.
The conversations also focused on strengthening cross-border security cooperation in addition to border challenges. Both leaders understood the need for efficient information exchange and teamwork in the fight against transnational crimes like smuggling and human trafficking. Among the major topics covered during the talks were improving collaboration between law enforcement agencies and setting up systems for ongoing communication and coordination.
The discussion also centred on improving Nepal and India's business and economic connections. The leaders pledged to remove trade restrictions and promote more seamless cross-border trade in products and services. They emphasised the possibilities for cooperation in fields including energy, tourism, agriculture, and infrastructure development, all of which would help both countries' economies expand.
In addition, Prime Minister Modi invited Prime Minister Prachanda to visit India, highlighting the value of high-level interactions in further strengthening bilateral ties. In order to further the ties of friendship and collaboration between the two countries, both leaders emphasised their desire to participate in ongoing discussions and consultations.
Prime Minister Prachanda and Modi's bilateral discussions mark a significant advancement in resolving Nepal's and India's long-standing border disputes. The conversations revealed a shared desire for peaceful resolutions and the promotion of productive collaboration. The formation of a joint technical committee and the focus on economic and cross-border security cooperation indicate the intention to overcome obstacles and create a successful future for both countries.
It is anticipated that the two nations' future interactions would be marked by constructive engagement and cooperation, opening the door for improved bilateral ties and supporting regional peace and stability.
Impact of the Meet.
Prime Ministers of India and Nepal, Prachanda and Modi, recently held bilateral negotiations with the goal of resolving long-standing border disputes between the two nations. On a number of fronts, including border demarcation, cross-border security, and trade and economic cooperation, the conclusion of these negotiations might have a big influence.
The creation of a joint technical committee with members from India and Nepal is a significant development in the settlement of border conflicts. To clarify controversial areas and provide distinct boundary markers, this team will conduct extensive surveys and investigations. The committee's activities may make it easier for people and products to cross the border peacefully and thereby promote regional stability by reducing border disputes.
A major topic of conversation at the talks was cross-border security cooperation. The recognition of the value of efficient information exchange and teamwork in the fight against transnational crimes like human trafficking and smuggling holds the potential for greater security in the area. To handle security issues along the shared border, it is crucial to improve collaboration between law enforcement authorities and set up regular communication and coordination procedures.
Another important goal of the negotiations was to improve relations between Nepal and India economically and commercially. Increased trade volumes and economic growth for both countries are possible as a result of the commitment to reducing trade obstacles and promoting easier cross-border movement of products and services.
The economies of both countries are projected to profit from cooperative efforts in industries like energy, tourism, agriculture, and infrastructure development. The invitation extended by Prime Minister Modi to Prime Minister Prachanda to visit India shows a willingness for additional high-level discussions that could improve bilateral relations. The leaders' commitment to fostering their countries' friendship and cooperation is shown by their ongoing discussions and consultations.
These bilateral discussions have an impact that goes beyond the immediate results. The region can benefit from increased trade and economic cooperation, improved cross-border security, and the successful resolution of border concerns. As a result, there is a chance that this will draw in outside capital, advance regional unification, and open the door to long-term peace and prosperity for both India and Nepal.
It will be critical to keep an eye on how the agreements made during these negotiations are being put into practice as the two nations go forward. The genuine impact of these bilateral conversations will be determined by the prompt completion of the duties assigned to the joint technical committee, efficient law enforcement agency collaboration, and observable advancements in trade and economic cooperation.
Despite the possibility of difficulties during the implementation phase, the leaders' shown dedication and the creation of systems to deal with pressing problems give cause for optimism. The constructive engagement and cooperation demonstrated during these discussions establishes the groundwork for a positive trajectory in Nepal-India relations, which has the potential to positively affect the entire region. Stakeholders from all sectors will closely monitor the progress made as things develop in the wake of these talks. The results obtained will likely influence how Nepal-Indian ties develop in the future, having an impact on not just the two nations but also their neighbours and the larger international community.
Please follow and like us: