Nine years of Modi and 9 crucial policies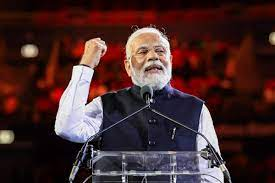 As Narendra Modi completes nine years in office as the Prime Minister of India, it is crucial to examine his government's achievements and initiatives across key areas such as the economy, infrastructure development, and foreign policy. Over the years, the Modi government has implemented various policies and reforms aimed at fostering economic growth, transforming India's infrastructure landscape, and strengthening its position on the global stage.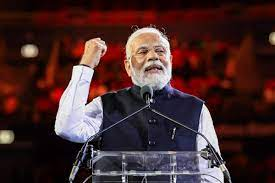 This introduction provides a glimpse into the significant strides made under Modi's leadership in terms of economic reforms, infrastructure development, and foreign policy initiatives, setting the stage for a comprehensive analysis of his nine-year tenure.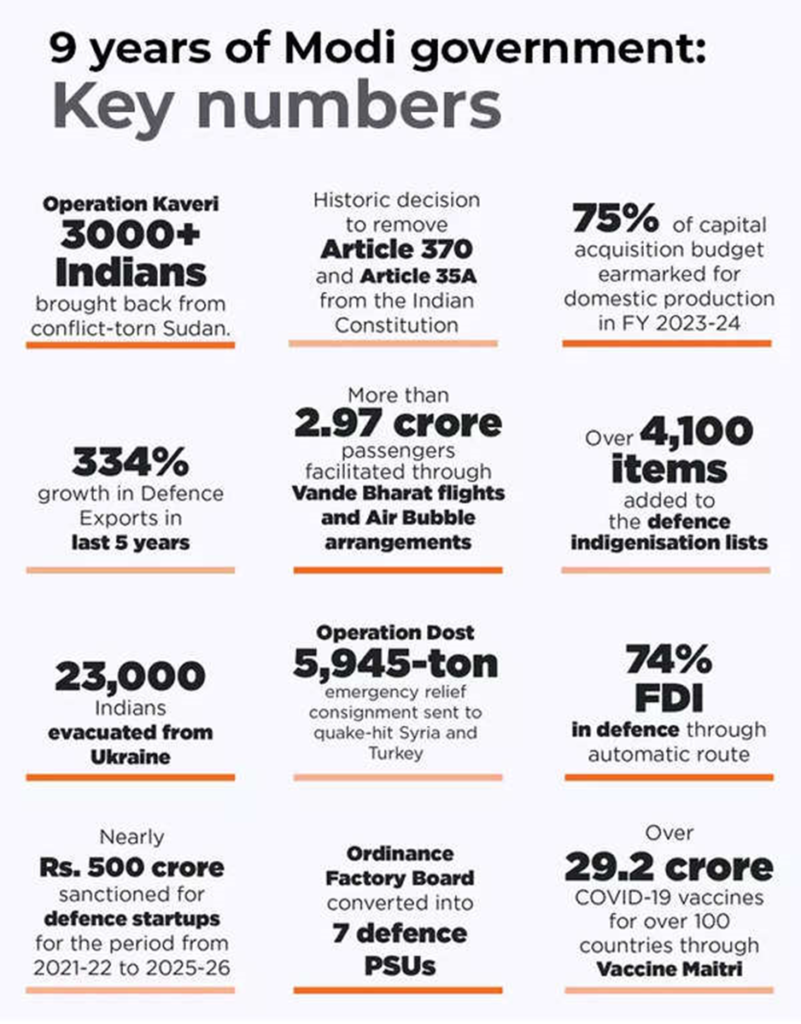 Economic Reforms: The Modi government implemented various economic reforms, including the introduction of the Goods and Services Tax (GST) to streamline indirect taxation, the Insolvency and Bankruptcy Code (IBC) to address the issue of non-performing assets, and the implementation of the Direct Benefit Transfer (DBT) scheme to ensure targeted subsidy delivery.
Make in India Initiative: The Make in India initiative aimed to boost domestic manufacturing and attract foreign direct investment (FDI). It sought to improve the ease of doing business, encourage innovation, and create employment opportunities by focusing on sectors like automobile manufacturing, electronics, defense, and renewable energy.
Digital India Campaign: The Digital India campaign aimed to transform India into a digitally empowered society and knowledge economy. It focused on expanding digital infrastructure, increasing internet connectivity, and promoting digital literacy. Initiatives like Aadhaar (a biometric identification system) and the Unified Payments Interface (UPI) were launched to enhance digital governance and financial inclusion.
Infrastructure Development: The Modi government placed significant emphasis on infrastructure development. The flagship initiative of Bharatmala aimed to enhance road connectivity across the country. Additionally, initiatives like Sagarmala focused on port-led development, while the Smart Cities Mission aimed to transform selected cities into sustainable and citizen-friendly urban centers.
Swachh Bharat Abhiyan (Clean India Campaign): Launched in 2014, this nationwide cleanliness drive aimed to improve sanitation and hygiene. It focused on building toilets, eliminating open defecation, and promoting waste management practices. The campaign aimed to create a cleaner and healthier environment for the citizens.
Foreign Policy Initiatives: The Modi government pursued an active and dynamic foreign policy, aiming to strengthen India's global standing. Initiatives such as the Act East Policy aimed to deepen engagement with Southeast Asian countries, while the Neighbourhood First Policy focused on enhancing relations with neighboring countries. The government also emphasized building strategic partnerships with major powers worldwide.
International Solar Alliance: India played a key role in establishing the International Solar Alliance (ISA), a coalition of countries with abundant solar resources. The ISA aims to promote solar energy deployment and reduce reliance on fossil fuels. It seeks to address climate change challenges through cooperation on solar technology, capacity-building, and mobilizing financial resources.
UDAY: The Ujwal DISCOM Assurance Yojana (UDAY) was introduced by the Ministry of Power and received approval from the Union Cabinet on November 5, 2015. This scheme focuses on the revitalization of DISCOMS (power distribution companies) through a comprehensive approach encompassing financial restructuring, operational enhancement, cost reduction in power generation, promotion of renewable energy sources, and improvements in energy efficiency and conservation. The primary objectives of UDAY are to improve the financial and operational stability of DISCOMS, stimulate power demand, reduce stressed assets, facilitate access to affordable funds, encourage higher capital investments, and ultimately ensure the availability of uninterrupted power supply for all at an affordable cost.
National Infrastructure Pipeline (NIP): In order to facilitate India's transition from an agrarian-based economy to one driven by the service sector, there was a recognized need for robust infrastructure. In response, the Modi government introduced the NIP, which aimed to address this requirement. It was estimated that approximately US$1.4 trillion would need to be invested in infrastructure development for India to achieve a GDP of US$5 trillion. The NIP proposed an investment of US$1.4 trillion for infrastructure projects across different states. The major focus areas, comprising nearly 80% of the allocated funds, were roads, urban and housing development, railways, power (both conventional and unconventional sources), and irrigation. Several infrastructure projects were included in the NIP, such as the development of national waterways, the Cochin International ship repair facility, rural footbridges, gas distribution projects, water supply projects, submarine optical fiber cable projects, BTS installation projects, medical colleges, and sports complexes, among others. A total of 9,265 infrastructure projects were included in the NIP, with many already completed and approximately 2,198 either being implemented or nearing completion.
Please follow and like us: