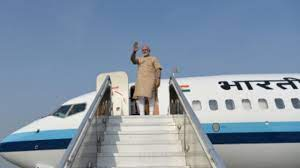 Article . current affairs
PM Modi's Three-Nation Six-Day Tour
On May 22, 2023 by V B Archana Priya
Prime Minister Narendra Modi is all set to begin a three-nation tour, visiting Japan, Papua New Guinea, and Australia on 19th May'2023.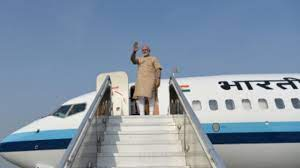 PM Modi's presence at the G7 Summit in Japan
He will attend the G7 summit in Japan at the invitation of Japanese Prime Minister Fumio Kishida. Foreign Secretary Vinay Mohan Kwatra stated that key priorities for this year's G7 summit include nuclear disarmament, economic resilience, and security, regional issues, climate and energy, food and health, as well as digitalization and science and technology.
India's participation at the Hiroshima summit will consist of three formal sessions: one focusing on food, health development, and gender equality; another addressing climate energy and environment; with the last session centered on promoting a peaceful world. During his visit to Japan for the G7 Summit, PM Modi is expected to hold bilateral discussions with several leaders from member countries.
In addition to India being invited to participate in this year's event by host nation Japan; Australia, Brazil, Comoros, Cook Islands, Indonesia, South Korea Vietnam along with international organizations such United Nations (UN), were also extended invitations. Prime minister meeting their counterparts will be unveiling the bust of Mahatma Gandhi in Hiroshima. During the time spent there, the QUAD leaders also being planned to meet.
Mr Khatra said regular presence at G7 Summits shows how India is growing recognition among the efforts to resolve global challenges including those of peace, security, development, and environmental preservation, and adding that more salient in the context of ongoing presidency G20 and efforts prioritize interests concerns of fellow Global South countries.
PM Modi's Pacific Diplomacy Tour
During the second part of his visit, Prime Minister Modi will arrive in Port Moresby, Papua New Guinea on the evening of May 21st.
The following day, he and his counterpart James Marape will co-host the third Forum for India-Pacific Islands Cooperation (FIPIC) summit. This event involves India and 14 Pacific island countries and marks the first visit by an Indian Prime Minister to Papua New Guinea.
While in Papua New Guinea, Modi will engage in bilateral meetings with Governor General Bob Dadae and Prime Minister James Marape. Additionally, he will hold discussions with Fiji's Prime Minister Sitiveni Rabuka, and New Zealand's Prime Minister Chris Hopkins.
PM Modi's presence in Sydney, Australia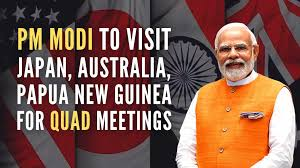 On May 22nd, Mr. Modi will travel to Sydney, Australia where he is scheduled to meet Australian Prime Minister Anthony Albanese on May 24th. During this time, he is also expected to call on Governor General David Hurley. On May 23rd, Mr. Modi plans to interact with Australian CEOs and business leaders at a community event in Sydney alongside addressing the Indian diaspora; Australian Prime Minister Anthony Albanese is anticipated to join him at this gathering.
A brief about G7 Summit
Let's discuss the G7, an intergovernmental political forum consisting of Canada, France, Germany, Italy, Japan, the United Kingdom, the United States, and The European Union (being a non-enumerated member).
The G7 is centered around shared values of pluralism and representative government. Its members form the world's largest IMF-advanced economies and liberal democracies.
As of 2020, G7 members represent over half of the world's net worth at $200 trillion and account for 30-43% of global GDP. With a combined population of 770 million people, these countries hold significant influence in global affairs and maintain strong political, economic, diplomatic, and military ties.
The G7 originated in 1973 as an informal gathering of finance ministers but has since evolved into a formal venue to discuss solutions for major global issues such as trade, security, economics, and climate change. Annual summits are attended by each member's head of government or state along with EU Commission and Council Presidents. High-ranking officials from other states and international organizations also participate throughout the year.
Despite not being based on any treaty or having permanent offices, the G7 wields considerable international influence through its rotating annual presidency. Japan is set to preside in 2023. The group has led critical initiatives such as combating the HIV-AIDS pandemic; providing financial aid to developing nations, and addressing climate change through the Paris Agreement.
However, critics argue that the G7's limited membership lacks diverse representation leading to ineffectiveness while anti-globalization groups often protest during their summits.
A brief about FIPIC
FIPIC: Strengthening India-Pacific Island Relations
The Forum for India-Pacific Islands Cooperation (FIPIC) is a multinational alliance between India and 14 Pacific Island nations established in 2014. These include the Cook Islands, Fiji, Kiribati, Marshall Islands, Micronesia, Nauru, Niue, Samoa, Solomon Islands, Palau, Papua New Guinea, Tonga, Tuvalu, and Vanuatu.
The inaugural annual summit took place in Suva, Fiji in November 2014 with the participation of heads of state or governments from these countries. The second gathering was held in Jaipur, India. The third summit is to be hosted by Papua New Guinea on May 22nd.
Conclusion
India has actively supported other nations during the COVID pandemic, providing aid such as 100,000 doses of Covishield vaccines to countries like Maldives and Seychelles. This assistance extended beyond Indian citizens and showcased India's global commitment.
Numerous bilateral discussions have taken place in recent times, including Prime Minister Modi attending the first India Central Asia virtual summit in January 2022 and the Quad Leaders Summit in Washington DC in September 2021. Additionally, India hosted the 13th BRICS Summit virtually amid COVID concerns in September 2021.
The Prime Ministers of Sweden and India also held a virtual meeting in March 2021. These are just a few examples of countless initiatives and dialogues involving India on an international level.
External Affairs Minister Mr. S Jaishankar has played an active role in engaging with various countries across regions such as South Pacific, Indo-Pacific, United Nations organizations, multilateral economic relationships, and economic diplomacy forums like BIMSTEC and SAARC. As a result of these efforts, it is evident that India maintains strong external affairs worldwide and continues to emerge as a rising nation among its peers.
Please follow and like us:
You may also like