The Happiest Countries in the World:Report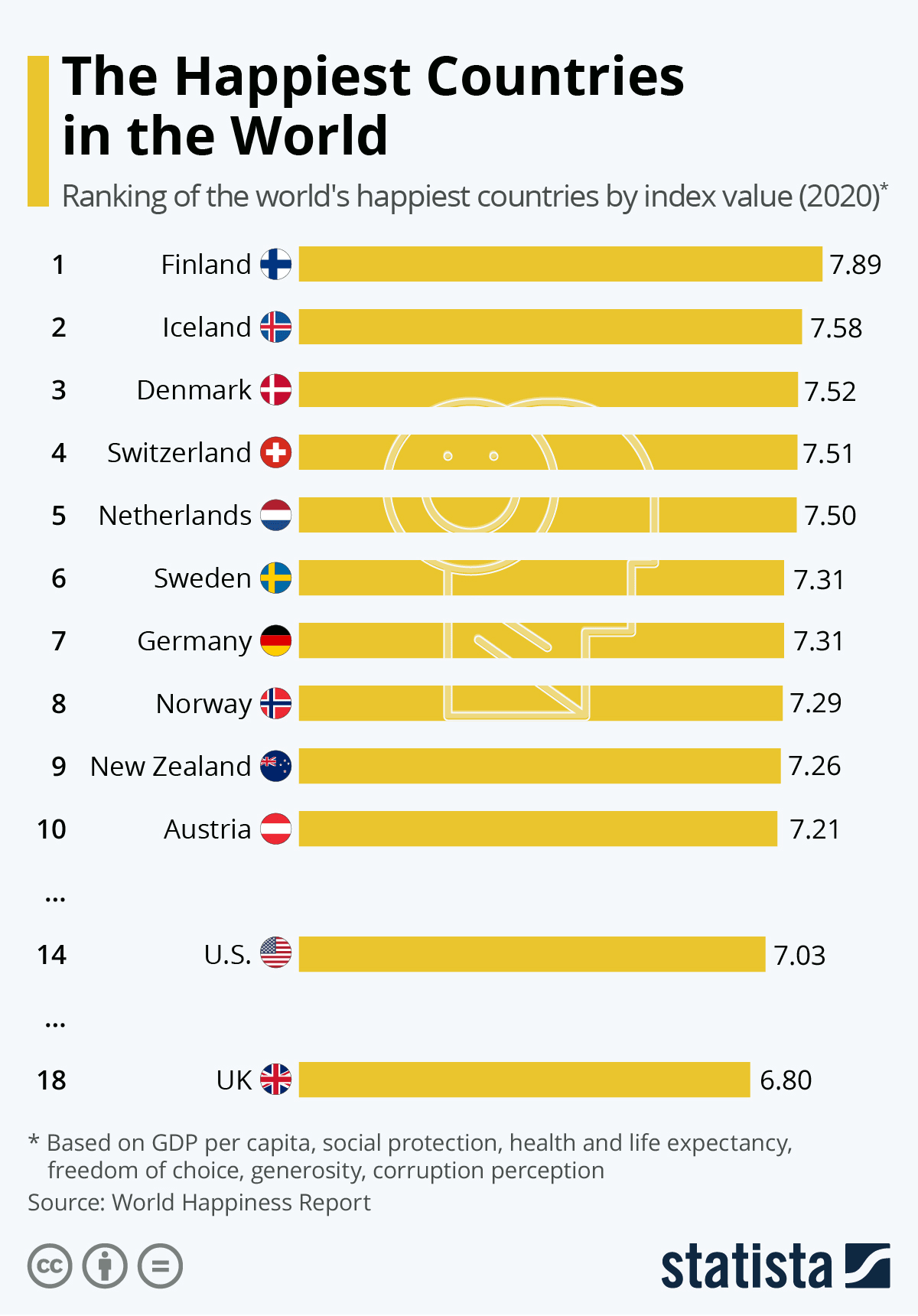 The happiest countries in the world are a source of great interest for many people. These countries offer insight into how different cultures and societies can achieve high levels of happiness and contentment, despite their unique circumstances.
The United Nations Sustainable Development Solutions Network recently released its World Happiness Report, which ranks 156 countries on various metrics related to well-being such as income, healthcare access and social support networks.
According to this report, the top five happiest nations in the world are Finland 1st Denmark 2nd Norway 3rd Iceland 4th and the Netherlands 5th. Finland has been ranked first for three consecutive years due to its strong performance across all categories measured by the report including healthy life expectancy at birth; freedom from corruption; perceived social support; generosity per capita; GDP per capita adjusted for purchasing power parity among others.
In addition to these factors, Finland also scores highly on "life satisfaction" with citizens feeling that they have good control over their lives as well as having a sense of purpose within society itself which is seen through higher rates of volunteering compared with other developed nations.
Similarly, Denmark offers excellent quality healthcare services along with generous welfare benefits such as free education up until 18 years old along with universal daycare coverage allowing parents more time away from work if desired or needed without worrying about childcare costs.
This allows Danish citizens greater financial security leading them to feel more secure overall enabling them to enjoy life even further than some other developed nations may be able to. As part of this culture it is not uncommon for Danes to take several weeks off throughout the year during vacation times, something that contributes significantly towards general well-being across the population.
Together these five most happy nations demonstrate how different societal structures can lead to increased levels of joy amongst populations, whether it comes to forming a strong economic foundation or cultural values promoting relaxation and leisurely activities like vacations mentioned above.
Ultimately though no matter what country one resides there will always be certain aspects beyond one's control but understanding what makes others around the globe live happily provides valuable insights helping individuals strive better future themselves regardless of where they come from
Norway has one of Europe's highest GDP rates meaning most Norwegians live comfortably without having to worry about basic needs being met; however, it's not only economic wealth driving Norwegian contentment but rather an appreciation of nature around them too! Over half of Norway is covered in mountains forests lakes rivers fjords glaciers etc.
Norwegians take full advantage of these natural wonders offering ample opportunities to hike camp ski fish kayak canoe sail explore etc. Allowing individuals to escape the hustle and bustle of city life whenever desired to provide a sense of tranquillity relaxation joyfulness essential to maintaining a healthy mental state! Overall these 3 Nordic countries demonstrate how investing in quality public services combined with respecting the environment and promoting a balanced lifestyle can result higher than average global ranking happiness
Denmark actually outperformed the leader in a number of categories, such as the perceived absence of corruption, GDP per capita, and generosity, showing that it may take over as the number one nation in the near future. One such nation is Finland which was recently ranked as the happiest country in the world by The World Happiness Report 2020.
This Scandinavian nation has some impressive figures when it comes to quality of life; its citizens enjoy free healthcare services provided by their government as well as generous parental leave policies for new parents returning to work after childbirth or adoption.
Furthermore, Finland's educational system is highly regarded around the globe due to its focus on individualized instruction for each student rather than standardized tests or curriculums that can be found elsewhere in Europe or North America.
Finally, Denmark ranks among one of the most contented countries due largely because it offers excellent economic security through generous unemployment benefits, universal healthcare coverage, and free college tuition fees for all students regardless of income level.
Additionally, Denmark's residents benefit from having ample time off work – up six weeks of paid vacation per year – allowing them to spend more time with family and friends pursuing hobbies and personal interests. All these factors combined contribute to making this Nordic country on the top contender list when comes to discussing the so-called happiest places on earth.
Please follow and like us: