The Ukraine- Russia Conflict a Unilateral Intervention: Human Rights At Stack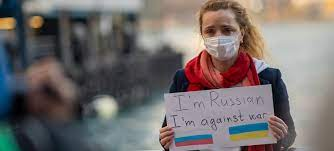 At the 76th annual Cannes Film Festival, Ilona Chernobai, a model and fitness influencer from Ukraine also protested by poring some fake blood on herself making a point on "anti-war".
Ukraine Russia is one of the most talked about Unilateral Intervention that is still a hot topic in the current geopolitical situation. Ukraine recently witnessed a heavy drone attack on its capital city of Kyiv.
The story goes back to the time when in 1991, USSR got divided into 15 countries and its largest part was Russia. Ukraine was one such small country that was one part of Russia. The reason why the current conflict is going on is because Ukraine is tied to joining NATO (North Atlantic Treaty Organization).
NATO is an ally of the USA itself and It's seen as a direct attack on America if anyone attacks any member country of NATO. The North Atlantic Treaty Organization, also called the North Atlantic Alliance, is an intergovernmental military alliance.
It includes 31 member states – 29 European and two North American. NATO and European Union shares 22 members in common. NATO's purpose is to guarantee the freedom and security of its members through political and military means.
While Russia says that Ukraine should not join NATO because it's seen as a direct threat to them in terms of national security. Russia believes that NATO is trying to expand itself by joining Ukraine. U.S.A and Russia are also fighting to establish themselves as the "World's Biggest Power" since World War. Meanwhile, Ukraine sees it as an opportunity to join hands with the West and get military support from the U.S.A., and have its own identity in the world as an independent state.
This tug-of-war between Russia and the U.S.A people are losing their lives in massive military attacks. After the world witnessed the massive and destructive outbreak of the COVID-19 pandemic the economic crisis is already a big problem to face and in such a situation, war becomes a plus.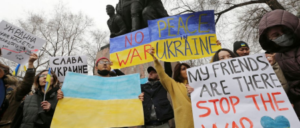 Ukraine is very important in terms of strategic military planning and resource access for the West. In 2014, Cremia a part of Ukraine was captured by Russia which led to Russia being thrown out of G8 Membership. In 2022, Russia called a special military
operation against Ukraine and captured Luhansk and Donetsk (Donbas region). USA, France, UK, and Germany blamed Russia for proving Russian-speaking people of the region to become "separatist".
Donbas region, on the other hand, contains oil and natural gas resources. The region also contains Gas fields that transfer natural gas to parts of Europe and the world. Both Russia and Europe want to gain access to Ukraine because for the West it provides access to Russia and for Russia, it's important in terms of resources and security point of view. If Ukraine joins NATO then this will give access to the U.S.A and that can result in U.S.A intervention in Russia in the future.
The conflict has led to displacement of millions of people from Ukraine to Poland and other neighbouring countries. Erased 30 percent of pre-war jobs. and nearly 40 percent of the population of Ukraine requires aid and protection. Almost 10 million people are at risk of acute post-traumatic stress disorder which include 7.8 million children. Many peoples have lost their lives. Russia is also suffering the deadly consequences.
Ukraine's Minister for Foreign Affairs Dmytro Kuleba said, "Russia is the problem of the world." "Peace means justice and all the peace-loving nations will win peace on the battlefield and at the diplomatic table," he said, requesting a minute of silence in memory of victims of aggression.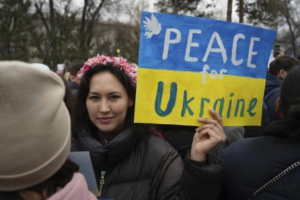 Russian ambassador Vassily Nebenzia recalled that the conflict had started in 2014, he said Ukraine is "not a victim". "If Kyiv did not wage war on the people of Donetsk and Luhansk, there would have been no need for Russia's special military operation", he added. "If Ukraine stops hostilities, it will save many lives. Russia stands ready to negotiate for peace."
"The guns are talking now, but in the end, we all know that the path of diplomacy and accountability is the road to a just and sustainable peace, in line with the UN Charter and international law," the Secretary-General said."We must prevent further escalation, encourage every meaningful effort to end the bloodshed and, at long last, give peace a chance," he added.
---
References :
● https://news.un.org/en/story/2023/02/1133877
● https://indianexpress.com/article/explained/explained-culture/anti-war-to-a nti-dress-codes-the-many-protests-at-cannes-over-the-years-8629539/ ● https://www.marca.com/en/lifestyle/world-news/2022/03/06/622517e222601d 1e328b4571.html
● https://www.independent.co.uk/news/world/europe/russia-ukraine-war-news -nato-membership-b2174404.html
Please follow and like us: