Truth has become a Victim in the age of false news, said Justice DY Chandrachud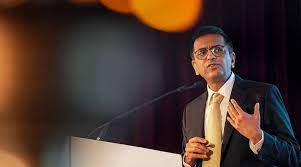 Chandrachud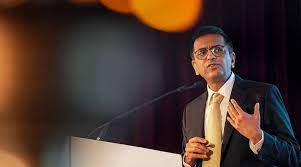 Recently, Justice Chandrachud spoke at the American Bar Association Indian Conference, 2023 on the topic "Law in the age of Globalization: Convergence of India and the West." He stated that the Indian Constitution is a significant illustration of globalization even before the world entered the age of globalization. He further added that during the drafting of the Constitution, its creators may not have foreseen the direction in which humanity would develop. Justice also addressed the issue noting that the truth has become a victim in the age of false news. He went on to state that with the proliferation of social media, ideas that are presented as seeds often grow into elaborate, untested theories. Additionally, he observed that people today are less tolerant and patient when confronted with perspectives that differ from their own.
Further as per Justice Chandrachud, just as technology and travel have connected people globally there has also been a trend towards individuals rejecting beliefs that do not align with their own. He cited the instance of the Indian Judiciary's adoption of video conferencing during the COVID-19 pandemic as a gentle start that eventually expanded to all courts. In the modern world, we are surrounded by information. We have access to more news and data than ever before and it is easier to communicate with people from around the world. But with this increased access to information comes a significant problem the spread of false news.
This statement from Justice also highlights the significant problem that we are facing today which is the spread of misinformation. False news stories can spread like wildfire on social media and it can be challenging to discern what is true and what is not. This concern has compounded the fact that people tend to gravitate towards sources of information that confirm their existing beliefs rather than seeking out diverse viewpoints. Another consequence of the spread of false news is the impact on public discourse. When people are exposed to false news stories, they may become more entrenched in their existing beliefs leading to a decrease in tolerance and an increase in polarization. This can lead to a situation where people are less willing to engage in constructive dialogue with those who hold different views further contributing to a breakdown in communication.
Moreover, the problem of false news is not limited to social media. Traditional media sources have also been known to spread false information often with significant consequences. For instance, during the early days of COVID-19, some media outlets downplayed the severity of the virus leading to a delayed response and the unnecessary loss of life. So what can be done to address the concern of false news? One solution is to promote media literacy. People need to be taught how to identify false news stories and how to evaluate sources of information critically. By developing strong critical thinking skills people can become more discerning consumers of information and less likely to be swayed by false news stories.
Another solution is to promote greater transparency in media sources. Media outlets should be held accountable for spreading false information and should be required to issue corrections when they make mistakes. Additionally, journalists should be encouraged to engage in fact-checking and to report on multiple sides of an issue rather than simply presenting one viewpoint. Moreover, it is also essential to promote a culture of tolerance and open dialogue. People need to feel comfortable expressing their views even if they are different from those of others. By creating an environment where people feel safe to express their opinions we can encourage greater understanding and tolerance between people.
The spread of false news is a significant problem that is eroding the truth and contributing to a breakdown in communication. It is essential to find ways to address this issue such as promoting media literacy, promoting transparency in media sources and promoting a culture of tolerance and open dialogue. He said by doing so we can create a more informed and engaged society where people are better equipped to make informed decisions and to engage in constructive dialogue with those who hold different views.
Please follow and like us: