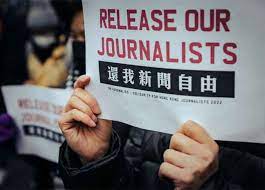 Article . Human RIghts
Violation of Freedom of Speech and Attack on Journalists
On April 15, 2023 by Sadaf Jalil Malik
Freedom of expression is a right of every human being. Everyone has the right to express themselves, share their opinions, and report any kind of violation of their basic rights.
However, this important right is violated many times whereby people despite having the right cannot exercise it. Freedom of speech is the right to express one's opinions without any censorship, restriction, or legal punishment.
Article 19 of UDHR states that "Everyone has the right to freedom of opinion and expression; this right includes freedom to hold opinions without interference and to seek, receive and impart information and ideas through any media and regardless of frontiers, either orally, in print, art or any other medium".
Despite having the right, its violation is seen in many instances, either in the form of censorship of talk shows, attacks on journalists both physic