Violation of Freedom of Speech and Attack on Journalists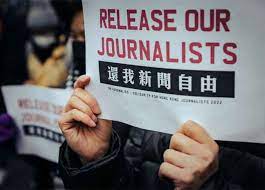 Freedom of expression is a right of every human being. Everyone has the right to express themselves, share their opinions, and report any kind of violation of their basic rights.
However, this important right is violated many times whereby people despite having the right cannot exercise it. Freedom of speech is the right to express one's opinions without any censorship, restriction, or legal punishment.
Article 19 of UDHR states that "Everyone has the right to freedom of opinion and expression; this right includes freedom to hold opinions without interference and to seek, receive and impart information and ideas through any media and regardless of frontiers, either orally, in print, art or any other medium".
Despite having the right, its violation is seen in many instances, either in the form of censorship of talk shows, attacks on journalists both physical and mental, a ban on certain channels, and ban on accounts on social media, or self-censorship on television and newspapers by journalists or TV channels hosts.
Journalists are an important source of providing information for the general public. They are a medium between people and the government and state institutions. They not only provide information to the general public but also raise the concerns of common people to relevant authorities. They tend to criticize government policies that are somewhat not in people's favor. They also raise issues of people in front of government personnel.
However many times these led to abuses of journalists. Attack on journalists is common worldwide. In the recently released 2021-2022 Freedom of expression report 2021 and 2022 UNESCO, the deaths of 86 journalists were reported last year, amounting to one every four days, up from 55 killings in 2021. At least 86 cases of attacks and violations against media including journalists, over the course of one year – between May 2021 and April 2022, took place in Pakistan.
Journalists experience threats, abuses, harassment, and violations whenever they report on certain contents that are critical of state institutions, governing bodies, political parties, people with powerful backgrounds,s, etc. there are many cases where journalists are drawn into legal proceedings, are tortured, kidnapped, harassed, abused both physically and mentally, are removed from their jobs, have their accounts ban on social media.
There are also instances whereby their families are also tortured. Sometimes they are forced to even leave the country. For example, Arshad Sharif a leading journalist on one of the prominent channels in Pakistan was forced to leave the country in August 2022.
There were many charges filed against him because he made some remarks against the state institutions on his talk show. Later in October 2022, He was killed by Kenyan police in Nairobi in a case of mistaken identity. His death led to strong condemnation by the public and an investigation was started on the orders of the Prime minister later his death was alleged by the investigation team as a planned assassination. The Supreme Court also formed an independent team to inquire into the case however there are still no results.
However, it's not just one case there are many journalists who are expelled from their jobs and even got arrested by the police because of their remarks against governing bodies. Not just the journalists most of the time even the channels are banned. For example, ARY News a leading news channel went off the air in August 2022 in many parts of Pakistan owing to its shows and journalists' remarks on the government institutions.
With a ban on news channels and the removal of journalists from their jobs, many journalists use social media now a day for spread their message however in recent times a ban on even the social media accounts of journalists is observed. For example, Twitter, whereby the service is asked to take down the accounts of people who are deemed as problematic for the government.
Freedom of speech is the right of everyone and journalists raise their voices and opinions for the betterment of the country. It's part of their job to disseminate the truth among the public. Criticizing government policies is a part of their job. They shouldn't be stopped from doing things that are right. They shouldn't be harmed just because they are performing their duty with honesty.
Like in Covid times when there were lockdowns and people were at their homes they were still performing their jobs and according to the press emblem campaign, at least 1,967 journalists died because of the virus between 2020 and 2022.
It's high time for the state to realize the importance of journalists and their right to freedom of expression and gave them proper security and safety where they can perform their duty without any threat or violation.
Please follow and like us: