Article . Human RIghts
Child Labour: A Global Concern Demanding Urgent Attention.
On May 27, 2023 by Aneeza Saleem
Child labour remains a distressing global issue, affecting millions of children worldwide. Defined as the exploitation of children through any form of work that deprives them of their childhood, interferes with their ability to attend regular schooling, and is mentally, physically, socially, or morally harmful, child labour poses severe threats to the well-being and development of children.
Causes of Child Labour:
Child labour is a complex issue with multiple causes. Understanding these causes is crucial for developing effective strategies to combat and eradicate child labour. Here are some key causes:
Poverty: Poverty is one of the primary driving forces behind child labour . Families living in poverty often struggle to meet their basic needs, and children may be forced to work to supplement family income and contribute to household expenses.
Lack of Access to Education: Limited access to quality education, including factors such as high costs, inadequate school infrastructure, and lack of transportation, pushes children into the workforce. When education is not prioritized or accessible, children are more likely to engage in labour at an early age.
Limited Employment Opportunities for Adults: In areas with high unemployment rates or limited job opportunities for adults, children may be compelled to work to support their families. At the point when grown-ups can't find appropriate work, youngsters are many times seen as extra kinds of income.
Cultural and Social Norms: Cultural beliefs, traditions, and societal attitudes can play a role in prolonging child labour. In some societies, children are expected to contribute to family income or perform certain tasks as part of their upbringing. These cultural norms can normalize and justify child labour practices.
Weak Legal Frameworks and Enforcement: Inadequate or poorly enforced legislation related to child labour allows the practice to persist. Weak legal framework might need suitable guidelines, age cutoff points, or punishments for managers who exploit child labour.
Global Demand for Cheap Labour: In industries where low-cost labour is demanded, children are often exploited as a source of cheap and easily exploitable workforce. Industries such as agriculture, manufacturing, mining, and textiles are particularly susceptible to to child labour practices due to the demand for cost-effective production.
Migration and Displacement: In situations of conflict, natural disasters, or economic instability, families may be displaced or forced to migrate. This can upset access to education and employment opportunities, leaving children vulnerable to exploitation and pushing them into labour.
Discrimination and Gender Inequality: Gender disparities contribute to child labour, with girls often being at higher risk. They may be involved in domestic work, providing care liabilities, or forced into early marriages, limiting their access to education and exposing them to exploitation.
Lack of Awareness and Social Protection: Insufficient awareness and understanding of the negative consequences of child labour contribute to its persistence. Additionally, limited social protection systems, including access to healthcare, social welfare, and support services for vulnerable families, can perpetuate child labour.
Globalization and Supply Chains: With regards to globalized creation and supply chains, child labour can happen at various stages. Absence of straightforwardness and oversight in supply chains can make it trying to follow and address kid work rehearses
Consequences of Child Labour: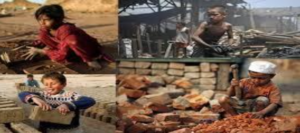 Child labour inflicts severe physical, emotional, and psychological consequences on children. Forced to engage in hazardous occupations, such as mining, agriculture, and factory work, children are exposed to dangerous working conditions that jeopardize their safety and health.
Prolonged working hours deprive them of the opportunity to play, learn, and develop essential skills. Child labour also steal from children of their innocence and subjects them to exploitation, abuse, and trafficking. Moreover, the lack of education preserves a cycle of poverty, hindering their long-term scenarios and perpetuating social and economic inequalities
International Efforts and Legal Frameworks:
Recognizing the urgency of addressing child labour, international bodies such as the International Labour Organization (ILO) have formulated conventions and guidelines to combat this issue. The ILO's Convention No. 182 on the Worst Forms of Child Labour sets international standards for eliminating the worst forms of child labour, including slavery, trafficking, and hazardous work. Several countries have enacted legislation and policies to address child labour, yet implementation and enforcement remain significant challenges.
The Employment of Children Act, 1991: This law prohibits the employment of children below the age of 14 in any occupation or industry. It also establishes penalties for employers who violate the provisions of the Act.
The Punjab Restriction on Employment of Children Act, 2016: This law specifically applies to the province of Punjab and prohibits the employment of children under the age of 15 in any occupation or industry. It outlines penalties for offenders and provides for the establishment of inspection teams to enforce the law.
Arrangements:
Destroying child labour requires a complex methodology including legislatures, common society associations, organizations, and people. State run administrations, most importantly, should focus on interest in schooling, guaranteeing free and available quality training for all children.
Reinforcing implementation systems and punishments for violators of child labour regulations is vital. Cooperation with organizations is imperative, as they should embrace rigid production network guidelines and direct ordinary reviews to guarantee no youngster work is engaged with their activities.
Furthermore, worldwide collaboration is fundamental for addressing cross-line issues connected with child labour, including dealing and constrained work. Governments should share best practices, exchange information, and coordinate efforts to eradicate child labour. Civil society organizations play a vital role in raising awareness, advocating for policy reforms, and providing support and rehabilitation services for affected children and their families.
Conclusion:
Child labour remains a grave violation of children's rights and a global challenge that demands immediate attention. Governments, international organizations, businesses, and individuals must unite in their commitment to eradicate child labour. Concerted efforts are required to address the root causes, strengthen legal frameworks, improve access to education, and create sustainable livelihood options for families. By investing in children's education, protecting their rights, and providing them with a safe and nurturing environment, we can break the cycle of child labour and pave the way for a brighter future for all children
Please follow and like us:
You may also like