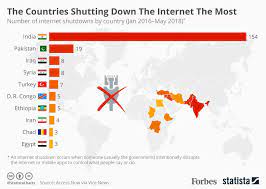 Article . Science and Technology
Countries are shutting down the internet -Are they encroaching on the Freedom of Expression
On March 3, 2023 by Garima Pandey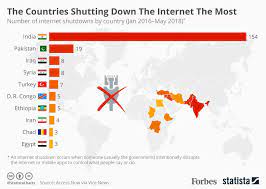 The direction of traffic on the Internet is determined by BGP routers. Hackers keep an eye on these BGP routers. they can hack and manipulate them. Through this hijacking, large amounts of information can be stolen or the direction of internet traffic can be changed. It is possible that there is an incident like hacking or cyber attack behind the internet shutdown. Its possibility cannot be denied. however, the entire Internet system rests on a very fragile structure. Our increasing dependence on the internet has made the situation even more complicated. In such a situation, the danger to him is also increasing. About 30 Internet traffic exchanges in different countries operate the Internet smoothly. these exchanges are planted in secure and sturdy buildings and carry cables from multiple popular network providers. If the cables of any exchange in these 35 buildings get cut due to power cuts, earthquakes etc., then the Internet system of the whole world will be affected. According to many studies conducted in western countries, its effect can be worse than the global lockdown. The economy, medicine, government systems, operation of satellites, tourism, business and the human mind are affected if the internet is closed for some time. At present, internet services are being provided to the whole world only through optical fibre cables laid at the bottom of the oceans. experts have been warning that Internet services can be provided through these cables only for a maximum of 20 years. That's why global websites advocate the use of CDN services like Fastly because it allows easy and fast access to any website from any corner of the world. In such a situation, when a CDN provider like Fastly stops working, it inevitably affects its customer websites. Internet is interrupted for many reasons and its shutdown for a short time has a profound effect on the economy, banking system, air travel, business, social life, etc. Today, a large part of the global economy is dependent on the Internet, in such a situation, if the Internet stops even for an hour, then thousands of crores of rupees have to be lost. According to a report by Britain's Digital Privacy and Security Research Group Top-10 VPNs, in 2020, there was a loss of about $ 4 billion worldwide due to an internet shutdown. 
From marketing to communication, a large part of industries and businesses rests on the Internet. The Internet has simplified many of our problems today, because of which we usually find everything easy. There are approximately 4.72 billion active internet users worldwide. In India itself, about 62 crore people are connected to the Internet. By the way, our attention hardly goes to this side that sometimes we may have to live without the internet. 
The incidents of internet shutdowns have increased in recent years. On the 8th of this month, suddenly thousands of popular websites around the world stopped working. four decades ago, there was a time in the world when there was no trace of the Internet. But today most people cannot even imagine their life without the internet. Anyway, in this era of Corona epidemic, most of the work of the whole world is dependent on the Internet. Just like air is necessary for breathing, the same way the internet is necessary for carrying out various activities of daily life.
Please follow and like us:
You may also like