CRITICISM VS FREEDOM OF SPEECH VS BLASPHEMY
INTRODUCTION:
Article 19 of the Indian constitution deals with the right to Freedom of speech and expression gives the right to express one's opinion freely without any fear through oral/written/electronic/broadcasting/press. This right is only given to the citizens of India. This article also creates checks and balances in the government.
BLASPHEMY – An act of insulting or showing contempt or lack of relevance to God.
HATE SPEECH – Abusive or threatening speech or writing that expresses prejudice against a particular group or an individual, especially based on race, religion, or sexual orientation.
Blasphemy In the Eyes of India:
India has no law dedicatedly to dealing with blasphemy. But Indian Penal Code (IPC) has provisions regarding blasphemy (sections 154, 295, 295A, 296, 297, and 298, with jail sentences ranging from one year to 3 years) to tackle insult to a religious group or communal tension and violence.
Any kind of law for blasphemy is a clear violation of Article 19 i.e., it curtails the individual's right to Freedom of speech and expression protected under Article 19(1)(a) of the Indian constitution. It is considered as most abused law when it comes to suppressing the voice of minorities, rationalists as well as scientists and
It often comes under a rain of questions over its legality in the present modern establishments of the world and it is regarded as a hindrance in the development of scientific temper among people and also a methodology of imposing the religious beliefs and virtue of one community over another. Section 295A of IPC, 1860 deals with the law against blasphemy under the guise of hate speech.
Here they see blasphemy and hate speech as the same thing, but they are not. Hate speech can be seen as a threat to people in the name of religion but
blasphemy should be considered as the freedom of people to place their opinion in front of others. Blasphemy is sometimes misunderstood as a criticism of religion. India is a secular country where no religion is dominant and this blasphemy also prevents religion from being dominant but it is considered a crime as a secular country it should not only protect the freedom of
practising your religion freely but also it should protect the opinions and freedoms of people who don't believe and practice any religion. Religion can survive without penal punishments. Here it shows that some laws of the country are also involved in the violation of the human rights of its citizens.
Blasphemy in the Eyes of the Outside World:
According to Judeo- Christian culture, all acts which involve verbal abuses or offences against sacred values and sentiments lead to the penalty of death and Judeo- Christian culture considers blasphemy laws to protect the sanctity of any organised religion. Catholic theology considered blasphemy as a sin and is defined as any word of the curse, expressions of disapproval, or vituperation pronounced against god.
The definition of blasphemy was introduced into French law in the 13th century (after great debate among French moralists), based on the definition given by St. Thomas Aquinas: A sin of language, "a failure to declare one's faith", thus representing an attack on the purity of religion.
Earlier in England and USA, the state gave authority and responsibility to the church for investigation and prosecution in cases involving blasphemy. Later, states started enforcing stricter laws against serious crimes of dissent against the deities because of common belief.
There is a decline in blasphemy prosecutions after the Enlightenment era. In 1952 US supreme court held blasphemy laws unconstitutional and in 1955, blasphemy laws were abolished in Australia and England in 2008. Since 1969, the US has had no blasphemy prosecution. In England, the last blasphemy prosecution was done in 1977. USA and China do not support blasphemy laws.
In Pakistan and Iran, only Islam is protected under blasphemy laws. Amongst 71 countries, only 2 countries i.e., Iran and Pakistan have incorporated the capital punishment of death of the offence. In countries like Afghanistan, Saudi Arabia, etc blasphemy is punishable with execution. Around 25% of the countries in the world have defined punishments for the offence of blasphemy.
Blasphemy Cases in India: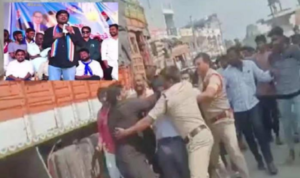 Recently a case was booked on Bairi Naresh who is a Dalit leader and head of "Bharata Nasthiks Samajam" for abusing "Lord Ayyappa" under IPC 153A. He was caught and manhandled by the ayyappa devotees in Hyderabad. He passed some statements against Hindu religious figures like lord Ayyappa, lord Shiva, and lord Vishnu at a public meeting.
The complaint was lodged by a woman named Karate Kalyani who said "It became the fashion to disgrace Hindu gods for popularity and demanded strict action against Naresh for hurting the sentiments of Hindus".
His freedom of speech was seen as a crime by many people which resulted in his detention person. Here not only his freedom of speech and expression but also his right to life and liberty was also kept at stake as many people manhandled him(beaten).
It is not the first case of blasphemy in India and will not be the last. Similarly, Alt News co-founder Mohammad Zubair was arrested by Delhi police for hurting religious sentiments through a 2018 Twitter post. It has been called unjust by his lawyers and supporters. Mahindra Singh Dhoni vs Yerraguntla Shyamsundar, state of Haryana vs ch. Bhajan lal were some examples of some cases of blasphemy in India.
Conclusion:
As human mindsets are not equal their opinions will also be not equal. One's opinion may or may not be considered by others and sometimes it may hurt others but stopping them from keeping out their opinions is not the solution.
Hence, Blasphemy law restricts an individual's right to his/her freedom of speech and expression.
---
References:
1. https://www.ssrn.com/
2. https://lawschoolpolicyreview.com/2020/09/04/criminalizing-blasphemy and-the-threat-to-free-speech-the-Indian perspective/#:~:text=Sec.,a)%20of%20the%20Indian%20Constitution
3. https://www.indiatoday.in/news-analysis/story/blasphemy-history-legal constitutional-udaipur-killing-nupur-sharma-1968400-2022-06 30#:~:text=Naturally%2C%20India%20has%20no%20law,or%20communal %20tension%20and%20violence
4. https://www.legalserviceindia.com/legal/index.html
5. https://blog.finology.in/
6. https://www.youtube.com/@ZeeTeluguNews.
Please follow and like us: