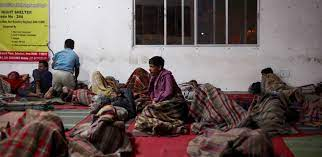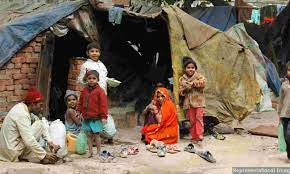 India, with a population of over 1.3 billion people, is home to one of the largest homeless populations in the world. Despite significant economic growth in recent years, poverty and inequality remain pervasive issues in the country, leading to high levels of homelessness.
Unfortunately, homeless people in India are often subjected to serious violations of their human rights, including lack of access to basic necessities like food, water, shelter, and healthcare.
According to a recent report by the National Coalition for the Homeless, there are approximately 1.77 million homeless people in India, with the majority of them living in urban areas. These individuals often lack access to safe and adequate housing, and are forced to live on the streets, in parks, or in other public spaces. Many of them do not have access to clean water, proper sanitation facilities, or medical care, which increases their vulnerability to illness and disease.
Homeless people in India also face significant challenges in accessing education and employment opportunities, which perpetuates the cycle of poverty and homelessness. The lack of government support and social welfare programs for homeless individuals exacerbates these problems, leaving many of them to rely on the generosity of others or engage in informal labour in order to survive.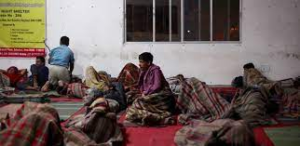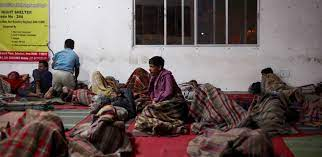 In addition to these structural issues, homeless people in India also face significant social stigma and discrimination. They are often viewed as a nuisance or a burden on society, and are subjected to harassment and violence by both the police and the general public.
Women and children who are homeless are particularly vulnerable to exploitation and abuse, including sexual violence and trafficking.
Despite these challenges, there have been some efforts in recent years to improve the situation of homeless people in India. The government has launched several programs aimed at providing housing, healthcare, and employment opportunities to homeless individuals, although these initiatives have been criticised for their limited scope and effectiveness.
Various NGOs and civil society organisations are also working to address the issue of homelessness in India, providing support and advocacy for homeless individuals and working to change public perceptions of this marginalised group.
According to a 2021 report by the Centre for Equity Studies, the COVID-19 pandemic has led to a significant increase in homelessness in India, with an estimated 2.6 million people becoming homeless due to the economic impact of the pandemic.
The majority of homeless individuals in India are men, although women and children also make up a significant proportion of the homeless population. According to a 2019 study by the National Law School of India University, women and children make up around 22% of the homeless population in Delhi.
Homeless individuals in India are more likely to suffer from health issues than the general population. A 2017 study by the Public Health Foundation of India found that homeless individuals in Delhi had significantly higher rates of respiratory infections, skin diseases, and mental health issues than the general population.
The Indian government launched the Deendayal Antyodaya Yojana-National Urban Livelihoods Mission (DAY-NULM) in 2013, which aims to provide housing, employment, and social security to homeless individuals and other marginalised groups. However, as of 2021, the program had only reached a small proportion of the homeless population in India.
NGOs and civil society organisations play an important role in addressing the issue of homelessness in India. According to a 2020 report by Homeless Collective, there are over 300 NGOs working on issues related to homelessness in Delhi alone. These organisations provide a range of services, including shelter, food, healthcare, education, and legal assistance.
Homelessness affects Human Rights:-
Homelessness can have a profound impact on the enjoyment of human rights. Here are some of the ways in which homelessness can affect human rights:
Right to Adequate Housing: Homelessness fundamentally violates the right to adequate housing, which is recognized as a human right under international law.
Adequate housing is more than just a roof over one's head – it includes access to basic services like water and sanitation, security of tenure, affordability, habitability, and accessibility.
Homeless individuals are unable to enjoy any of these aspects of adequate housing, which can have serious consequences for their health, safety, and well-being.
Right to Food and Water: Homeless individuals often struggle to access basic necessities like food and water, which are also recognized as human rights. Without a stable and secure place to live, it can be difficult to access these resources, and homeless individuals may have to rely on irregular sources like soup kitchens or public taps. The lack of access to safe and adequate food and water can lead to malnutrition, dehydration, and other health problems.
Right to Health: Homeless individuals often lack access to basic healthcare services, which can also violate their right to health. Without access to regular medical care, homeless individuals may be more vulnerable to illness and disease, and may not receive appropriate treatment when they do fall ill. This can lead to a cycle of poor health and disability that further exacerbates their homelessness.
Right to Education: Homelessness can also impact the right to education, particularly for homeless children. Without a stable and secure place to live, it can be difficult for children to attend school regularly and consistently. Homeless children may also face discrimination and stigma in school, which can lead to social exclusion and further disadvantage.
Right to Non-Discrimination: Finally, homelessness can also be a violation of the right to non-discrimination. Homeless individuals often face stigma and discrimination on the basis of their housing status, which can limit their opportunities and exclude them from full participation in society. This can lead to further social and economic marginalization, perpetuating the cycle of homelessness.
Measures to eradicate homelessness ;-
Eradicating homelessness is a complex and multifaceted issue that requires a comprehensive approach. Here are some strategies that can be used to address homelessness:
Housing First Approach: A Housing First approach is an evidence-based approach to addressing homelessness that prioritises providing homeless individuals with permanent, affordable housing as quickly as possible.
This approach recognizes that stable housing is a prerequisite for addressing other issues like mental health, addiction, and employment, and that homeless individuals are more likely to succeed in addressing these issues when they have a stable place to live.
Supportive Services: In addition to providing housing, homeless individuals often need a range of supportive services to help them address the issues that led to their homelessness in the first place. This may include mental health and addiction treatment, employment services, and case management. Providing these services alongside housing can help ensure that homeless individuals are able to maintain their housing and address the root causes of their homelessness.
Legal Protections: Homeless individuals often face discrimination and harassment, and may have their human rights violated on a regular basis. Legal protections, such as anti-discrimination laws, can help to protect the human rights of homeless individuals and ensure that they are not unfairly targeted or excluded from society.
Public Awareness: Raising public awareness about the issue of homelessness can help to reduce stigma and discrimination, and can also encourage public support for policies and programs that address homelessness. Public awareness campaigns can also help to dispel common myths and misconceptions about homelessness, and can highlight the importance of providing housing and supportive services to homeless individuals.
Collaboration: Addressing homelessness requires collaboration across a range of sectors, including government, non-profits, and the private sector. Collaboration can help to ensure
that resources are used effectively and efficiently, and can also help to build political will and public support for addressing the issue of homelessness.
In conclusion, the high level of homelessness in India represents a significant human rights issue, with homeless individuals facing significant challenges in accessing basic necessities like food, water, and healthcare, as well as education and employment opportunities.
These individuals also face significant social stigma and discrimination, which exacerbates their vulnerability and increases their risk of exploitation and abuse.
While some efforts have been made to address the issue of homelessness in India, much more needs to be done to ensure that homeless individuals are able to access their basic human rights and live with dignity and respect.
Please follow and like us: