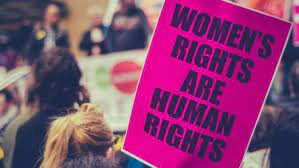 Article . Human RIghts
"Only Humans? Or the New Media also influencing Patriarchy which leads to Human Rights Violation"
On April 23, 2023 by Niksha Agrawal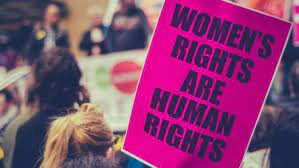 ABSTRACT
In this article, the subordination of individuals in a patriarchal society is shown. The creation of the concept of private property brings inequality among individuals which violates human rights such right to equality, the right to speech and expression, the right to freedom etc.
This article also tells about how still patriarchy is in progress. A very giant reason which is promoting patriarchy is through media, songs, advertisements, and cinema. Movies like, 'thappad', 'the great Indian Kitchen', 'Bodyguard', 'Dabangg, 'kabir Singh', 'Son of Sardar', 'Sholay', 'Kabhi Khushi Kabhi Gam', such serials like, 'Balika Vadhu', 'Yeh Rishta Kya Kehlata Hai', 'Sasural Simarka', 'Bhabhi Ji Ghar Par Hai', such songs- 'Main Tera Hero',' Aj Se Teri', 'Palat', 'Tu Ha Kar Ya Na Kar'. These are certain examples which are showing and influencing patriarchy, which also makes society act according to norms and regulations.
INTRODUCTION
Human rights are not only violated in the public sphere but private sphere as well. Control over someone else's desire, torturing them mentally, or restricting them from doing something can also be a Violation of human rights.
All this starts from the family itself and the very first reason is because of patriarchy. It is a very big issue which should be highlighted and focused on that such dictatorship can be restricted, but it is ongoing and also influencing through various sources such as religion, cinema, history, news, and even sometimes law or state as well.
We can observe how women are subordinated in this patriarchal society. Patriarchy means the rule of men in a society or any organization. The breadwinners of the family are not only suppressing their wife but their sister, daughter and every woman who are living around them.
Also not only women but sometimes men are also suppressed by the male head of the family as shown in a movie named – 'Suryawansham'. Men are asked to follow the rule which are created by the male head, doesn't matter, whether it is wrong or right.
FORMATION OF PATRIARCHY
The suppression of women started after the creation of gender roles. Gender includes the idea of masculinity and femininity. A famous philosopher, Friedrich Engle describes how patriarchy became dominant in society – He said in earlier times society was egalitarian, and both men and women were masters in their respective fields. The formation of private property kept men in a dominant position.
When the surplus production became men's activity and was highly valued and women became "first domestic servants" who will look after the home and their children also, lost the value of their work. Women became the private property of men and exchanged as a gift through the concept of monogamous marriage it happened when men want their wives whom they can control over their children who will inherit their property to the next generation.
It lead to the formation of patriarchy and was 'the world's historical defeat of women'. According to Engle, the idea of masculinity and femininity is because of the formation of patriarchy and the formation of patriarchy is because of the concept of private property.
He also said the idea of masculinity and femininity is the product of a history which is created by human beings and can be changed by human efforts. The destruction of patriarchy will result in the liberation of the desires of several individuals.
CINEMA INFLUENCING PATRIARCHY
Patriarchy still exists in society. Media, cinema, newspapers etc are representing patriarchy through their sources. It somehow guides the breadwinner to act in a certain way in society. In the movie, 'The
Great Indian Kitchen' the woman is doing all the household chores and her husband is working outside. There were no physical conflicts in the family but there was ' structural violence ' (conflict without violence – mental conflict).
In this movie, a woman wants to become a dance teacher but the male head of the family didn't allow her because there was a violation right to freedom and choice. This movie encourages the male leader of the house to treat others as their slaves. This is how this movie influences patriarchy.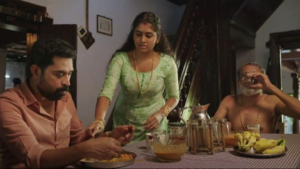 Further, an advertisement of 'red label' – add. Of tea, in this advertisement, a couple is living in a relationship that their parents were not aware of that. When suddenly parents come to the couple's home they saw and were not accepting that relationship but when the girl who is in relation with the boy make and bring good tea for their parents, they start accepting their relationship.
It shows that if a woman can do all household chores, they are accepted by society but if a woman is not doing according to their syllabus they are not. This advertisement is addressing that women should be good enough at doing household work. Also, it shows that those couples have no right to choose their partner without the consent of their parents. This is how advertisement cinema influences their view to promote patriarchy.
CONCLUSION
Television should portray their views to entertain not to adhere to the idea of masculinity and feminity in society. Movies, advertisements, news, etc. should not be biased towards any gender. It should try to restrict the promotion of sexism.
---
REFERENCES
• https://www.thequint.com/amp/story/entertainment/indian-cinema/the-great-indian kitchen-malayalam-film-patriarchy-suraj-venjaramoodu-nimisha-sajayan-jeo-baby • https://youtu.be/7pOFqpZAKds
Please follow and like us:
You may also like
Calendar
June 2023
M
T
W
T
F
S
S
1
2
3
4
5
6
7
8
9
10
11
12
13
14
15
16
17
18
19
20
21
22
23
24
25
26
27
28
29
30