INTRODUCTION:
On the 20th of May, 2023, 10 out of 34 Ministers were sworn in, including Chief Minister Siddaramaiah and his Deputy DK Shivakumar. And almost a week after, on the 27th of May, 2023, 24 new Ministers were administered the oath of office and secrecy by the Governor of the State, Thaawarchand Gehlot, in the Glass House at Raj Bhavan in Bengaluru.
Thus, expanding Chief Minister Siddaramaiah's Cabinet of Ministers right after Congress gained power in the southern state of Karnataka.
MINISTERS OF THE CABINET: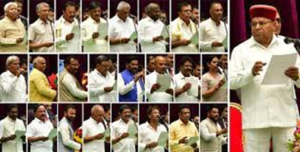 The swearing-in ceremony started at 11:45 A.M. and went on for more than an hour with a crowd booming with relatives and well-wishers who gathered at Raj Bhavan to watch them take the oath of office ad secrecy.
Out of these 24 Ministers who were sworn in, one of them was the All-India Congress Committee (AICC) Secretary, N. S. Boseraju, who is not a member of either House of State Legislature and still took the oath to become a Minister.
Siddaramaiah spent three days in Delhi holding a meeting with the party leadership and going through rounds and rounds of discussions. Finally, these 24 Members of the Legislative Assembly (MLAs) were chosen after hectic deliberations, that stretched into hours on hours, between Siddaramaiah and the top central leaders, along with AICC general secretaries Randeep Surjewala and K. C. Venugopal as well as DK Shivakumar. The final approval of the list came from Congress President Mallikarjun Kharge and Rahul Gandhi.
Byrathi Suresh,
B. Nagendra,
Dinesh Gundu Rao,
D. Sudhakar,
Eshwar Khandre,
H. K. Patil,
H. C. Mahadevappa,
Krishna Byregowda,
K. Venkatesh,
K. N. Rajanna,
Laxmi Hebbalkar,
Madhu Bangarappa,
Mankal Vaidya,
M. C. Sudhakar
N. Cheluvarayaswamy,
N. S. Boseraju
Rahim Khan,
Sharanabasappa Darshanapur,
Shivananda Patil,
S. S. Mallikarjun,
Shivaraj Tangadagi,
Sharanaprakash Rudrappa Patil,
Santosh S. Lad, and
Thimappur Ramappa Balappa.
These were the 24 Ministers that took the oath as MLAs. However, the allocation of their respective portfolios is yet to be assigned and announced.
EQUAL REPRESENTATION: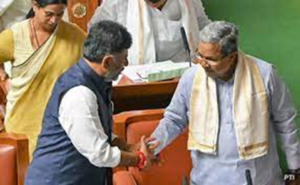 The final cabinet is a carefully proportioned mixture of those from various groups that exist in India, in order to promote a sense of inclusivity.
Siddaramaiah has made efforts at making his Cabinet more inclusive and has thereby created a list based on harmony through "caste-combination" to ensure equal representation, by giving the general public region-wise and caste-based representation, taking into consideration the experience of the older Members and also calculating the involvement of the younger people by considering their innovative process of thought.
The Ministers who were sworn in as Ministers for the first time ever include a variety list ranging from Mr. Boseraju, Mr. Byrathi Suresh, Ms. Hebbalkar, Mr. Madhu Bangarappa, Mr. Mankal Vaidya, Mr. Nagendra, Mr. Sudhakar. Mr. Rajanna, to Mr. Venkatesh.
6 of these 24 Ministers were from the Lingayat Community,
4 Ministers from the Vokkaliga group,
3 were selected from Scheduled Castes (SC)
2 were selected for the Scheduled Tribes (ST)
5 were selected from the Other Backwards Classes (OBC)
And only one-woman Minister.
With such an expansion, Chief Minister, Siddaramaiah's Cabinet has reached the full strength of 34 Ministers. And the lone woman among these 34 Ministers is Smt. Laxmi Hebbalkar, who was elected from the Belagavi Rural Constituency.
PROTEST
In the meanwhile, protestors were seen holding up placards near Raj Bhavan, against the non-inclusion in the cabinet, of the leaders they supported such as Priyakrishna and M Krishnappa who were both three-time and four-time MLAs respectively.
Please follow and like us: