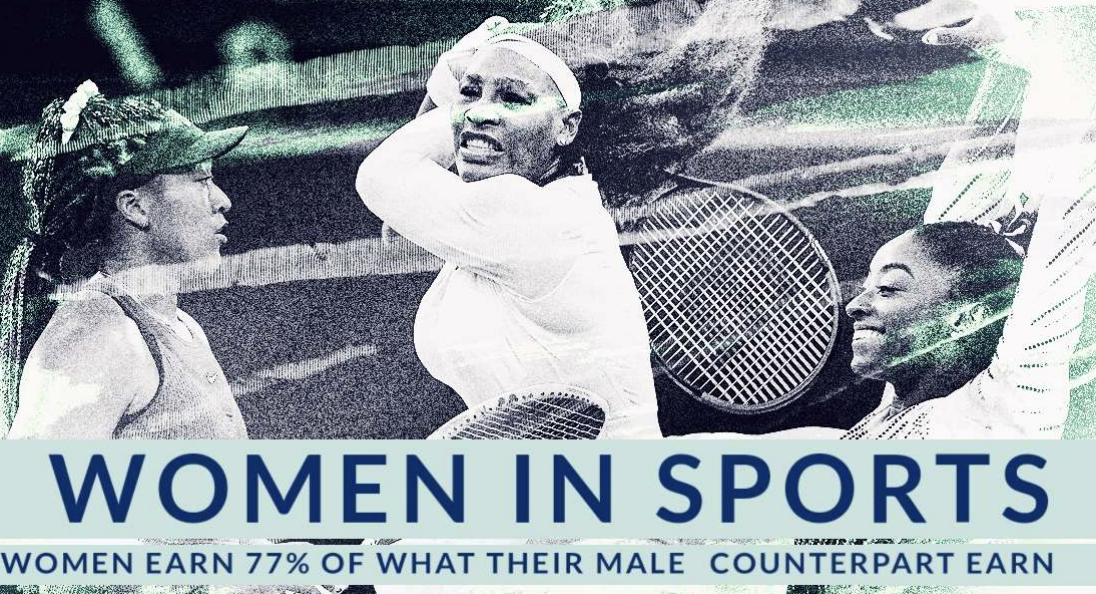 Serena Williams this year became no. 49 on the top 50 highest-paid athletes list. The only
woman on that list and most of those earnings are before taxes and agent's fees, and most
of the fees are from a large number of endorsement deals with different brands such as
Nike and Lincoln, etc. This will also probably be her last year as a player.
Naomi Osaka, Maria Sharapova, and Li Na are the only women other than Serena
Williams to be in the top 50 highest earners in sports, and this is dating back to 2012.
Average athlete pay in the United States is who is somewhere in the middle in terms of
play and pay can earn around $77,300, and in India that is no. 5,67,000 per year.

A Woman athlete's average pay who was in the WNBA would be $75,000 just above the
salary of an average player while male athletes who play in the NBA get paid about
$8,321,937. Major league soccer players get paid $410,730, while the women players who play the
same game get paid $35,000.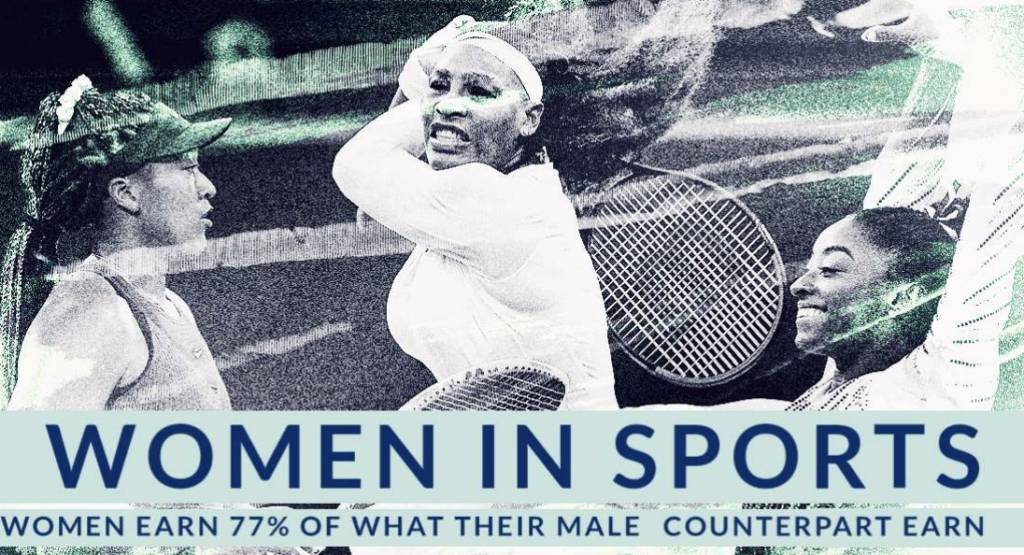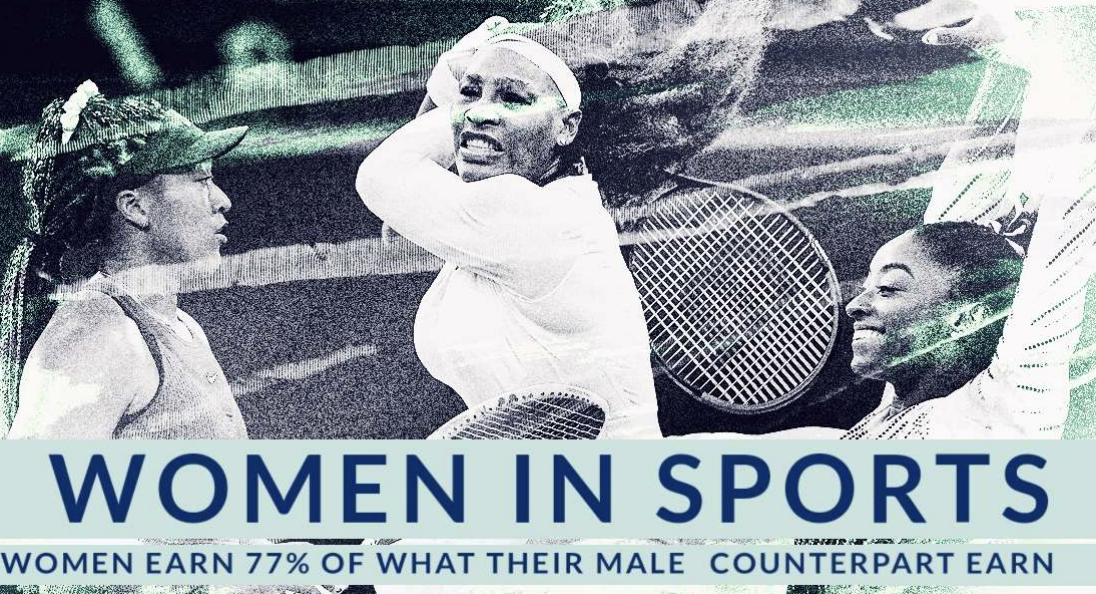 See the large amount of gap between the payments?
In Individual sports the gap is lesser between the sexes, the only sport where we see
athletes being paid the same as in the tennis grand slam tournaments, but for smaller
events the prize money offered to women is less than half of what is offered to the men.
But that is also because it is harder to stand out in a group as opposed to standing alone.

Gender pay gap
The gender pay gap is the average difference between the amount paid to a male member
and a female member for doing the same work.
This pay gap is there due to many reasons such as one can say like discrimination based
on gender as a basis, the penalty for motherhood, parental leave, etc.
This pay gap has not changed since the 1970s; the 1st time Tennis Star, Billie Jean King
made people aware of the pay gap between the sexes, this was solidified when she won
the match Battle of the Sexes which led to the US Open then offering female athletes the
same pay as that of male athletes.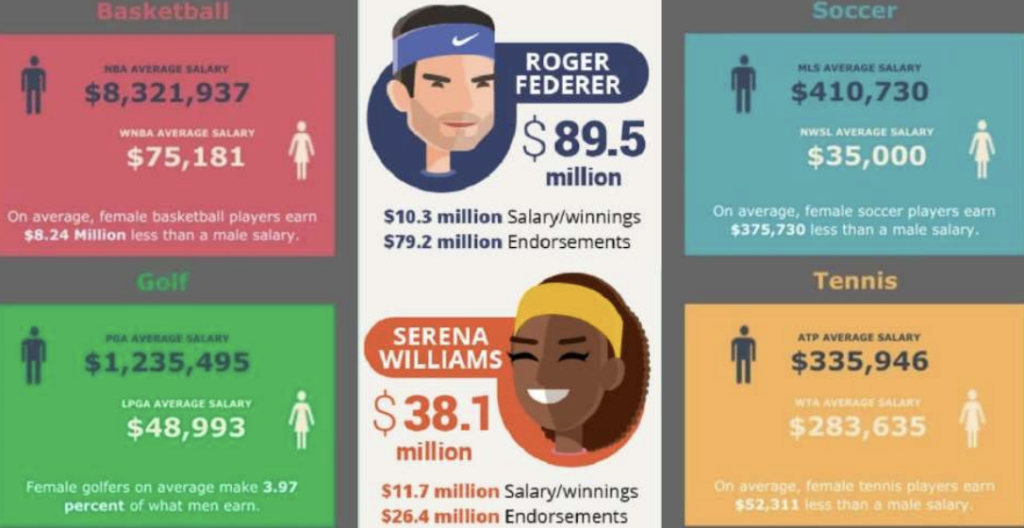 Viewership/ Sponsorship
The main features besides prize money in a game are the amount of viewership the games
get, and how many endorsements deals the sports stars can make from brands so that their pay increases. A study states that women get about 0.4% of all sports sponsorships
compared to that men.
Novak Djokovic said that men deserved to be paid more than women because men's sports
are watched more than women's sports.

Over the years no doubt that women's participation in different sports and competitions
and their winnings has made headlines but it still lags in the amount of viewership; the
main determinant for pay disparity along with endorsement deals.

For instance, in the UK women make up 40% of athletes while their media coverage is
4%.
Sports channels also focus less on the game of these athletes and make it more of a
sexually charged focus on them.

Chak de! India
The one point to be mentioned in this movie concerning this topic is that there is one
specific point in the movie where the officials ask 'Where will these girls run around
wearing shorts and playing with sticks?' There is also a point where the officials decide
to just take the sponsor for the world cup and give it to the men based on the fact that the
men will at least get a bronze medal home, the pressures married women face when they
are following their passion and being an athlete are all discussed in this movie seemingly as a fictional storyline.
This movie was truly ground breaking especially for dealing with so many issues and
being so far ahead of its time, this movie truly blew minds.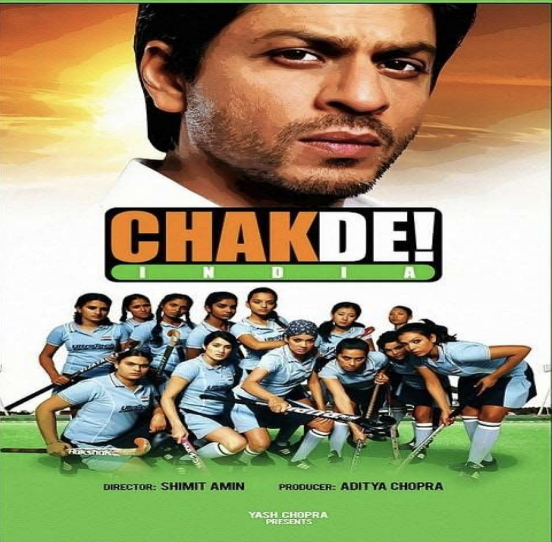 Change currently ongoing
Change is gradually happening, women are getting more viewership and endorsements,
their accomplishments are being announced, and they are being celebrated.
"Brands are starting to see the value in women's sports here and today as a driver of their
business," said by Cameron Wagner.

Now many sports channels are also making new broadcast deals w.r.t rising TV
viewership and spectatorship increase. Hoping this change continues on its new tangent and keeps on increasing so that the time taken to reduce this gap isn't estimated to be the year 2109 but at least sometime this
century.
Please follow and like us: