LRAMUN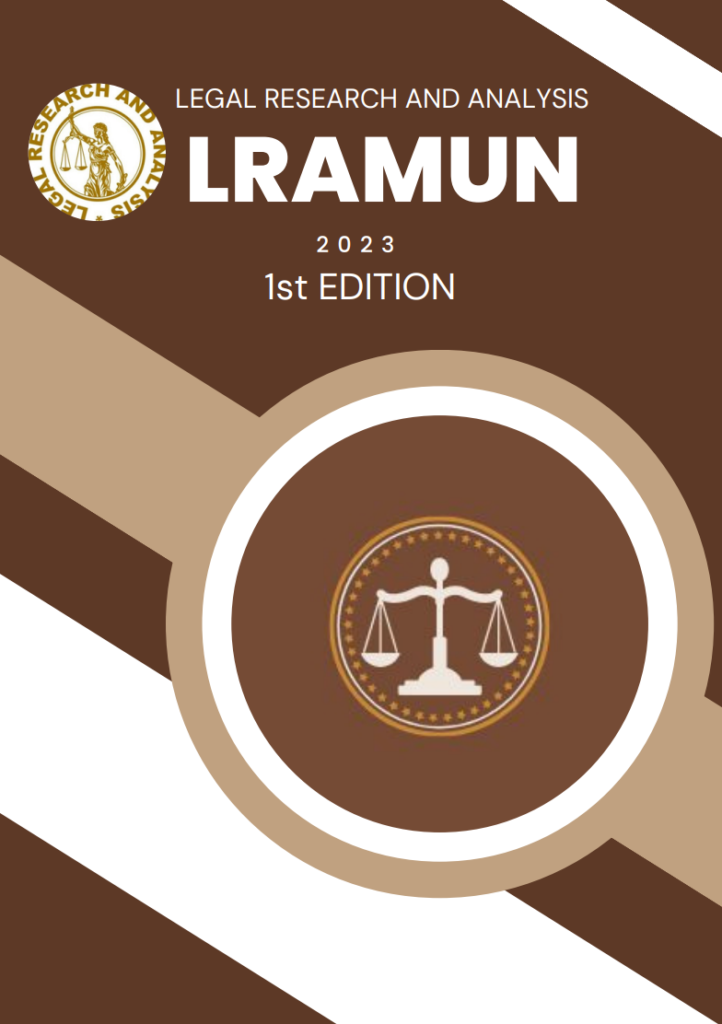 Legal Research and Analysis, also known as LRA Meta Properties
Private Limited, is a registered corporate entity that specializes in
conducting research and policy studies related to law. As a premier
international legal portal, we offer a vast online library of free legal
resources that cater to the needs of legal professionals, students,
consumers, and businesses alike. Our mission is to provide
comprehensive and easily accessible legal information to users,
making it simpler to navigate through the complexities of the law.
Our team of highly skilled and experienced legal professionals is
well-versed in the Global Legal System, with a particular focus on
India and many other countries. We provide a range of services,
including pre-arbitration and post-award research, tracking federal
or state legislation, case law research and analysis, analyzing
acts/statutes/legislations, orders, rules, regulations, provisions,
treaties, conventions, international agreements, protocols,
promotion of basic rights, upholding human rights, professional
analysis, and more. We also provide legal data searching and
analyzing services.
Our website offers various features such as a directory of lawyers,
a discussion forum, legal advice, codes, and cases, web search
utilities, mailing lists, remote journalism programs, write for
human rights programs, internships, and more. Our objective is to
provide a platform that enhances intellect and creativity and helps
individuals to develop unique, critical, and original thinking.
At Legal Research and Analysis, we allocate a dedicated team to
each client to ensure quality, efficiency, and stability. Our team of
meritorious professionals conduct continuous training in
accordance with the codes of professional conduct and ethics.
Founder LRAMUN
Anas Dhorajiwala
Anas Dhorajiwala is a distinguished law
a student who has captured the attention
of many due to his passion for the
intricate workings of world politics. He
possesses an unparalleled ability to
navigate complex diplomatic situations
with ease, showcasing his finesse and
grace in all his interactions. His warm
and kind demeanour, combined with his
well-articulated speeches have left a
lasting impression on those he has
encountered.
Anas is a brilliant legal mind, renowned for his ability to write compelling
papers on contemporary legal issues. His keen insight and exceptional
problem-solving skills have helped him tackle some of the most pressing
challenges facing the legal profession today.
Having been an integral part of the Model United Nations circuit for a long
time, Anas has demonstrated his remarkable talent in this field on countless
occasions. His impressive track record as an Outstanding Delegate is a
testament to his exceptional skills as a negotiator and his ability to think
creatively and strategically.
Moreover, Anas has also chaired various committees, displaying his
impressive leadership qualities and ability to foster a collaborative
environment. His unwavering dedication to achieving results and his
commitment to creating positive change makes him a role model for his
peers.
Anas Dhorajiwala is an exceptional individual who has made a lasting
impact on the world of law and diplomacy. His impressive achievements
and remarkable talents have earned him a well-deserved reputation as a
visionary leader and a true inspiration to all those around him.
Secretary-General
MESSAGE FROM THE SECRETARY-GENERAL
Dear delegates, staff, and guests,
It is my pleasure to welcome you to the virtual Model UN conference
at Legal Research & Analysis. Despite the challenges of holding a
conference in a virtual environment, I have no doubt that this will be
a meaningful and productive event.
As we gather here today, we are faced with some of the most pressing
global challenges of our time. The ongoing conflict in Ukraine, which
has caused significant suffering and displacement, and the ongoing
the humanitarian crisis affecting the Rohingya people are an issue that
demand our attention and action.
Through your participation in this conference, you have the
opportunity to engage in productive dialogue and debate, and to
work together to develop innovative solutions to these complex
issues. I encourage you to approach this conference with an open
mind, a willingness to listen and learn from others, and a
commitment to finding common ground and working towards a
a shared vision of a better world.
I would like to express my gratitude to the staff and volunteers who
have worked tirelessly to make this conference possible, and to the
delegates who have invested their time and energy in preparing for
this event. I am confident that your dedication and hard work will
make this a successful and meaningful experience for all involved.
Thank you, and best wishes for a productive and rewarding
conference.
Sincerely,
Uzair Ansari
Secretary-General,
Legal Research & Analysis Model UN Conference.
DIRECTOR GENERAL
Do we charge?!
Yes, we do.
Fee
Rs. 500
(per delegate)
Dates and Venue
29th & 30th July 2023. Through Zoom virtual meeting platform
Eligibility;
Students of age
14-24
and through Registration
Dress Code
Day 1: Indian Formals
Day 2: Western Formals
AWARDS AND CERTIFICATES
BEST DELEGATE
will be given to the outstanding delegate in each committee.
Cash prize- 4000 Rs.
HIGH COMMENDATION
will be given to the delegate who is nearly outstanding as the
best delegate
Cash Prize- 2000 Rs.
SPECIAL MENTION
will be given to the delegates who excelled in major fields
Cash prize- 1000 Rs.
BEST DELEGATION
will be given to the delegation who excelled in all areas
Cash prize- 8000 Rs.
BEST REPORTER
will be given to the delegate who will capture the best
memories of the conference.
Cash prize- 4000 Rs.
COMMITTEES AND AGENDAS
UNSC
Address the ongoing conflict between Russia & Ukraine and work
towards finding a peaceful and diplomatic solution to the crisis.
UNGA
Developing sustainable solutions to reduce poverty
& inequality in developing countries.
UNHRC
Addressing the root causes of child labour to
eliminate it globally.
UNW
Addressing abortion rights across the nation &
providing access to safe and secure abortion.
UNEP
Addressing the root causes of climate change &
finding solutions to tackle them.
INTERNATIONAL PRESS
REGISTRATION PROCESS
All Individual Delegates are requested to fill out a registration form here

For Delegation Registration, you are requested to contact us through
the details mentioned below.
Our Location:
Friends Apartment, D-2 New, Aligarh, Uttar Pradesh 202002.
Mail us at :
lramun.info@gmail.com
Our Instagram:
@lramun.info
Designation Name Contact number
Delegate
Outreach
Anam Hakim +91 9769042206
Delegate Affairs Nihaal Noshad +91 9633144067
Founder Anas Dhorajiwala +91 8828079637
Calendar
June 2023
M
T
W
T
F
S
S
1
2
3
4
5
6
7
8
9
10
11
12
13
14
15
16
17
18
19
20
21
22
23
24
25
26
27
28
29
30