Stampedes at Wheat Flour Distribution Centers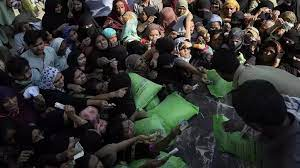 Stampedes at wheat flour distribution centers can be very dangerous and can lead to loss of life and serious injury. Stampedes usually occur when there is overcrowding and a lack of order, which can cause people to panic and push each other, resulting in a stamped.
Multiple stampede incidents have been taking place in crisis hit Pakistan due to the unorganized distribution of free flour which led to the death of various inflation-hit people, who gathered to collect food during the holy month of Ramadan.
Stampede at Ramadan food distribution center killed 11 in Pakistan
Rush on free ration and Zakat points is creasing, as the prices of essential items are increasing and the poor have lost their purchasing power. The stampede is the deadliest at Ramadan food distribution points since the start of the Muslim holy month of fasting.
A stampede at a Ramadan food distribution center in Pakistan's southern city of Karachi has killed at least 11 people, all women and children, according to police and rescue officials on 31 March 2023.
Several people were also injured in that incident, which happened when hundreds of people panicked and started pushing each other to collect food outside a factory. Some of them fell into a nearby drain. According to residents a wall also collapsed near the drain, injured and killed the people amid the stampede.
Local media reported that eight women and three children died. As Large crowds of people have been gathering at distribution centers since the government launched these distribution and charity initiative in the start of Ramadan to give free flour to low-income families and financially handicapped during Ramadan to release the impact of record-breaking inflation and soaring poverty.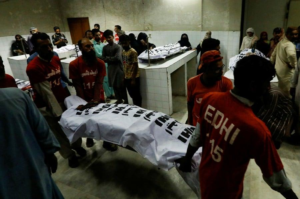 Human Right Commission of Pakistan (HRCP)
HRCP is profoundly worried by the blunder causing charges at wheat flour dissemination focuses set up by the public authority of Pakistan. We have lost many lives across Pakistan throughout recent weeks. This episode in Karachi where 11 individuals have passed on. HRCP requests to further develop the dispersion framework right away and to the security of residents.
Human Right Violation
This incident added injury to the human right violation. Is also immoral to show-of the charity. This somehow make fun of those poor people who crowded there to get free flour for their need. The authorities called the poor to suffer under blazing sun in order to get a sack of flour.
Moreover, the whole clash was due to mismanagement of the center. There more people than the space. The question is, if the bills can be delivered in the particular houses and addresses then why the flour could not? The people in a very large number came up to those centers due to wilderness of poverty in the country which need to be tackled properly.
There are several potential causes of stampedes, including:
1. Panic: Panic is one of the most common reasons for charges. This can be set off by various variable factors, like an unexpected noisy clamor, a danger, or talk Once panic sets in, people may push and shove in an attempt to escape, leading to a stampede.
2. Crowding: When a large number of people are in a confined space, it can lead to crowding and a lack of personal space to move and create situation of suffocation. This can create a sense of discomfort or anxiety, which can intensify into a stampede if people begin to push and shove.
3. Structural design: The infra structure of a building or facility can also contribute to stampedes. For example, if there are narrow corridors or small rooms with small doors and there is less space to move from one corner to another, that limit the flow of people, it can increase the risk of a stampede.
4. Poor crowd management: If there is inadequate crowd management in place, it can also contribute to stampedes. This includes a lack of barriers, poor signage or communication, and insufficient staffs to manage the crowd. The lack of control over people also lead to a huge clash.
5. Illiteracy: People want to get it by the first and do not have patience to wait. This is due to lack of knowledge and discipline.
Management Strategies
In order to prevent stampedes at wheat flour distribution centers in Karachi or anywhere else, it is crucial to have proper crowd management strategies in place.
This can include controlling the number of people who enter the distribution center at any particular time.
Ensuring that there is adequate space for people to move around safely, and having trained staff on hand to manage the crowd.
It is also essential to ensure that the distribution center has appropriate safety equipment, such as fire extinguishers and emergency lighting, in case of an emergency.
There should be strict rules and regulations to be followed by the people in order to reach the desired stuff.
The custom of making queues and move one by one should be obliged.
Different measures that can be taken to stay away from rushes incorporate giving obvious indicator sheets and directions to general society, having named section and leave focuses, and utilizing obstructions or ropes to direct individuals through the conveyance place.
Emergency Situation
In case of a charge, it is fundamental to have a crisis reaction plan set up. This can incorporate having prepared faculty available to give medical aid and clinical regard for the people who are harmed, as well as coordinating with crisis administrations to offer extra help if fundamental.
At last, preventing stampedes requires a mix of cautious preparation, compelling group the executives, and clear correspondence with the general population. By going to these lengths, the risk of stampedes at wheat flour centers focuses in Karachi or elsewhere can be enormously diminished, guaranteeing the security of all interested parties.
---
References: –
Please follow and like us: