TRAMPLING ON DEMOCRACY: HUMAN RIGHTS VIOLATIONS AND THE 2023 NIGERIA'S ELECTIONS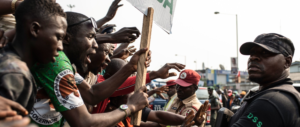 "Silenced at the ballot box – that is what they want for us," a Nigerian declared. "But we will not be silenced. We will not be intimidated. We will use our voices and our votes to demand a better future for Nigeria."

Sadly, these words proved prophetic. The 2023 elections were marred by reports of human rights abuses, including violence against opposition supporters and journalists, vote buying, and intimidation of voters.
A young woman named Bina Jennifer Efidi eagerly approached the polling unit on election day, clutching her voter's ID card and brimming with excitement at the opportunity to cast her vote for the future of her beloved country, Nigeria.
But as she stood agile in the queue craving for her turn to perform her civic duty, she was brutally attacked by a group of thugs landing a sharp object on her face, leaving her bruised and shaken on the side of the road and shouting out for help to stop her bleeding face.
Yes, Jennifer's story is all too common in Nigeria's 2023 Presidential and Gubernatorial Elections. From opposition supporters being beaten and harassed to journalists being threatened and silenced, the elections have been marred by a wide range of abuses violence and irregularities.
It was reported that more than 100 deaths were linked to the 2023 Nigeria Elections. The elections were supposed to be a beacon of hope for Nigeria's democracy, but they turned out to be a nightmare for many Nigerians.
The human rights breaches that occurred during Nigeria's 2023 elections will be briefly identified, along with their consequences and some suggestions for preventing future occurrences.
Human Rights Violations in the 2023 Nigerian Elections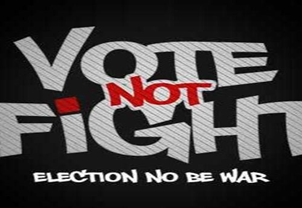 Human rights, as we understand them, are the basic liberties and protections to which all people, regardless of their ethnicity, nationality, gender, or belief, are entitled. They include the right to life, the freedom of expression, the freedom of association, and the right to personal liberty, all of which are fundamental to ensuring that all people are treated with dignity, respect, and equality.
Preserving human rights is, therefore, crucial at all times. These include the elections period when individuals are thirsty to exercise their voting rights. Upholding these rights ensures that individuals can participate in the democratic process without fear of violence, coercion, or intimidation. Therefore, governments, civil society organizations, and all stakeholders are responsible for promoting and protecting human rights at all times, especially during elections.
For example, Article 19 reports emphasized the necessity of a fair and transparent election in Nigeria, one that promotes the dissemination of reliable information, and protects the journalists, the members of the electoral commission (INEC), and all citizens. It declared that "the protection of human rights and security should be a non-negotiable aspect of any election".
A similar observation was made by Amnesty International when it remarked that "The authorities must ensure that journalists, local and international election observers and other stakeholders can carry out their activities safely before, during and after the elections, without fear of violence or intimidation.
There should be no room for human rights violations. The Nigerian authorities, political parties and candidates must publicly condemn any intimidation and any advocacy of hatred and incitement. This is a time for all stakeholders to demonstrate that they embrace human rights and to commit to the promotion and protection of human rights in Nigeria."
This motivated Amnesty International and similar organizations to galvanize the will to keep a close eye on human rights abuses and document them so that those responsible might be brought to justice and victims can seek adequate and prompt redress.
The Nigerian National Human Rights Commission (NHRC) has responded with the same enthusiasm by launching a situation room for the 2023 general elections to keep track of the actions of law enforcement and security services during the voting process. According to the NHRC, "the Commission's role in this regard is founded on the recognition of the importance of the consolidation of democracy in the realization of all human rights in Nigeria."
Nevertheless, despite these pronouncements of impending concerns and so-called monitoring measures, human rights infractions continued unabated. The following rights have been reported to have been violated during the election:
Infringement on Freedom of Expression and Press
This was committed by both citizens and government agencies. Apart from the attacks and threats suffered by innocent citizens from political thugs for airing their political views (both online and offline), government agencies are also caught to be infringing on people's right to freedom of expression.
According to Committee to Protect Journalists, "At least 14 journalists and media workers were detained, harassed, or attacked while covering Nigeria's presidential and federal elections, including private news website…owner…who remains in police custody without charge."
A similar report was given by the International Press Center (IPC) of Nigeria when it declared that "At least seven journalists and media workers of three media houses, AIT, Arise TV News, and News Agency of Nigeria were reportedly attacked around the March 18 elections in the federal city of Lagos, Ogun and Rivers state". IPC further emphasized that alarming attacks on journalists during the two election sessions, including access denial and intimidation on the part of both state security personnel and political party supporters, cast an even darker shadow on Nigeria's press freedom situation.
The Nigerian Constitution, which protects free expression and the press, has been violated by these actions (see sections 39 and 40 of the CFRN). It also violates international human rights treaties to which Nigeria is a signatory, such as the African Charter and the International Covenant on Civil and Political Rights (ICCPR)
Voter Intimidation, Suppression and threats to Right to life & Personal Liberty
As noted earlier, there were widespread reports of voter intimidation and suppression during the elections. Political thugs and security forces were reported to have intimidated voters, thereby preventing them from exercising their franchise. There were also reports of ballot box snatching and stuffing, which compromised the integrity of the elections.
The right to life, personal liberty and vote are guaranteed by the Nigerian Constitution and international human instruments, thus, the intimidation and suppression of voters is a violation of these laws.
However, unlike the right to life and liberty, the right to vote is not a fundamental right in the Nigerian constitution. The constitution reluctantly and solely mentioned voting as a 'right' under section 7(4) concerning local government elections. Other sections of the law that referred to citizen's votes describe it as a mere entitlement of a registered voter (see sections 77(2), 117, 132(5), 178(5)).
This is the reason why the Nigeria Supreme Court in the case of Ransome-Kuti v. A.-G. Fed. (1985) 2 NWLR (Pt. 6) 211 stressed thus:
"Not every civil right is a fundamental right. The idea and concept of fundamental rights both derive from the premise of "inalienable rights of Man"
– Life, Liberty and the Pursuit of a Happiness. Emergent Nations with written Constitutions have enshrined in such Constitutions some of these basic human rights and called them fundamental rights or fundamental human rights. Each right that is so considered fundamental is spelt out."
Because of the above, one can easily conclude that the Right to vote is of course a civil/political right but not a fundamental one that is entitled to a procedural redress recognized under Nigeria's constitution.
However, another question may come to mind: What is the use of the international human rights Instruments signed by the Nigerian government? To answer this, it is pertinent to state that Nigeria is a dualist state under section 12 of the Constitution, which stipulates that no international agreement between Nigeria and other nation(s) shall have the force of law unless and until it has been incorporated into law by the National Assembly (a federal legislative arm of the government).
Interestingly, of all the International Instruments signed by Nigeria concerning this right, that is, the African Charter, The Universal Declaration of Human Rights (UDHR), and ICCPR, only the African Charter has been domesticated. But ironically, there is nowhere in the African Charter where the phrase "Right to vote" is mentioned, while others that have not been domesticated specifically mention it (e.g. Article 25 of the ICCPR).
It must be noted however that Article 13 of the African Charter which recognizes the citizens' right to freely "participate in the government of his country either directly or through freely chosen representatives by the provisions of the law" has been interpreted by the African Court on Human and Peoples' Rights (AFCHPR) to include Right to vote or be voted for (see the case of Tanganyika Law Society et al. v. The United Republic of Tanzania, Rev 2, 009/2011 – 011/2011).
This was followed by a new commitment to the African Charter on Democracy, Elections and Governance (ACDEG, 2007-2012) Signed African Charter on Democracy, Elections and Governance (ACDEG, 2007-2012) signed by the African States affirming the same (see Article 17).
One will assume that with the Interpretation of the AFCHPR of Article 13 and the new commitment concerning the ACDEG, the roaring drum will stop, but strictly speaking, the issue is far from being settled. This is due to section 14(2)(c) of the Constitution, which stipulates that "the participation by the people in their government shall be ensured following the provisions of this Constitution." Three issues can be raised relating to this question:
It makes it compulsory for all activities regarding "participation in the government" to comply with the Constitution, thereby taking us back and ruining the afore-cited efforts to attach fundamental respect to the right to vote. Therefore, the right to vote remains non-fundamental; Section 14(2)(c) Constitution is under Chapter 2 of the Constitution, issues within which have been categorized by section 6(6)(c) as being non-justiciable;
It is interesting to state regarding issue 'c' above that despite the presumption of legislative conformity with international law, Nigerian Court had once categorically chosen the Nigerian Constitution over the African Charter, particularly, in the Supreme Court's case of Abacha v. Fawehimi (2000) 6 NWLR (Pt. 660) 228.
This implies that a direct claim(s) concerning the Right to Vote may not fly in the Court of law. This position, of course, may not be the same for a claim before the international courts owing to Article 27 of the Vienna Convention on Law of Treaties (VCLT) which provides that "A party may not invoke the provisions of its internal law as justification for its failure to perform a treaty" and the legal implication of the case of Cameroon v. Nigeria (concerning the Land and Maritime Boundary). But the question remains, how do you enforce it?
Gender-Based Violence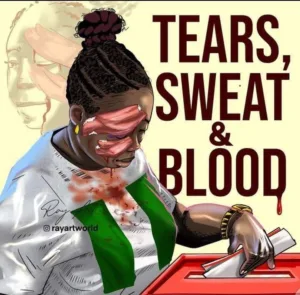 Gender-based violence was another human rights violation that occurred during the elections. There were reports of sexual harassment and assault of female voters and election officials by political thugs and security forces.
For instance, apart from submitting dissatisfaction about the number of female candidates contesting political offices in the 2023 elections, Partners West Africa also reported serious violence, including physical attacks and intimidation, in several states, which affected women's participation in the process.
A similar concern was expressed by the International Federation of Women Lawyers (FIDA) over attacks on women during the February 25 general elections in Nigeria. FIDA's national president observed that violence was perpetrated against women in several states, including Borno, Kaduna, Edo, and Lagos, and urged security agencies to arrest and prosecute electoral offenders, especially those who perpetrate violence against women during polling.
Gender-based violence violates women's rights to dignity, bodily integrity, and equal participation in political processes. It also violates human rights treaties such as CEDAW, i.e., the Convention on the Elimination of All Forms of Discrimination Against Women.
Even though CEDAW, like other international instruments, is not domesticated in Nigeria, a fundamental right claim can still be brought under section 42 of the Constitution relating to freedom from discrimination. Perpetrators can also be prosecuted under the Violence Against Persons (Prohibition) Act, the Criminal and Penal codes on charges of murder, assault, abduction, causing grievous bodily harm, and others.
Discrimination based on Ethnicity and Religion
Discrimination based on ethnicity and religion is prevalent in the 2023 Nigeria election. Intolerance and discrimination form the basis of voters' intimidation and political campaign style, where most political candidates and their parties have been directly accused of dividing people along the lines of their religion and ethnicity to gain support. Unfortunately, this practice has not been condemned by the Government, and there are no proactive measures or serious sanctions to address it.
The implications of this practice are significant, as it undermines the integrity of the electoral process and fosters division and tension between ethnic and religious groups. It also violates several laws, including the Nigerian Constitution and the human rights instrument ratified by the Nigerian Government.
Discrimination Against Persons with Disabilities
Persons with disabilities (PWDs) were discriminated against during the elections. Many polling units, campaign venues and materials have been reported as not accessible to persons with disabilities, and there were no provisions made to enable them to vote.
The Joint National Association for Persons with Disabilities were reported to have, expressed dissatisfaction and disappointment towards the 2023 Elections with the way they had been treated by the political parties, particularly, concerning most political campaigns and rallies lacking sign language interpreters.
This disenfranchisement violates the rights of persons with disabilities to equal participation in political processes, as guaranteed under the Nigerian Constitution (particularly section 42) and international human rights law. Nigeria is a signatory to the Convention on the Rights of People with Disabilities (CRPD) and its 2007 and 2010 Optional Protocols. This instrument seems to
be domesticated with the enactment of the Discrimination Against Persons with Disabilities (Prohibition) Act, 2018, but the implementation of the law has been criticized to be lacking in both substance and progress.
RECOMMENDATIONS
To prevent similar human rights violations from occurring in future elections, the Nigerian government should take the following steps:
Firstly, the government is responsible for orienting its people about free and fair elections because democracy is founded on the principle of popular sovereignty, which means that the people have the right to choose their leaders.
Free and fair election is the cornerstone of a democratic society because they ensure that citizens can freely express their will and hold their leaders accountable. However, for free and fair elections to be successful, citizens must be educated on the importance of peaceful and non-violent participation.
The government is responsible for educating its citizens about the need to conduct themselves civilly and peacefully during elections. This is because election violence can undermine the legitimacy of the electoral process and threaten social stability.
Additionally, the beauty of our diversity lies in our ability to unite despite our differences. The government can play an important role in promoting unity by educating citizens about the importance of inclusivity, respect, and tolerance towards people of different ethnic, cultural, and religious backgrounds.
Furthermore, each citizen is responsible for protecting human rights and maintaining law and order. The government can promote this by encouraging citizens to act responsibly, honour the rule of law, and hold themselves accountable for their actions.
Secondly, the Nigerian government should ensure that elections are free, fair, and transparent. It should take steps to prevent voter intimidation and suppression, including the use of political thugs and security forces. It should also ensure that ballot boxes are not snatched or stuffed and that the integrity of the electoral process is not compromised.
Thirdly, despite the laws on discrimination, there has been a lack of effective enforcement, and violators of these laws often go unpunished. This has increased the practice of discrimination and intolerance in Nigerian politics. To address this issue, the government must take proactive measures, such as creating awareness campaigns, strengthening institutions responsible for enforcing laws and providing adequate sanctions for violators. It should be criminalized if possible.
These will help promote free and fair elections and foster unity and peaceful coexistence among different ethnic and religious groups in Nigeria. Also, the government should take steps to protect women from gender-based violence during elections.
It should protect female voters and election officials from sexual harassment and assault by political thugs and security forces. This same treatment should be given to Persons with Disabilities. The Nigerian government should ensure that polling units are accessible to persons with disabilities. Accessible voting facilities, including ramps for wheelchairs and other helpful technologies, should be made available. Election officials should be educated on accommodating voters with disabilities at the polls.
Fourthly, the government of Nigeria needs to work harder to bring its human rights policies and legislation in line with global norms. It has to re-evaluate its legal and policy framework to ensure that it protects and advances the rights of all its residents, especially women, people with disabilities, and other underrepresented groups. The domestication of the ratified International Instruments should be an ultimate priority for the government as a sign of true commitment.
Finally, efforts should be increased by the government, individuals, and human rights organizations to guarantee that those responsible for human rights breaches during elections face the consequences. Simply keeping tabs on developments and sharing reports is insufficient. Politicians and security forces culpable for human rights abuses should be investigated and brought to justice. Redress for victims of human rights breaches, including compensation and rehabilitation, should be institutionalized as part of the government's culture.
CONCLUSION
The 2023 Presidential and Gubernatorial Elections in Nigeria were characterized by human rights violations, violence, and irregularities. To prevent similar occurrences in the future, the Nigerian government must take steps to respect and protect the freedom of expression and assembly, ensure free and fair elections, protect women from gender-based violence, ensure accessibility for persons with disabilities, strengthen human rights policies and laws, and ensure accountability for human rights violations.
To advance human rights, democracy, and the rule of law in Nigeria, Nigeria's government must collaborate with civil society organizations, international partners, and other stakeholders. Only then can Nigeria become a model for democracy in Africa and live up to its commitments under international human rights law.
With the recommendations, the people of Nigeria will remain committed to democracy and human rights. Through their bravery and perseverance, they will be sending a powerful message to the world that they will not be silenced or intimidated
REFERENCES:
BBC (2023) Nigeria election: 'I was performing my civic duty' says injured voter'. Retrieved from https://www.bbc.com/news/av/world-africa-64789501
Punch (2023) How we lost our loved ones to election violence – Families. Retrieved from https://punchng.com/how-we-lost-our-loved-ones-to-election-violence-families/
BBC (2023) Nigeria election results in 2023: First-time voters and their experience. Retrieved from https://www.bbc.com/news/av/world-africa-64789386
Article19 (2023) Nigeria: Election must pave the way for better human rights protections, Retrieved from https://www.article19.org/resources/nigeria-election- human-rights-protections/
Amnesty International. (2023). Nigeria: Authorities must uphold human rights ahead of elections. Retrieved from https://www.amnesty.org/en/latest/news/2023/02/nigeria- authorities-must-uphold-human-rights-ahead-of-elections/
Human Rights Watch. (2023). Nigeria: Impunity, Insecurity Threaten Elections Retrieved from https://www.hrw.org/news/2023/02/06/nigeria-impunity-insecurity- threaten-elections
Nigerian Tribune (2023) 2023 Elections: NHRC launches situation room to monitor human rights violations during, and after elections. Retrieved from https://tribuneonlineng.com/2023-elections-nhrc-launches-situation-room-to-monitor- human-rights-violations-during-after-elections/
The platform for Peace and Humanity (2023) Elections in Nigeria: A Case of Human Rights Breaches. Retrieved from https://peacehumanity.org/2023/02/28/elections-in- Nigeria-a-case-of-human-rights-breaches/
Committee to Protect Journalist (2023) At least 14 journalists were detained, attacked, or harassed covering Nigeria's election. Retrieved from https://cpj.org/2023/02/at-least- 14-journalists-detained-attacked-or-harassed-covering-Nigeria-election/
The International Press Center (IPC) of Nigeria (2023) Nigeria elections: Attacks on journalists must be investigated https://ipi.media/nigeria-elections-attacks-on- journalists-must-be-investigated/
International Court of Justice (2002) Cameroon v. Nigeria (Case concerning the Land and Maritime Boundary Between Cameroon and Nigeria). Retrieved from https://www.icj-cij.org/case/94/judgments
African Court on Human and People's Rights (2013) Tanganyika Law Society et al.
The United Republic of Tanzania Retrieved from https://www.eods.eu/template/default/compendium/Part%206/002_Tanganyika_Law_ Society_et_Reverend_Christopher_Mtikila_and_others_v_Tanzania.pdf
Okebukola (2020) The Application of International Law In Nigeria And The Façade Of Dualism, 11 (1) NAUJILJ
Premium Times (2023) NigeriaDecides2033: FIDA decries election violence against women in Lagos, others. Retrieved from https://www.premiumtimesng.com/news/more-news/586564-nigeriadecides2033-fida- decries-election-violence-against-women-in-logos-others.html
Partner West Africa (2023) Report On The Gender-Based Security Threat Assessment Of The 2023 Election In Nigeria: Volume II. Retrieved from https://www.partnersnigeria.org/report-on-the-gender-based-security-threat- assessment-of-the-2023-election-in-Nigeria-volume-ii/
The Sun (2023) Nigeria Decides 2023: Resort to religious, ethnic politics deepen cracks. Retrieved from https://sunnewsonline.com/nigeria-decides-2023-resort-to- religious-ethnic-politics-deepen-cracks/
Vanguard (2023) 2023 polls: Why Nigerians must eschew religious intolerance, violence – Patriots Roundtable. Retrieved from
https://www.vanguardngr.com/2022/11/2023-polls-why-nigerians-must-eschew- religious-intolerance-violence-patriots-roundtable/
Foreign Policy (2023) Tensions Escalate After Nigeria Election Results, Former President Obasanjo warns: "Danger looming ahead." Retrieved from https://foreignpolicy.com/2023/03/01/tensions-escalate-as-nigeria-awaits-results/
Nigerian Tribune (2023) Challenges before people with disabilities in the 2023 general election. Retrieved from https://tribuneonlineng.com/challenges-before-people-with- disabilities-in-2023-general-election/
The 1999 Constitution of the Federal Republic of Nigeria (As Amended)- CFRN
Vienna Convention on Law of Treaties
African Charter on Human and People's Rights
International Covenant on Civil and Political Rights. Retrieved from
Convention on the Rights of Persons with Disabilities. Retrieved from Universal Declaration of Human Rights.
Please follow and like us: