TRIBAL COMMUNITY: OUTCASTS IN THEIR LAND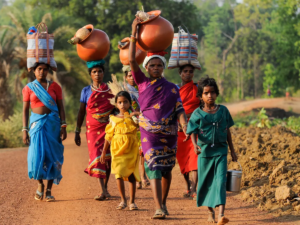 INTRODUCTION:
Tribes represent an important social category of India. The indigenous community is largely found in forest and mountain tracts utilizing the rich biodiversity of these areas to sustain their livelihood. India, with its developing economy, has invested in many developmental projects.
Acres of land are acquired to carry on these projects and the natives of the places where the projects are carried out are removed. The projects are mostly located in forest areas as they are sources of rich resources with abundant flora and fauna.
Though the development projects benefitted the larger sections of the nation, the tribal communities are the unknown victims of these projects. Almost 40% of the displaced people are from tribal communities. The tribal communities neither get proper compensation nor rehabilitation facilities.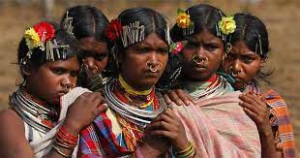 They are forced to migrate to urban areas and end up in odd jobs to sustain their basic needs such as food and clothing. The R and R policy of the government is not effective and the entire livelihood of the tribes is put at stake.
These tribes are deprived of their homeland and identity. They could not even avail themselves of basic sanctions provided by the government. The legislation in their favour is active only in papers.
The tribes once said to be original inhabitants of the country are treated as outcasts fighting even for their necessities. This article attempts to throw light on the impact of displacement of these tribal communities.
HUMAN RIGHTS VIOLATIONS OF TRIBAL COMMUNITY: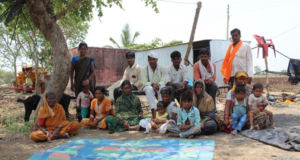 The natural inhabitants who are dependent on the rich biodiversity of the forest are displaced from their homeland. These forest dwellers are deprived of their homelands either by natural ways (Floods, Droughts, etc.,) or artificial means i.e., by way of development projects like the construction of dams, the creation of wildlife sanctuaries, reserve forests, etc.
To achieve quick economic expansion, India has invested in industrial projects, dams, roads, mines, power plants, and new towns. This has been made feasible by the extensive land acquisition and accompanying population displacement. The largest category of Internally Displaced Populations is the Development Displacement People (IDPs).
Despite the Constitution of India's legal protection for Scheduled Tribes, the government may compulsorily acquire land in Schedule V and Schedule VI districts, whether it is occupied or not, for "public purpose" projects and in compliance with the law.
This prompted various hydroelectric and mining projects in tribal communities all over India, which have led to land alienation, evictions, and displacement.
Between 65 and 75 million people have reportedly been uprooted as a result of putative "development" projects in India since the nation's independence (1947). According to reports, indigenous and tribal peoples make up about 40% of the displaced[1].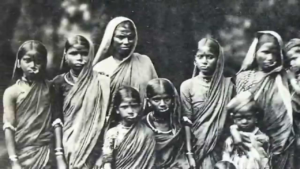 As a result of displacement, the tribal people are deprived of their homes and agricultural lands, rendering them landless. The Rehabilitation policy of the government is so poorly structured that the benefit of these policies never reaches these tribes. They are marginalized and are treated as slaves in agricultural fields. One of the most affected communities among these tribes is The Irulas.
The persecution faced by the Irula community, the second-largest of Tamil Nadu's 36 tribal communities, was depicted in the Tamil film Jai Bhim. They were once snake- and rat-catchers and healers, but nowadays they mainly migrate to work in brick kilns, rice mills, etc.
The Habitual Offenders Act, of 1952, which replaced the colonial Criminal Tribes Act, of 1871, continues to stigmatize the Irulas, along with many other Adivasi tribes in India. They are subject to physical, mental, and sexual torture. They are treated more as bonded labourers in the fields. In Tamil Nadu, there are 1,89,661 Irulars, and over half of them are 'enslaved,' according to the 2011 Census.
They struggle to even meet their basic needs of food, shelter, and clothing. These people do not benefit from any of the government initiatives as it is difficult for them to establish themselves as Scheduled Tribes. Hence, they engage in menial and odd jobs to sustain their livelihood.
Even though they are many legislations, these people are continued to be oppressed and are easy targets of slavery which exist even though it is in indirect forms. Article 21 of the Indian Constitution, 1950 guarantees every person the right to life and personal liberty, the very basic fundamental right of a human being is been violated for these indigenous community people.
The following rights guaranteed under Art.21 are violated:
Right to live as human beings with dignity and Equality; Right to Land and Natural Resources; Right to work and fair wages; Right to Housing and basic amenities; Right to health Including eradication of Hunger and Malnutrition.
They are subject to caste discrimination and victims of police atrocities as depicted in the film: Jai Bhim.
RECENT INSTANCES OF HUMAN RIGHTS VIOLATIONS IN THE IRULAR COMMUNITY:
CONCLUSION:
Various measures are taken by the government of Tamil Nadu to uplift the lives of these Irular communities. For instance, recently 443 Irula Tribal families are granted house site pattas. However, there is a long way to achieve.
A proper survey is to be taken throughout the state and provide them with Community Certificates. Proper Awareness should be created among these tribals to make them aware of their rights.
---
[1]https://www.ohchr.org/sites/default/files/Documents/Issues/Housing/IndigenousPeoples/CSO/HLRN_India.pdf.
[2] Marx, Karal (27 July 2020). "Tamil Nadu: Four assault Irula girl for seeking caste certificate". The Times of India. Retrieved 21 November 2021
[3] Pramod Madhav (20 September 2021). "Tamil Nadu: Irula tribe members say they were thrashed, urinated upon after inter-caste couple eloped". India Today. Retrieved 21 November 2021
[4] "Criminalizing Scheduled Tribes in Post Independence State". Article 51A. Archived from the original on 18 January 2022. Retrieved 28 July 2021.
[5] https://en.wikipedia.org/wiki/Irula_people#cite_note-17
Please follow and like us: