Egyptian Buddha! A Trailblazing Discovery showcasing Golden Past and Bright Future Prospect.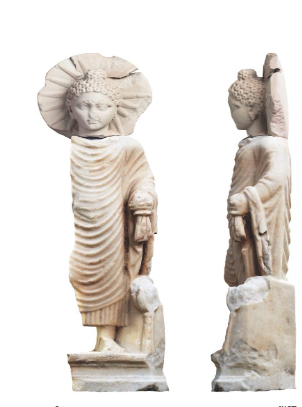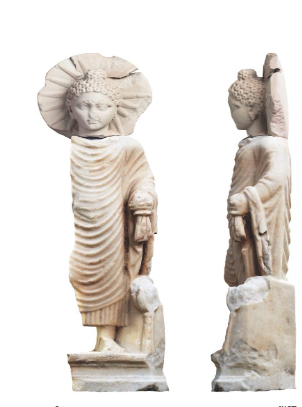 Pyramids, Mummies, Tombs, Pharaohs are the tangible heritage which brings our attention to the 'Gift of Nile' that is the country of Egypt. But on 26th April, 2023, the Ministry of Tourism and Antiquities of Egypt announced a trailblazing discovery on the ancient Red sea port of Berenike.
This time it was not a pyramid nor a coffin but a Buddha sculpture and with this discovery another tangible dimension has been added to Egyptian history. This tangible heritage can be so called Egyptian because it was made in the Egyptian city of Alexandria around 2nd Century CE.
Every tangible heritage have something intangible linked to it and when it it comes to this Buddha sculpture it is believed that it was sculpted from one of the most magnificent Mediterranean marble.
The Buddha sculpture shows the unique blend of Indo-Gandharan and Romano-Egyptian styles as this is reflected in the form of Sun rays which are radiating from all directions (Dalrymple). Moreover marble which is used is in contrast to schist which was widely used as material for sculpting in the Gandharan region of the Indian Subcontinent.
Another Intangible element which needs to be emphasized here is the thriving Indo-Egyptian connection during the early centuries of christian era. Egypt has always been a melting pot for different cultures to come, flourish and get blended with the local geographies because of its unique location with the Mediterranean coast in the north which connected it with the Roman empire later of which it became a part of.
On its eastern end, Egypt is bordered by Red sea which is connected with the Arabian sea by the Gulf of Aden. Historically this Red sea coast of Egypt was flanked by numerous ports which connected it with Indian merchants and these merchants not only brought splendiferous goods for the Egyptian and Roman counterpart but also brought culture with them.
Berenike was one among the three ports (Arsinoe and Myos Hormos the other two) which connected Egypt with the eastern world ("Indo-Roman Trade Relations"). The India-Egypt links goes beyond Roman era as there are references in Strabo's writing regarding Eudoxus who was an Alexandrian entrepreneur having business links with the Indian merchants (Dalrymple).
Buddhism encouraged trade and business thus the followers of Buddha ventured in maritime trade with the Mediterranean world where there was great demand for Indian spices, minerals, elephant tusks etc. The discovery of Buddha sculpture in Egypt gives insights into the social, cultural and economic environment since time immemorial.
There has been significant connections between India and Egypt since ancient times but there are more number of studies highlighting this connection through the lens of Indo-Roman trade. There is dire need to understand India and Egypt to gain more sound understanding of the affinity between the two ancient cultures.
The discovery of Egyptian Buddha throws light on the presence of large number of Indian people in Egypt which resulted in the flourishing of Indian culture. This can open a ground for studies on the presence of Egyptian people in Indian Subcontinent in the remotest past. Did Egyptian culture influenced the Indian culture in similar way?
As when people of different cultures have such a long history of interaction than there is a huge possibility of finding the elements of Nile valley on Indian soil. The geography of Egypt has made Egypt museum in itself preserving the cultures of different corners of the world as well as maintaining its own individuality.
---
Reference:
Dalrymple, William. "Garum Masala | William Dalrymple." www.nybooks.com. Web. 5 May 2023.
"Indo-Roman Trade Relations." Wikipedia 15 Mar. 2023. Wikipedia. Web. 5 May 2023.
Please follow and like us: