"Afraid of Losing Democracy", Thousands of Israelis Protest Against New Government Measures.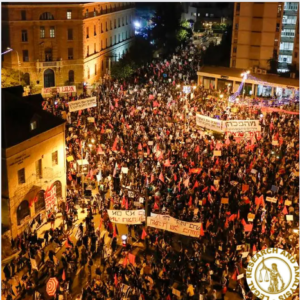 Israelis protest Prime Minister Benjamin Netanyahu's new government's plans to alter the legal system and undermine the Supreme Court on Saturday night in central Tel Aviv. According to critics, this action will harm the nation's democratic system of checks and balances.
The rally was seen as an early test by Itamar Ben-Gvir, Netanyahu's ultranationalist national security minister, who has ordered police to crush activists who block roadways or display Palestinian flags.
Criminal Government
According to Israeli media citing police, the crowd at Tel Aviv's Habima Square increased to at least 80,000 people despite the chilly, rainy weather. Protesters, many of whom were covered by umbrellas, hoisted Israeli flags and banners that read "Criminal Government," "The End of Democracy," and other phrases.
"They are trying to discredit Israel's democratic checks and balances. This is ineffective, "said Asaf Steinberg, a demonstrator from the Herzliya district of Tel Aviv. We'll battle to the bitter end to keep Israeli democracy alive.
There was no serious disruption, despite reports in Israeli media that small crowds clashed with police while attempting to block a Tel Aviv highway.
Reforming the judicial system of the nation
Netanyahu, who is accused of corruption, has made reforming the country's legal system a primary priority.
His ultra-Orthodox and far-right nationalist coalition administration have suggested weakening the Supreme Court by granting parliament the authority to overturn court rulings with a simple majority vote. It also wants to restrict the independence of legal advisers and give the parliament control over judicial nominations.
The justice minister for Netanyahu believes that unelected judges have excessive power. The planned revisions, according to the measures' detractors, will weaken the independence of the judiciary and undermine Israeli democracy. Israeli opposition figures, previous attorneys general, and the head of the Supreme Court of Israel have all criticized the plan.
The legal changes might help Netanyahu, who is on trial for corruption, avoid conviction or even have his case completely dropped. Since his indictment in 2019, Netanyahu has asserted that the justice system is biased against him.
In advance of the march, the police made a bigger effort to be seen. Police officers were reportedly ordered to be "very sensitive" and for the protest to go quietly, according to Israeli media. They did, however, also guarantee a severe retaliation for any vandalism or hostile behaviour.
Smaller protests were also organized in Haifa and Jerusalem.
Please follow and like us: