"Delving into the Underlying Factors Fueling Ethnic Clashes and Breaches of Human Rights in Manipur".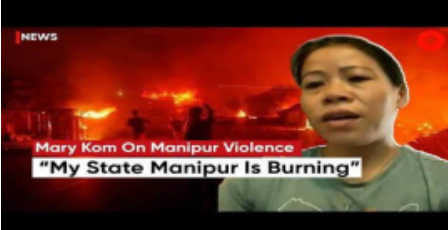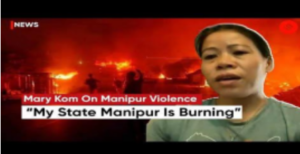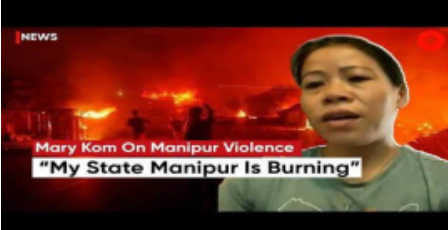 In the north-eastern Indian state of Manipur, an ethnic conflict between the non-tribal Meitei and the tribal Kuki people occurred on May 3, 2023. At least 60 people were killed and at least 230 more were hurt in the violence.
The "Tribal Solidarity March" organized by the All Tribal Student Union Manipur to express opposition to the granting of reservations to the predominantly Meitei population was where it all started in Churachandpur district.
To reestablish law and order, the Indian Army airlifted close to 10,000 soldiers and paramilitary forces. The state's internet services were shut down for a week, and Section 144 of the Indian Penal Code was used. The Indian soldiers were instructed to "shoot on sight" in order to impose the curfew in "extreme cases".
An ethnic group known as the Kuki tribe largely lives in northeastern India, which is bordered by the Chin State of Myanmar (Burma), as well as portions of Manipur, Nagaland, Assam, Mizoram, and Tripura. The Kuki people have a lengthy and illustrious history.
The Kuki tribe has complicated and diversified origins. The Kuki people are thought to have migrated from many areas over time, according to historical sources and oral traditions. Some theories contend that they are of Austric or Austroasiatic ancestry, while others assert Tibeto-Burman roots. Depending on the specific subgroups, the Kuki tribe goes by a number of different names, including Chinn, Mizo, Lushei, and several others.
1. Pre-Colonial Period: The Kuki tribe had a decentralized social and political structure with distinct clans or subtribes. They primarily relied on shifting cultivation and practiced a subsistence-based agrarian lifestyle. The Kuki people had a strong warrior tradition and engaged in intertribal conflicts, both for territorial control and honor.
2. British Colonial Period: With the arrival of the British in the 19th century, the Kuki tribe came into contact with colonial rule. The British administration in India sought to establish control over the northeastern region, which often led to conflicts between the Kuki people and the British forces. The Kuki tribe fought several wars against the British, notably the Kuki Uprising (1917-1919) and the Zomi-Kuki War (1917-1919).
3. Integration into India: Following India's independence from British colonial rule in 1947, the Kuki tribe became part of the Indian state. However, their traditional lands were divided among different states, leading to a fragmentation of the Kuki territory.
The Kuki people experienced socio-political challenges as they navigated the complexities of integration and the changing dynamics of the region.Despite the challenges faced, the Kuki tribe has continued to preserve their cultural heritage and ethnic identity.
They have a distinct language, literature, music, dance forms, and traditional rituals. Over the years, efforts have been made to strengthen and revive their cultural practices, and the Kuki community has actively engaged in promoting their traditions.
In recent times, the Kuki tribe has been actively involved in various socio-political movements advocating for their rights and aspirations. They have sought greater autonomy, recognition of their distinct identity, and protection of their ancestral lands. The Kuki tribe also participates in the democratic process and holds representation in the legislative bodies of the states where they reside.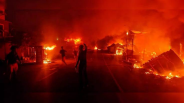 Historical Conflict and Its Ground:
The Meitei-Kuki conflict refers to the longstanding ethnic tensions and occasional violence between the Meitei people and the Kuki people in the northeastern state of Manipur, India.
The conflict has its roots in historical, socio-political, and ethnic differences between the Meiteis, who are the dominant ethnic group in Manipur, and the Kukis, who are one of the indigenous tribes inhabiting the region.
The Meiteis primarily practice Hinduism and follow a script similar to Bengali, while the Kukis, who are a diverse group, have different religious affiliations, including Christianity, and have their own distinct culture and language.
The conflict between the Meiteis and Kukis has manifested in various forms over the years, including land disputes, competing territorial claims, clashes over political representation, and allegations of human rights violations. These tensions have led to outbreaks of violence and armed conflicts, resulting in loss of lives and displacement of people from both communities.
The historical background of the Meitei-Kuki conflict traces back to the colonial era and the subsequent post-independence period in the region of Manipur, India. The conflict has its roots in historical, socio-political, and ethnic factors that have shaped the relationship between the Meiteis and Kukis over time. Here's a detailed overview:
1. In the pre-colonial era, Manipur was characterized by separate kingdoms and chieftaincies. The Meitei kingdom had a centralized monarchy and efficient administrative system, while the Kuki tribes lived in various hill areas and had their own chiefdoms.
2. During the colonial era, Manipur fell under British rule. The British introduced new administrative structures that categorized the population into "plains people" (primarily Meiteis) and "hill people" (including Kuki tribes). This division created a sense of separate identity and conflicting interests.
3. After India gained independence, Manipur became part of the Indian Union and adopted a democratic government. Political reforms and electoral democracy brought issues of representation, land ownership, and socio-economic disparities to the forefront, intensifying tensions between the Meiteis and Kukis.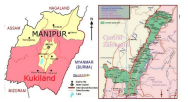 4. Land disputes and territorial claims have been a significant source of conflict between the Meiteis and Kukis. The Meiteis perceive the Kukis as encroachers on their traditional land, especially in the hill areas. The Kukis, on the other hand, assert historical rights over certain territories and contest the Meitei's claims.
5. The Meiteis and Kukis have distinct ethnic, cultural, and linguistic identities. The Meiteis follow Hinduism and have a script similar to Bengali, while the Kukis have diverse religious affiliations, including Christianity, and their own unique culture and language. These differences contribute to separate identities and cultural pride, sometimes leading to misunderstandings and conflicts.
6. Political representation and power-sharing have also played a role in the conflict. Both the Meiteis and Kukis have sought adequate political representation in the state government, resulting in political rivalries and competition for power.
7. The Meitei-Kuki conflict has been marked by violence and armed clashes, leading to loss of lives and displacement. Allegations of human rights violations, such as extrajudicial killings, disappearances, and forced displacements, have been made against both sides during periods of conflict.

Grievances:
The Meitei leaders express worry over the community's dwindling population, which has dropped from 59% to 44% over the past 60 years and has caused them to feel alienated in their own ancestral homeland. To control admission into Manipur and deal with the issue of illegal migration, they suggest implementing an inner-line permit system like that in Arunachal Pradesh, Mizoram, and Nagaland.
The Hill tribes, however, are opposed to this arrangement since they feel the Meiteis already wield considerable authority in Manipur. The Indian president has rejected the Meitei's bid to adopt a legislation establishing this system.
The Meiteis have instead asked for the Scheduled Tribe Status that they had before 1949. Because of this need, there are tensions between the Meiteis and the Hill tribes, which result in fights and disputes. Conflicts also lead to unauthorized taxation on the NH2 and NH37, with rebel organizations profiting from the collecting of these fees.
A number of ethnic groups, like Kukis and Nagas, have their own rebel groups, and there has previously been conflict between them. Finding answers is difficult due to the situation's complexity.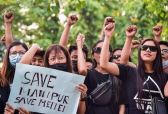 Ways to Address and Contain the Conflict:
Efforts have been made by the government, civil society organizations, and peace initiatives to address the Meitei-Kuki conflict, promote dialogue, and work towards a peaceful resolution. However, achieving lasting peace and reconciliation remains a complex challenge that requires addressing, ensuring equitable development and fostering understanding between the two communities.
Addressing the Meitei-Kuki conflict and promoting peace between the two communities require a comprehensive and multi-faceted approach. Here are some suggestions that could contribute to resolving the conflict and fostering peace:
1. Dialogue and Reconciliation:
– Establish inclusive platforms for dialogue where representatives from both the Meitei and Kuki communities can come together to discuss their concerns, grievances, and aspirations. – Encourage inter-community dialogues, peace talks, and reconciliation processes to foster
understanding, empathy, and trust-building between the two communities. – Engage community leaders, civil society organizations, and religious leaders in playing a constructive role in promoting peace and reconciliation efforts.
2. Historical Reconciliation:
– Address historical grievances and injustices that have contributed to the conflict, acknowledging their impact on the Meitei and Kuki communities.
– Support initiatives for historical research and documentation to develop a comprehensive understanding of the shared history, cultural heritage, and interdependencies between the communities.
– Promote initiatives that create a shared narrative, emphasizing commonalities and interconnections between the Meiteis and Kukis.
3. Land and Resource Management:
– Establish transparent and equitable systems for land ownership, use, and management to address land disputes and territorial claims.
– Develop mechanisms for resolving land-related conflicts through legal processes, mediation, or arbitration, ensuring fairness and inclusivity.
– Encourage sustainable resource management practices that benefit both communities and address concerns over resource allocation and access.
4. Political Representation and Governance:
– Ensure fair and inclusive political representation for both the Meitei and Kuki communities in the state government and local governance structures.
– Promote policies and reforms that encourage power-sharing, decentralization, and inclusive decision-making processes.
– Implement affirmative actions and policies that promote equal opportunities and representation for marginalized communities within both the Meitei and Kuki groups.
5. Socio-Economic Development:
– Prioritize socio-economic development in conflict-affected areas, focusing on infrastructure development, education, healthcare, and livelihood opportunities. – Implement programs targeting poverty alleviation, skill development, and income generation for communities affected by the conflict.
– Encourage cross-community economic initiatives and partnerships that promote mutual benefit and cooperation.
6. Peace Education and Cultural Exchange:
– Introduce peace education programs in schools and colleges, emphasizing values of tolerance, non-violence, and respect for diversity.
– Promote cultural exchanges, festivals, and events that provide opportunities for interaction, cultural understanding, and celebration of shared heritage. – Support efforts to preserve and revive cultural traditions to foster a sense of identity, pride, and mutual appreciation.
7. Strengthening Law and Order:
– Ensure the fair and unbiased application of the law while addressing violent crimes and human rights abuses.
– Strengthen the judicial system and law enforcement organizations to instill a sense of justice and safety for all communities.
– Create community-based strategies for resolving disputes, promoting peace, and preventing intergroup conflicts.
It's crucial to remember that this list is not all-inclusive and that many parties will need to commit over time in order to resolve the Meitei-Kuki conflict. Through constant communication, empathetic understanding, and a common vision of a peaceful, inclusive society, lasting peace may be attained.
Please follow and like us: