G7 Meeting: Health Innovation and Universal Coverage
Dr. Mansukh Mandaviya, Minister of Health, India, addressed the G7 meeting on health innovation in Nagasaki, Japan. The meeting focused on discussing priorities and implementing health innovations like digital health to ensure universal health coverage.
Many other Ministers of Health from the G7 countries and "Outreach 4" countries India, Indonesia, Vietnam, and Thailand participated.
G7 Health Ministers' Meeting
The G7 Health Minister's meeting, part of the 2023 Hiroshima Summit, brings together leaders from France, the United States, the United Kingdom, Germany, Japan, Italy, and Canada along with the European Union.
These nations share fundamental values such as freedom, democracy, and human rights. At this annual international forum held in Nagasaki city on May 13th-14th 2023, they will discuss important global challenges including economic affairs and various other issues.
A key focus for this year's G7 meeting is building back better from the COVID-19 pandemic. The participating countries aim to strengthen prevention, preparedness, and response (PPR) for public health emergencies while promoting health innovation essential to addressing these challenges.
They also strive to develop a more resilient global health architecture that supports equitable and sustainable universal health coverage by strengthening healthcare systems.
In summary, the 2023 G7 Health Minister's meeting will be centered around collaboration among member states to address pressing issues in global health while fostering innovation and improving overall healthcare access worldwide
India's Dialogue at the G7 Meeting
Dr. Mandaviya the Union Minister of Health, India, emphasized that technology and digital tools can strengthen healthcare delivery and help achieve universal coverage. He noted that the COVID-19 pandemic has accelerated the use of technology in healthcare while also highlighting the need for a framework to bridge the digital divide among low and middle-income countries.
India's COVID-19 vaccine delivery platform COVINN is an example of successful implementation; it has monitored over 2.2 billion vaccine doses across the country by managing cold chain logistics, assisting citizens with vaccination administration, and providing QR-based digital certificates.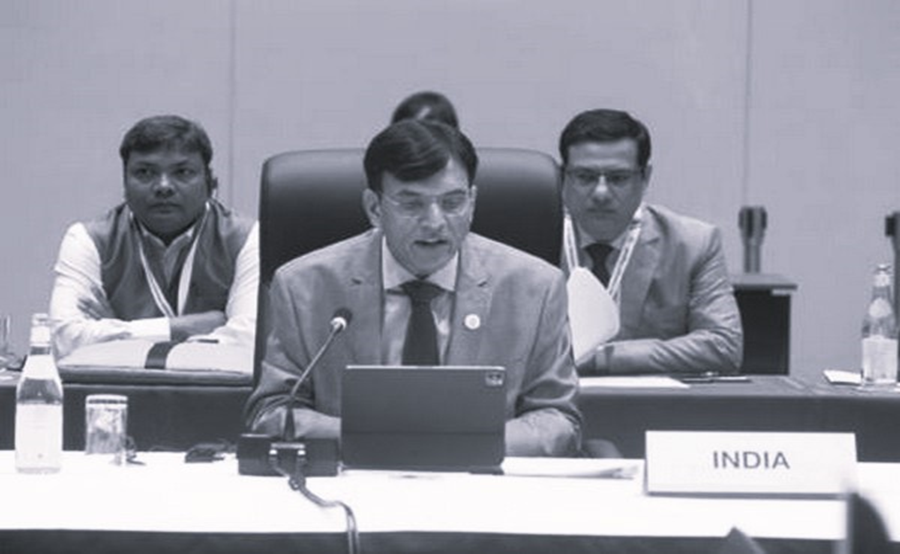 Another initiative is eSanjeevani – a national telemedicine platform launched during the pandemic which coordinated more than 115 million free consultations for citizens making it one of the world's largest telemedicine platforms.
Advancing Digital Health: Global Initiative and Technologies
Dr. Mandaviya emphasized the importance of adopting new tools like artificial intelligence, smart wearables, and big data analytics for precision medicine, personalized healthcare, genomics, and clinical decision support systems. These technologies ensure that the right treatment is provided to the right person at the right time.
He also highlighted India's commitment to making these digital tools available as free public goods worldwide. As part of its G20 presidency, India has prioritized digital health and proposed a global convergence mechanism through the formation of the Global Initiative on Digital Health housed at World Health Organization Headquarters.
Dr. Mandaviya believes this network-based initiative will play a crucial role in bridging the global digital divide and called for G7 countries' support in this endeavor.
Conclusion
COVID-19 is a global pandemic, public health crisis, and also a significant factor in the severe impact on the global economy and financial markets. Countries continue to struggle with covering their losses, leading to an economic crisis felt worldwide.
The pandemic has affected societies as well, with nearly 3 million people dying, others hospitalized or separated from their families during lockdowns. This situation has led to a surge of psychological problems across the globe.
Everyone has been affected by COVID-19 in various ways – socially, economically, and financially – resulting in the loss of loved ones for many individuals.
Dr. Mandaviya emphasized adopting new tools like artificial intelligence as essential for recovery during G7 meetings that focused on "building back better" from this crisis. India's participation in these discussions raises hope that countries will work together to mitigate COVID-19's effects and recover from its widespread devastation.
Please follow and like us: