India is ready to contribute to any peace process between Russia and Ukraine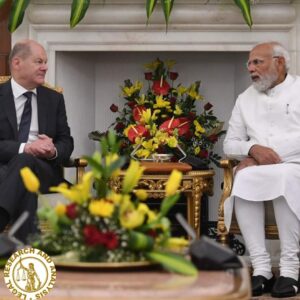 India and Germany today reiterated the consensus that reform of multi-lateral institutions is necessary to better reflect global realities.
In his press statement after holding talks with German Chancellor Olaf Scholz in New Delhi, Prime Minister Narendra Modi said this is evident from both nations' active participation within the G4 to reform the UN Security Council.
He also highlighted that there is active cooperation between India and Germany in the fight against terrorism and separatism. He stressed that both countries agree that concrete action is necessary to end cross-border terrorism.
The Prime Minister said security and defence are active pillars of the strategic cooperation between India and Germany. He remarked that India and Germany will continue to strive to fully realize the untapped potential in this area. Mr Modi said the Green and Sustainable Development Partnership was announced last year during his visit to Germany. He highlighted that both nations are expanding cooperation in the areas of Climate Action and Sustainable Development Goals through this.
The Prime Minister said India is encouraged by Germany's interest in opportunities arising out of Make in India and Aatmanirbhar Bharat. He said Chancellor Scholz understands the many possibilities of India-German ties. He said they discussed the issues of mutual interest during their meeting.
The Prime Minister said India and Germany have strong ties, based on shared democratic values, and a deep understanding of each other's interests. He added that there is also a long history of cultural and economic exchange between the two countries. He said the increasing cooperation between the two largest democratic economies of the world is not only beneficial for the people of both countries, it also sends a positive message in today's stress-ridden world.
In his statement, Chancellor Scholz said India has a lot of talent and Germany wants to recruit and attract that talent. He said about one thousand 800 German companies are active in India and have given thousands of jobs.
The two leaders reviewed progress on key outcomes of the 6th Inter-Governmental Consultation held in May last year. They discussed ways to strengthen defence and economic cooperation, enhance talent mobility and widen Science and Technology collaboration. This is the fourth time that the two leaders met in the span of a year, underscoring the mutual commitment to the growth of the Indo-German partnership.
German Chancellor Olaf Scholz arrived in New Delhi this morning on a two-day visit to India. He is accompanied by senior officials and a high-powered business delegation. He was accorded a ceremonial welcome at the forecourt of Rashtrapati Bhawan.
The two leaders also interacted with CEOs and business leaders of both sides. The German Chancellor paid his respects to Mahatma Gandhi by laying a wreath at Rajghat this afternoon.
This is his first visit to India in his current role. This is the first standalone visit of a German Chancellor to India since the biennial Inter-Governmental Consultation mechanism commenced in 2011. The Inter-Governmental Consultation is a whole-of-government framework under which Ministers from both countries hold discussions in their respective areas of responsibility and report on the outcome of discussions to the Prime Minister and Chancellor.
The India-Germany Strategic Partnership is underpinned by shared values, trust and mutual understanding. Robust investment and trade linkages, cooperation in the areas of green and sustainable development and growing people-to-people ties have strengthened bilateral relations. India and Germany also work closely at multilateral and international platforms, notably as part of the G4 for UNSC reforms.
Please follow and like us: