Indian Air Force to participate in Exercise Cobra Warrior in the United Kingdom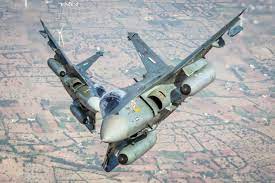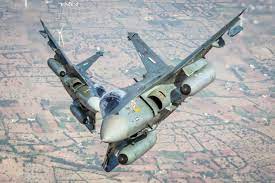 The Ministry of Defence has announced in a press release, An Indian Air Force contingent comprising 145 Air Warriors departed from Air Force Station Jamnagar for participating in Exercise Cobra Warrior at the Waddington Air Force Base of the Royal Air Force in England.
Exercise Cobra warrior is an air force military exercise planned to be conducted annually by the Royal Air Force of the UK. England has been conducting the exercise Cobra warrior for a decade now.
On February 21, Defence Minister Rajnath Singh held a telephonic conversation with his UK counterpart Ben Wallace, where he called upon companies to become part of India's success story and participate in co-development and co-production. Both Ministers discussed a wide range of defence and national security issues, including regional developments and the Indo-Pacific, as well as reviewing their ongoing defence cooperation and expressing gratification at their bilateral military-to-military commitments.
The exercise is to be held from March 6 to March 24. The Exercise Cobra Warrior is a multilateral aerial exercise in which Air Forces from various nations including Finland, Sweden, South Africa, the United States of America, and Singapore along with the UK's Royal Air force and Indian Air Force. The exercise aims to participate in varied fighter aircraft engagement and learn from the experiences and best practices of various Air Forces. During the exercise, the Royal British Air Force offers Qualified Space Instructors Courses, surveillance courses, Multi-Engine Tactics, Qualified Weapons Instructors, etc. To qualify for these war strategies the Air Force crew has to seek rigorous training provided by the British Royal Air Force.
A military exercise, training exercise, or war game is the implementation of military resources in training for military operations. Military exercises are conducted to explore the feasibility of warfare or test tactics and strategies without any actual combat. They also ensure the combat readiness of garrisoned or deployable forces before deployment from a home base.
Both war games and military exercises aim to simulate real conditions and scenarios to prepare and analyze those scenarios, the distinction between a war game and a military exercise is regulated, primarily, by the inclusion of actual military forces within the simulation, or lack thereof. Military exercises aim at the simulation of real, full-scale military operations in controlled hostile conditions in attempts to procreate wartime decisions and activities for training purposes or to analyze the outcome of possible wartime decisions.
The Indian Army and Air Force often conduct multiple military operations with other countries to experiment with their military power. It helps in the coordination between the countries and observes the enemies' tactics and gets a taste of what condition their army is in front of the enemy's army.
The exercise Cobra warrior is organized to be conducted between the prestigious Indian Air Force and the Air Force military of other countries. It aims to train both pilots and other air technicians in planning and executing complex airborne missions. Some other joint exercises between India and the UK are:
Naval Exercise- Konkan
Air Force – Indradhanush
Army- Exercise AJEYA Warrior
India participated in Exercise Cobra for the first time in 2022 with five indigenous Light Combat Aircraft, Tejas fighter aircraft, and C-17 aircraft for transport support. While the IAF is participating in the exercise this year with five Mirage 2000 fighters, two C-17 Globemaster III, and an IL-78 mid-air refueller aircraft.
Meanwhile, the Indian Air Force on Saturday briefed that the indigenous Light Combat Aircraft (LCA) Tejas will make its debut in a multi-lateral 'Exercise Desert Flag' in the United Arab Emirates. The IAF would participate in the exercise with its five LCAs and two C-17 Globemaster III aircraft. The exercise is scheduled to begin on February 27 and will continue till March 17. Air forces from the UAE, France, Kuwait, Australia, the UK, Bahrain, Morocco, Spain, the Republic of Korea, and the US would be taking part in the exercise.
Please follow and like us: