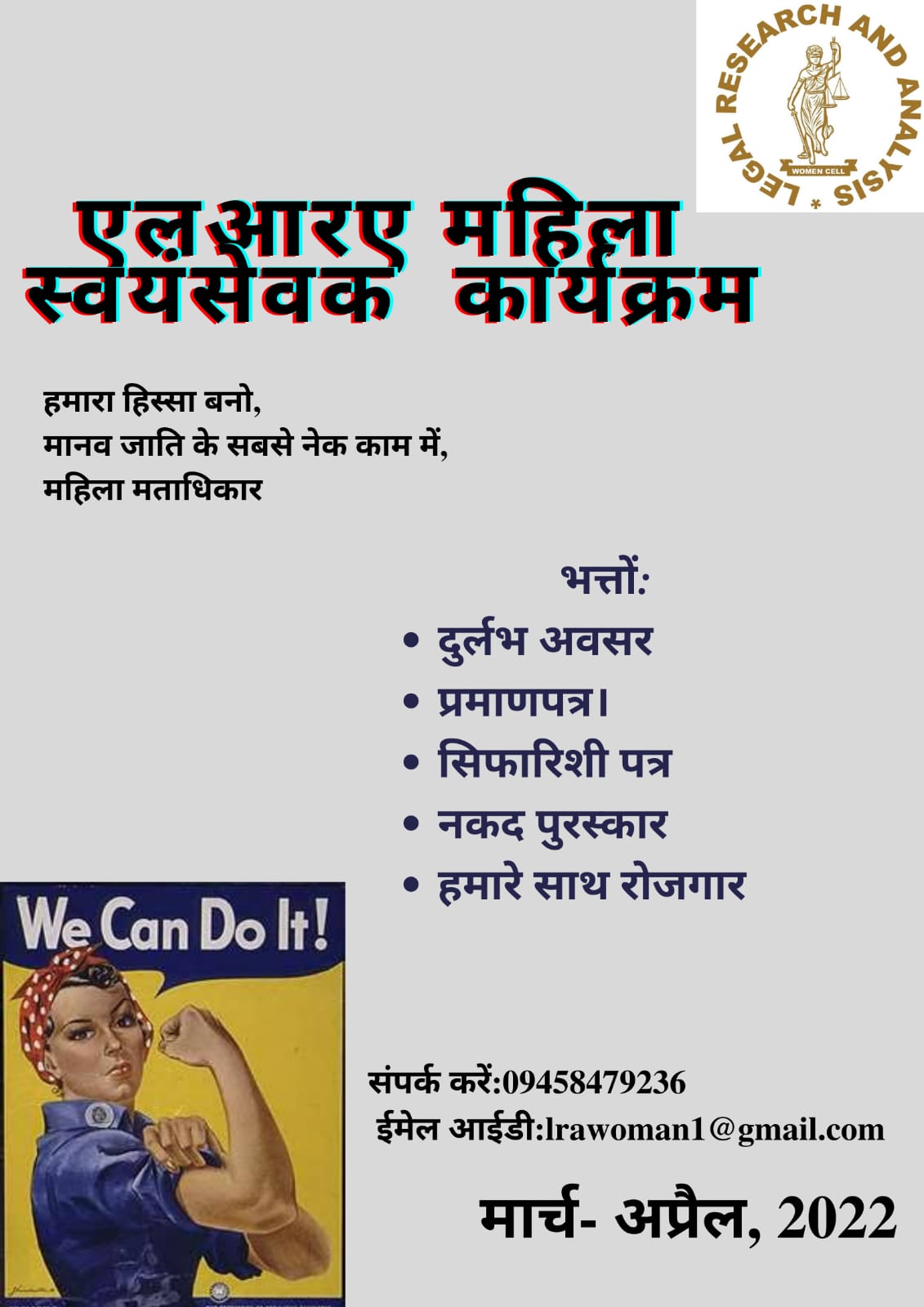 LRAWOMEN Volunteers Program
Be part of us!
In serving Humankind's most
noble cause,
the Woman suffrage!!
Gender equality is not only a basic human right, but its achievement has enormous socio-economic ramifications. Empowering women fuels thriving economies, spurring productivity and growth. Yet gender inequalities remain deeply entrenched in every society. Women lack access to decent work and face occupational segregation and gender wage gaps. They are too often denied access to basic education and health care. Women in all parts of the world suffer violence and discrimination.
About the volunteer program
We provide sessions, meetings, discussions, journalism fieldwork, podcast stories, article publication, blog publication, research works on key issues, debates,
creative writing, painting, movies, short videos, etc. With much more to come soon!
Perks
Rare Opportunity
Certificate
Recommendation Letter
Cash Reward
Employment With Us (Subject to Conditions*)
AIMS AND OBJECTIVES
To Curb all forms of violence against women with unity. a multidisciplinary approach, under professionals and experts.
ELIGIBILITY REQUIREMENTS
He/ She must be 18 years or older.
He/She must be minimum educational qualification is
10th/10 + 2 pass/graduate or post-graduation from a
recognized institution.
He/She should also be of a good moral character, should
not be a party to any criminal conduct.

HOW TO APPLY
By filling out the following online form and paying an amount of 500₹INR, as registration fee. (Non-Refundable)
FUNDED AND AIDED BY
MEDIA PARTNERS BY
The Law Monks are tribune in enhancing the citizen's knowledge apropos their legal and fundamental rights. Also, for the enforcement of the same in the Court of Law.
We are delighted to extend our hands to providing pro-bono legal services to all across our Country. We offer personalized legal services, focusing on dispute resolution and associated strategizing and counseling. We ensure our best and transparent services to all including corporate clients. We operate in the field of Civil and Criminal litigation as well as in the area of alternate dispute resolution (ADR) in and around Delhi-NCR including outstations before various Forums/ Courts.
Besides aforesaid, we also pride ourselves in building relationships with our clients by developing trust and mutual respect through sustained interaction and easy access 24/7. We endeavor to anticipate our clients' needs and keep them well informed on the matters and legal developments relevant to their business.
The Law Monks can be reached for collaboration at their physical address.
All India Legal Forum, the brainchild of several legal luminaries and eminent personalities across the country and the globe, is a dream online platform that aims at proliferating legal knowledge and providing an ingenious understanding and cognizance of various fields of law, simultaneously aiming to generate diverse social, political, legal and constitutional discourse on law-related topics, making sure that legal knowledge penetrates to every nook and corner of the ever-growing legal fraternity. It also houses a blog that addresses contemporary issues in any field of law.
Legal Education is regarded as central in providing access to justice by ensuring equality before the law, the right to counsel, and the right to a fair trial. It aims to bring out a platform to provide resourceful insight on law-related topics for the ever-growing legal fraternity. Through ambitious and studious legal brains across the country, it aims at providing valuable contributions on developments in the legal field and contemporary assessment of issues, putting forward quality legal content for the masses.
All India Legal Forum is a team of more than 1000 law students across the country to tackle basic problems which a legal researcher faces in day-to-day life. Putting forward the basic things needed for researching and drafting, it seeks to help and encourage people to write research papers efficiently and effectively. In this regard, the All India Legal Forum provides:
Free legal notes of law subjects as they are not easily available on the internet.
Guidance on how to use legal databases like Zotero, SCC, Manupatra.
The basics of researching and formatting.
Some free eBooks related to Drafting and Researching.
It also welcomes blogs and articles that address contemporary issues in any field of law. Helming over 120+ WhatsApp Groups and 20+ Quiz Groups, we provide notes and other study material to aid in the preparation for civil and judiciary examinations.
Asgar Khan Advocate Charitable Trust is a non-profit registered charitable organization established to continue the name, deeds, visions, and ideas of the brilliant, eminent, and successful Shri Asgar Khan Advocate. This organization is inspired to continue, pursue and evolve his aims and dreams towards humanity and also towards his profession.
We work towards the betterment of society so that excellence and betterment can prevail in this world. We especially work for educational and Humanitarian purposes.
Legum wire is an online platform for budding law students which offers opportunities in the form of competition, events, jobs, relevant to the legal fraternity. The opportunities provided by us includes Seminars, Workshops, Article Writing Competition, Essay Writing Competition, Blog Writing Competition, and various other law school events conducted by law colleges/Universities across all over India. The Legum Wire is an open-access blog that gives a platform to the young budding minds of the legal fraternity to share their beautiful and creative legal thoughts and thereby giving them the opportunity to broadcast their ability and skill in legal writing. This Website is still in its nascent stage and as an endeavor to become the beacon of legal education by encouraging the synthesis of knowledge and best practices we wish to create a vast pool of knowledge and wisdom for our readers to help them open up their minds.
For collaboration reach at: Legumwire@gmail.com
A.N.Lex Tutorious is an organization that focuses on grassroots level or learning and teaching. A.N. Lex Tutorious also provides online coaching to the judiciary, LL.M and NET students also provide some legal consultation and Internship facilities to needy students.