Nikki Haley, announces her presidential bid for 2024.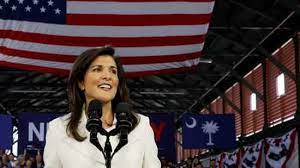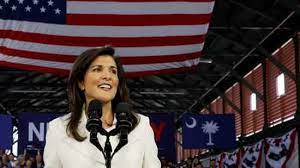 Who is Nikki Haley?
Nimrata Nikki Haley is the former South Carolina governor and U.N.the ambassador who is now the second major declared candidate for Republican presidential elections in 2024, officially challenging Donald Trump in the race.
Haley made her announcement in a video shared online, in which she declares, "It's time for a new generation of leadership to rediscover". Nikki Haley, who is an Indian immigrant has previously made history as the country's first female Indo-American governor and the first Indian American to serve in the Cabinet. Republican Haley calls on Americans to reject the "age-old philosophies and ideas of the past" and instead put their faith in a "new generation" of leadership. In the video shared, Haley said that her mother encouraged her to focus on similarities, not differences and she condemns those who she says "think our ideas are not just wrong but racist and evil".
Nikki Haley, 51, had already hinted at this move in July 2022 while addressing Christians United for Israel at the Washington summit, saying,"if this president signs any sort of Iranian nuclear deal, I'll make you a
promise; the next president will shred it on her first day in office" and, "Just saying, sometimes it takes a woman".
She cast herself as an agent of generational change who could transform Americans gripped by "doubt, division and self-destruction".Haley takes aim in her video at the current President, Joe Biden and warns
of the threat constituted by China and Russia. "I don't put up with bullies, and when you kick back, it hurts them more if you're wearing heels," she said.
Throughout her time in the national spotlight, Haley has advocated for the Republican Party to do more to reach people of colour. After her election in 2010, Haley became the first-ever youngest governor in the country.
A timeline of Haley
2004: Nikki won a seat in the state House of Representatives, campaigning on a traditional Republican platform that included tax deductions, immigration controls, and abortion restrictions. She was re-
elected in 2008 and continued the office for the following year.
2010: Haley ran for governor of South Carolina, a challenging journey to win the general election. When she took office in 2011, she made history as the first woman and the first person of an ethnic minority to hold the governorship. During her first term, South Carolina's economy grew steadily as the jobless rate declined. Haley easily won the election in 2014 and procured her seat.
2016: Haley's position among Republicans continued to rise as she was selected to give the party's response to the then-U.S. President, Barack Obama's state of the Union address. In November 2016, however, she was selected by President Trump to serve as the U.S. ambassador to the United Nations. Despite having limited foreign-policy experience, she was easily affirmed by the Senate in January 2017.
As the UN ambassador, Haley developed a reputation for being forthright, especially concerning Iran and North Korea, both of which were ensuing nuclear programs.
In 2019 and 2020 Haley remained active in politics, she continued to support Trump, however, she was critical of his response to the attack on the U.S., Capitol in January 2021.
Two years later she announced that she was running for president in 2024, saying it was "time for a new generation". Haley became the first Republican to challenge Trump, who had announced his candidacy in
2022.
The video spotlights Haley's gender and her family's immigrant roots. "I was the proud daughter of Indian immigrants. Not Black, not White, I was different." She said, "Take it from me, America is not a racist
country," blaming Biden and vice president Harris for promoting a culture of "self-loathing" that she warned was a "virus more dangerous than any pandemic".
I'm Nikki Haley, and I'm running for president," she says in her video, which seeks to take a sanguine view of the country and its past. She begins, referring to her hometown, "The railroad tracks divided the town
by race".
Please follow and like us: