Plea In Supreme Court Seeks Direction to ECI To Introduce Voter Verifiable Paper Audit Trail (VVPAT) In EVMS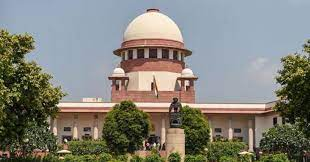 The plea in the Supreme Court seeks direction to the Election Commission of India ECI to introduce Voter Verifiable Paper Audit Trail VVPAT in Electronic Voting Machines EVMs This is a very important step towards ensuring free and fair elections. VVPATs are paper slips that contain information about
who a voter has voted for, which can be verified by voters after they have cast their vote. The introduction of VVPATs will add an extra layer of security and transparency to our electoral process as it allows people to verify that their ballots were correctly recorded.
In recent years, there have been allegations made against EVMs being tampered with or manipulated during elections. These claims cannot be substantiated without tangible proof which is why introducing VVPATS into EVMS would provide more credibility and trustworthiness when it comes to election results.
The presence of these paper trails would make sure that any discrepancies between what was reported electronically versus on paper could easily be identified if needed for further investigation or verification purposes, thus making our voting system much more secure than before .
Furthermore , since this technology already exists , its implementation should not pose too much difficulty for ECI . Allowing citizens greater access over verifying how their votes are counted gives them more confidence in democracy as well as encourages higher voter turnout numbers due its convenience factor .
If implemented properly , this move could go a long way towards restoring faith amongst the public regarding overall fairness within India's electoral process while also providing necessary checks & balances whenever required .
The recent plea in the Supreme Court of India has sought direction to the Election Commission of India CI o introduce Voter Verifiable Paper Audit Trail VVPAT system in Electronic Voting Machines h EVMs.Thisis is a significant move as it will help ensure free and fair elections, prevent voter fraud and increase transparency.
In simple terms, VVPAT is an independent verification process that allows voters to verify their vote before casting it. It works by printing a paper slip after each vote cast which contains details such as name of candidate voted for along with other information like serial number etc.
The printed slips are kept secure inside a ballot box so that they can be used later for audit or recounting if needed. This system helps eliminate any chances of manipulation during voting process thus ensuring fairness and accuracy in results declared by ECI at end of election day.
It is important that ECI implements this technology across all EVMs used during elections so that citizens can have faith on electoral process being conducted fairly without any interference from outside sources or political parties involved in contesting polls.
Moreover, implementation would also bring more credibility towards Indian democracy since people would know their votes are not going waste but rather being counted accurately through reliable systems put into place by government authorities responsible for conducting general elections every five years throughout country's various states/union territories voter verifiable paper audit trail VPAT's a system that allows voters to verify their votes by providing them with an auditable record of their vote.
This system has been proposed as a means to increase the transparency and accuracy of elections in India, which have recently come under scrutiny due to allegations of irregularities and malpractice. Recently, the Supreme Court has been petitioned by several political parties requesting direction to the Election Commission Of India CI for implementation of VVPAT in Electronic Voting Machines EVMs.
The implementation of VVPAT would be beneficial for Indian democracy as it would provide more transparency and accountability during election processes. It will also help reduce disputes over
results since every voter can check if his/her vote was correctly cast on EVM or not through printed paper records generated from VVPAT machines attached with EVMs at polling booths. Moreover, it will make sure that no tampering takes place while counting votes since all ballots are stored securely inside sealed boxes connected with each other via cables so that any manipulation attempts can be easily detected during manual recounting process if needed later on after declaring result officially .
In conclusion, introducing Voter Verifiable Paper Audit Trail in Electronic Voting Machines is important step towards free fair elections across country as it helps ensure maximum level security against frauds or manipulations taking place before ,during or after voting process .
The Supreme Court should take necessary steps towards directing ECI for proper implementation this system throughout nation so citizens get chance exercise their right choose representatives without fear being cheated out outcome due lack transparency measures adopted government authorities time time again past few years.
The Supreme Court of India recently heard a plea requesting the Election Commission of India ECI to introduce Voter Verifiable Paper Audit Trail VVPAT in Electronic Voting Machines EVM. This system would enable voters to verify that their vote has been correctly recorded and counted. It is an important step towards ensuring free and fair elections in the country.
VVPAT systems are already used in several countries around the world, including Germany, Ireland, Canada and Brazil. They provide a paper record which can be checked against electronic records during recounts or audits if necessary.
The introduction of VVPATs will also help reduce instances of electoral fraud such as double voting or ballot stuffing by providing an additional layer of security for voters' ballots. Furthermore, it will give citizens greater confidence that their votes have been accurately counted as intended without any interference from external sources such as political parties or individuals with vested interests who may try to manipulate results for personal gain.
ECI should take this opportunity provided by the Supreme Court's plea seriously and implement VVPAT systems across all EVMs before this year's general election so that Indian citizens can exercise their right to vote with full assurance that it is being done securely and fairly without any manipulation whatsoever from outside sources.
Doing so would not only ensure transparent elections butals strengthen public trust in our democratic process which is essential for its successful functioning overtime.
Please follow and like us: