Qin Gang, The Chinese Foreign Minister briefs the media on foreign policy, relations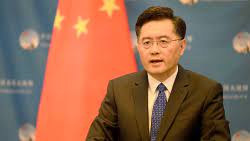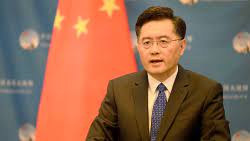 China's newly appointed president, Qin Gang on March 7 held his first press conference after taking up his position. The conference was held in Beijing, the Chinese capital and provided an opportunity for the Minister to brief the media on China's foreign policy as well as external relations.
The conference was attended by both domestic and foreign journalists demonstrating the international community's interest in China's approach to foreign affairs under the new leadership.
The minister then began by emphasizing the importance of maintaining peaceful and stable international relations stating that China seeks to work with other countries to build a community with a shared future for mankind. He reiterated China's commitment to multilateralism stating that the country believes in the principle of consultation and cooperation for shared benefits which is the cornerstone of multilateralism.
He then also went on to discuss the country's relations with the other major powers including the United States, Russia and so on. Qin Gang emphasized that China does not see the United States as an adversary but as a partner with whom China seeks to cooperate on issues of mutual interest.
He then expressed China's willingness to work with the United States to address global challenges such as economic recovery, climate change and pandemic response. Moreover, with respect to Russia, the minister stated that China views Russia as a comprehensive strategic partner and that the two countries have depended on cooperation in various areas including trade, energy as well as defence.
He also emphasized that China and Russia share similar views on many international issues and are committed to upholding international laws and the principles of the United Nations.
The minister also addressed China's relations with its neighbours including Japan, South Korea and India. He stated that China is committed to improving its relations with these countries and seeks to build a framework for regional peace and stability. He emphasized that China is willing to work with these countries to enhance mutual understanding and cooperation in various areas including trade, investment and people-to-people exchanges.
The minister also discussed China's relations with the European Union stating that China values its partnership with the European Union and is committed to promoting bilateral cooperation in various areas including trade, investment and cultural exchanges.
He acknowledged that there are some differences between China and the EU on certain issues but he expressed confidence that these differences can be managed through dialogue and consultation.
Furthermore, regarding the country's relations with developing countries, the minister emphasized China's commitment to promoting southern cooperation and supporting developing countries in their efforts to achieve sustainable development. He stated that China is willing to work with developing countries to enhance cooperation in areas such as infrastructure, investment and trade.
He also discussed China's approach to global governance emphasizing China's commitment to upholding the international system with the United Nations at its core. He stated that China is committed to promoting multilateralism and that it will work with other countries to strengthen global governance in areas such as climate change and poverty reduction.
Moreover, in response to the questions from the media, he also addressed a number of issues including China's position on the ongoing crisis in Ukraine the situation in Hong Kong and Taiwan and the treatment of the ethnic minorities in the country's Xinjiang region. Where in response to Ukraine, he reiterated the country's position of non-interference in the internal affairs of other countries and emphasized the significance of resolving the crisis through peaceful means.
He called for all parties to exercise restraint and engage in dialogue to find a political solution to the crisis. Further on the treatment of ethnic minorities in Xinjiang he stated that the allegations of human rights abuses are unfounded and are based on misinformation.
Please follow and like us: