Vatican reopens investigation into teenager who went missing in 1983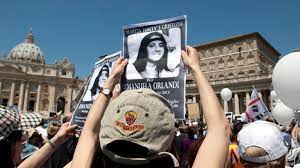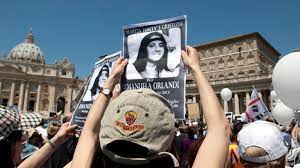 Vatican reopens investigation into teenager who went missing in 1983
When Emanuela Orlandi, then 15 years old, did not return to her family's Vatican City
apartment after a piano lesson in 1983, her parents reported her missing. Since then, there have been various ideas that she was abducted by the Italian Mafia, the Russian Mafia, or the KGB; many of them are explored in the Netflix series. Though the Vatican has consistently denied involvement, a popular theory holds that Emanuela's former place of residence may provide clues to her disappearance.
That unfortunate day- she never returned from the flute classes

The day Emanuela Orlandi disappeared, she was attending one of the three weekly flut
lessons she had been receiving at the Tommaso Ludovico Da Victoria School, a local music
school. She arrived at school and spoke with her sister later, but she never returned home. That phone conversation with her sister was the last time anybody heard from her. Pietro, Emanuela's brother, said that on June 22, 1983, their hometown was anything from secure, despite the fact that they were members of a close-knit community and their father held a position of authority. He recalls that she had requested him to accompany her to the class that day, but that Pietro had declined. He still feels bad about not enrolling Emanuela in her class.
The following day, authorities reported Emanuela Orlandi missing. and other leads had
already been followed up on at this point in the inquiry. The information provided in two tips on June 25 and June 28 seemed to be very promising.
The first caller, who identified himself only as "Pierluigi," claimed to have seen Orlandi that day in Rome, and gave specifics about her flute and outfit that detectives used to verify his story as true. Orlandi had said to her sister that she was going to start selling Avon items on the street, and he said that was the reason the girl had run away and adopted the name "Barbarella." On June 28, a second caller reported to police that he had seen a young lady he knew only as "Barbara" who had also eluded her parents. This guy said he saw her in a pub close to the music school, which lends some credibility to his allegation.
Theories and Dilemma
The Mafia Theory- Much of the Mafia lore centres on the Banda della Magliana, a criminal
organisation centred in Rome and headed by Enrico De Pedis. According to the idea, the
syndicate kidnapped the daughter of a Vatican official in order to demand payment of a
ransom for money they had borrowed to the Vatican Bank but not yet received. Anonymous
inputs to police corroborated this notion, and De Pedis' ex-girlfriend testified publicly that he admitted to kidnapping Orlandi. The police searched the gangster's tomb, which one informant said would hold DNA evidence verifying the allegation, but they found nothing.
The Grey Wolves theory- There seems to be better evidence in favour of the Grey Wolves
concept. Grey Wolf Mehmet Ali Aca tried to kill Pope John Paul II by shooting him four
times at the Vatican on May 13, 1981, but he was quickly caught. During the weeks after
Orlandi disappeared, investigators received many information that Turkish terrorists were
holding her hostage in return for Aca. The authorities were contacted by a man they called "The American" (because to his accent) who claimed the tipsters from June 25 and June 28 were part of his gang and that they had a clear plan to trade Aca for money within 20 days. However, the Vatican didn't take the calls seriously, thus they were ultimately fruitless. The case reopens again
The case reopens again

The Vatican wants to re-examine all data, records, and testimony in relation to Emanuela
Orlandi's disappearance and will not stop until they find the truth. A missing person case
involving a 15-year-old girl who vanished in 1983 and was the focus of a recent Netflix
documentary series was reopened by the Vatican court on January 9th, 2023, according to a press release. Alessandro Diddi, the newly appointed head prosecutor by Pope Francis, will be responsible for leading the investigation into the cold case that has captivated the public for nearly four decades, given rise to conspiracy theories involving the Holy See, and prompted speculation about the Pope's personal involvement. Her mysterious disappearance has persisted as one of the Vatican's biggest mysteries for decades, with suspects ranging from the criminal underworld of Rome to a plan to assassinate Pope John Paul II and a financial scandal involving the Vatican bank. Laura Sgro (a lawyer for the Orlandi family) and opposition legislator Carlo Calenda stated that the Vatican couldn't consider the issue closed while there were so many concerns that remained unanswered, despite the fact that three prior attempts in the Italian Parliament had failed to get off the ground. However, despite the Vatican government's many efforts since 1983, no tangible progress has been made as of yet.
Please follow and like us: