ASSASSIN ROBOTS: POSE A FUNDAMENTAL QUESTION OF WHETHER COMPETITIVE MILITARY ADVANTAGE SHALL BE ALLOWED TO RESULT IN AN UTTERLY BLEAK FUTURE FOR HUMANKIND

Warfare today has come a long way from the rudimentary nature of it that pervaded the human world till the onset of World war-I. Since then, we have seen a constant upward trajectory of human advancement in terms of military capabilities. While Nuclear, chemical, and biological weapons dominated the later half of the 19th century, information warfare and unmanned AI-operated weapons have become the defining features of modern-day warfare.
However, the recent development in the field of lethal autonomous weapons systems (LAWS), or killer robots as they have been termed by critics pave an entirely peculiar path for humankind. LAWS essentially comprise weapons that have no human input in terms of their battlefield operations. Several major countries have dedicated research programs for their proliferation and development and some of them have successfully developed such weapons, Turkish-made Kargu-2 drones serve as the battle-field tested illustration of the same.
Numerous countries have expressed their concerns over this transition, Costa Rica held a conference of Latin and Caribbean countries to contemplate this issue and they stated their position through a communique stating that necessary prohibitions and regulations must be there to serve the larger human interests.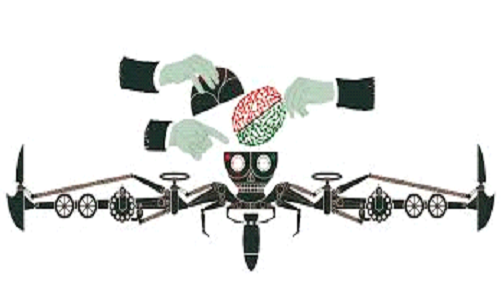 LETHAL AUTONOMOUS WEAPONS SYSTEMS (LAWS) AND ASSOCIATED CONUNDRUMS

The development and deployment of LAWS raise a range of ethical, legal, humanitarian, and strategic concerns. Here are various facets or aspects to consider regarding it. Autonomy, full autonomy means that these weapons can select and engage targets without any human intervention. These weapons possess the ability to independently identify and engage targets, relying on algorithms and sensors to make decisions based on predefined rules or machine learning.
However, the development and deployment of LAWS give rise to numerous ethical, legal, humanitarian, and strategic concerns. One of the key issues is target selection, as LAWS utilizes technologies such as facial recognition and pattern recognition to distinguish between combatants and non-combatants. Yet, there is a legitimate worry that mistakes or misinterpretations may occur, potentially resulting in unintended harm and violations of international humanitarian law. The legal and ethical implications of LAWS are substantial. These weapons challenge fundamental principles such as distinction, proportionality, and military necessity.
Their inability to make complex ethical judgments required in dynamic combat situations raises questions about accountability and responsibility. Determining who should be held accountable for errors, civilian casualties, or breaches of international law becomes a complex matter. Another critical facet is the level of human supervision and control over LAWS. While proponents argue that full autonomy can enhance operational capabilities and reduce human error, critics insist on maintaining meaningful human control to ensure ethical decision-making and prevent potential abuses.
The balance between autonomy and human oversight is crucial to address concerns related to the use of force and the potential for unintended consequences. Furthermore, the proliferation of LAWS can lead to an arms race, heightening international security concerns. The acquisition and development of autonomous weapons by various countries and non-state actors could destabilize global security dynamics.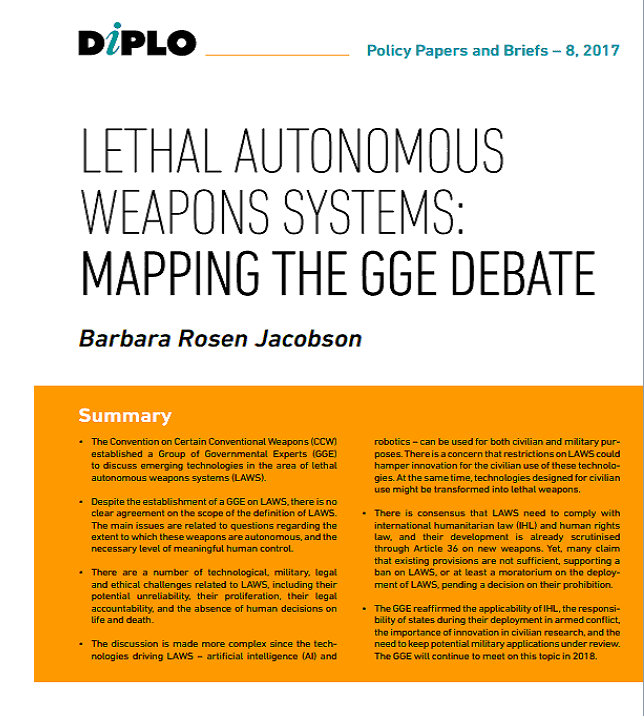 Additionally, LAWS raise humanitarian worries, including the potential for indiscriminate use, civilian casualties, human rights violations, and the possibility of machines exhibiting cruelty or disproportionate force. Public perception and acceptance of LAWS are varied. Some individuals are deeply concerned about the moral implications and the potential loss of human control in decision-making processes. Conversely, others see the potential benefits of LAWS, such as reducing military casualties and improving operational efficiency. Recognizing the need for international regulation, discussions are ongoing to address the complex issues associated with LAWS.
Proposals range from complete bans to comprehensive regulations that ensure meaningful human control, adherence to international law, and transparent accountability mechanisms. Considering these facets of LAWS is essential when deliberating their impact on warfare, human rights, and global security. Comprehensive understanding and thoughtful regulation are necessary to navigate the ethical, legal, humanitarian, and strategic implications of lethal autonomous weapons systems.
LETHAL AUTONOMOUS WEAPONS SYSTEMS (LAWS) AND PLAUSIBLE SOLUTIONS

Lethal Autonomous Weapons Systems (LAWS) present complex challenges, but several plausible solutions can be considered to address the concerns they raise. One approach is the establishment of international regulations and treaties specifically tailored to LAWS. These agreements would provide clear guidelines on human control, compliance with international law, transparency, and accountability. Multilateral cooperation is crucial to ensure global adherence and cooperation in managing LAWS.
Ensuring meaningful human control is another key solution. Human supervision and decision-making should be maintained in critical stages of target selection and engagement. By retaining the ability to override or intervene in autonomous actions, humans can prevent unintended consequences and make complex ethical judgments in unpredictable situations. The development of comprehensive ethical frameworks and standards for LAWS is essential. These frameworks should encompass principles such as proportionality, distinction, and military necessity.
Regular ethical reviews and oversight mechanisms should be implemented throughout the lifecycle of LAWS to ensure adherence to these standards. A preemptive ban on fully autonomous weapons is advocated by some as a plausible solution. Such a ban would acknowledge the risks and challenges associated with LAWS and prevent an arms race. It would also incentivize the exploration of alternative technologies and approaches that prioritize human control and ethical decision-making. Engaging the public and raising awareness about LAWS is crucial.
Open discussions, education campaigns, and public consultations can help foster a broader understanding of the risks, implications, and potential benefits of LAWS. Public opinion and engagement can influence policy decisions and promote efforts to address concerns related to accountability, transparency, and the humanitarian impact of LAWS. Finally, conducting robust risk assessments and testing is vital. Thorough evaluations of LAWS should be carried out to identify potential risks, vulnerabilities, and unintended consequences.
This can inform decision-making, improve the design and deployment of LAWS, and ensure that they align with ethical and legal standards. Addressing the challenges posed by LAWS requires a multifaceted approach, involving international cooperation, ethical frameworks, human control, public engagement, and comprehensive risk assessments. By considering these plausible solutions, we can work towards responsible and accountable use of autonomous weapons while prioritizing human values and ethical considerations.
THE GOLDEN MEAN

Buddha expounded the concept of the golden mean in the 5th century BCE and it has since then become common wisdom that we must choose the middle path rather than going for the extremes. Accordingly, the current enigma calls for a similar approach wherein, those who argue for a blanket ban on automation and those who argue for the unfettered proliferation of the same must be brought to a common ground. The technological concept of automation employed in LAWS is no different from that which is employed in healthcare or car safety or numerous other sectors.
Hence, putting an end to the process of automation due to fear of its misuse in warfare would result in the loss of myriad human lives which could have been saved had the process been allowed to progress. It all boils down to the pervasive distrust in the global community. None of the countries are willing to come forward to end this madness because of the distrust that even if they do refrain from developing LAWS there is no guarantee and almost absolute certainty that certain hypocritical countries would not stop.
At last, it seems impossible for the world to take a turn for the better not only concerning LAWS but also concerning any other issue unless the omnipresent and deeply-entrenched mistrust is mitigated if not eradicated. Such mitigation of mistrust would pave the way for dialogue and diplomacy, which in turn would lead to amicable solutions to global issues. There must be emphasis on dialogue and diplomacy as in the absence of the same the world may very well witness doomsday sooner rather than later.
Please follow and like us: