Article
Breaking the Silence: Shedding Light on Human Rights Violations in J&K
On April 8, 2023 by Thomas Denny Thettayil
Jammu and Kashmir is a region in northern India that has been a flashpoint of conflict and controversy for decades. The region was part of a princely state that joined India in 1947 after the partition of British India, but its status and autonomy have been contested by Pakistan,
China and some local groups ever since. In August 2019, the Indian government revoked Article 370 and Article 35A of the constitution, which granted special rights and privileges to the people of Jammu and Kashmir, such as their own constitution, flag, laws and property rights.
The government also split the state into two union territories – Jammu and Kashmir, and Ladakh – which are directly governed by the central government.
The government said that its decision was a way to unify Jammu and Kashmir with the rest of India and to stop terrorism and separatism in the region. However, the move faced widespread opposition and criticism from various groups, including political parties, civil society groups, human rights activists and international organisations.
The revocation of Article 370 was followed by a massive security crackdown, communication blackout, detention of political leaders and activists, restrictions on movement and assembly, and suspension of civil liberties in Jammu and Kashmir. The situation has been described as a humanitarian crisis by some observers.
Two years after the removal of Article 370, the situation in Jammu and Kashmir remains tense and uncertain. The government claims that it has restored normalcy and development in the region, but many reports suggest that the people are still suffering from hardships, violence, alienation and fear.
The international community has also expressed concern over the situation in Jammu and Kashmir and has called for dialogue and respect for human rights. The UN Human Rights Commissioner has criticised India for its actions and has urged it to restore democratic processes and fundamental freedoms in the region. China, Pakistan and some other countries have also denounced India's move and have supported the right to self-determination of the Kashmiri people.
The Human rights violations in Jammu and Kashmir are not a new phenomenon. They have been going on for decades, as documented by various national and international organisations. According to a Wikipedia article, human rights abuses in Jammu and Kashmir range from mass killings, enforced disappearances, torture, rape and sexual abuse to political repression and suppression of freedom of speech.1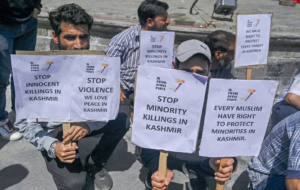 The Indian Army, Central Reserve Police Force (CRPF), and Border Security Personnel (BSF) have been accused of committing severe human rights abuses against Kashmiri civilians¹. According to Human Rights Watch, militant groups have also been held responsible for similar crimes, but the vast majority of abuses have been perpetrated by the armed forces of the Indian government2.
The human rights violations in Jammu and Kashmir have been largely ignored or silenced by the mainstream media and public opinion in India. The government has also used harsh laws and intimidation tactics to clamp down on dissenting voices and independent reporting. According to a report by Forum for Human Rights in Jammu & Kashmir, journalists, lawyers, activists, academics, students and ordinary citizens have faced harassment, threats, arrests, censorship and violence for speaking out or seeking justice for human rights violations in Jammu & Kashmir.3
The human rights violations in Jammu & Kashmir need to be exposed and addressed urgently. The people of Jammu & Kashmir deserve to live with dignity, freedom and peace.
The government of India needs to respect its constitutional obligations and international commitments to uphold human rights in Jammu & Kashmir.4 The international community needs to put pressure on India to end its impunity and accountability for human rights violations in Jammu & Kashmir.
Civil society groups need to raise awareness and solidarity with the people of Jammu & Kashmir. The media needs to report objectively and responsibly on the ground realities in Jammu & Kashmir.
Breaking the silence is the first step towards breaking the cycle of violence and injustice in Jammu & Kashmir. It is time to shed light on the human rights violations in Jammu & Kashmir and demand action for their prevention and redressal. It is time to stand with the people of Jammu & Kashmir in their struggle for their rights and aspirations.
---
1 https://en.wikipedia.org/wiki/Human_rights_abuses_in_Kashmir
2 https://www.hrw.org/news/2020/08/04/india-abuses-persist-jammu-and-kashmir
3https://indianculturalforum.in/2021/08/04/two-years-since-abrogation-of-article-370-human-rights-in-Jammu-and-Kashmir/
4 https://en.wikipedia.org/wiki/Human_rights_abuses_in_Jammu_and_Kashmir
Please follow and like us:
You may also like