CJI DY Chandrachud Bats For Diversity In Arbitration Space, Says Legal System Has
To Change From 'Old Boys' Club'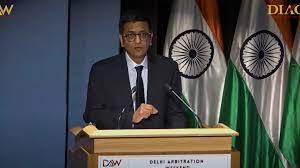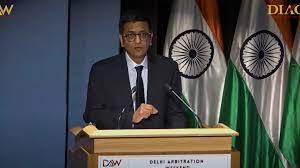 CJI DY Chandrachud at the inaugural session of Delhi Arbitration weekend organized by the Delhi International Arbitration Centre (DIAC) on Thursday said that arbitration can help in the enhancement of diversity in terms of resources and experience. For arbitration to be successful and widespread a gender-neutral pool of arbitrators is required. DIAC is one of the first-ever high Court annexed Institutional Arbitration Centers and it has made significant contributions to the growth of arbitration by supporting the dispute resolution mechanism.
The arbitration arena can strengthen the effort to give equal chances to men, women, and them, he said, if the Indian judicial system is to shed its reputation as an Old Boys' Club. He encouraged the adoption of technology and virtual hearing protocols for the arbitration centre which will make the process more beneficial for the parties and further encourage the DIAC to draft and adopt a protocol for virtual hearings tailored to India's context.
The adoption of such principles, he continued, "would guarantee that there is clarity in virtual hearings. It will also speed up the arbitration process by avoiding drawn-out arguments on formalities. Last but not least, it will make sure that we do not unintentionally compromise on fairness.
50th CJI Chandrachud gave examples of countries like South Korea and Hong-kong. The Seoul Protocol on Video Conferencing in International Arbitration has been adopted by the Korean Commercial Arbitration Board and provides a uniform set of standards that attorneys and arbitrators may refer to for direction on how to handle some of the practical issues raised by distant hearings. Guidelines for holding virtual hearings have been established by the Hong Kong International Arbitration Centre (HKIAC). The Guidelines are designed to guarantee that attendees have a seamless and successful virtual hearing. They apply to entirely or partially virtual proceedings. Both arbitrations conducted by HKIAC and those not so
administered may utilize the virtual hearing facilities offered by HKIAC.
He was optimistic about the adoption of technology in courts, but he wanted arbitration to do well also. He said that though there is some basis to the long-standing perception that courts are behind when it comes to modernizing the processes, soon they will be light years ahead in terms of technology and domestic arbitrations may be lagging. Adopting such rules will guarantee that there is clarity throughout virtual hearings. It will also speed up the arbitration process by avoiding drawn-out arguments on formalities. Last but not least, it will make sure that we don't unintentionally compromise on fairness. The majority of the evidence, including pleadings, written submissions, correspondence, and evidence, can be presented in electronic format rather than in dense paper books, according to CJI, who also added that technology enables arbitrations to be conducted in a paperless manner.
"Rome was not built in a day. It is also important to remember that reactive policymaking rarely results in the development of sustainable and bankable solutions. We must, therefore, anticipate our technological needs and build digital capabilities which are scalable," he said.
CJI after giving these steps for improvement also said that it has to be seen that people not only appoint retired judges as arbitrators but also lawyers and other promising candidates. He added that in India people look for famous names and due to this many good candidates are ignored which leads to an image that India has a shortage of qualified arbitrators. He appreciated DIAC for having 220 advocates and 48 senior advocates along with retired judges as arbitrators. He also stated that all parties involved must work together to ensure that arbitration does not continue to be the only option for parties with significant business ventures and that both smaller companies and individuals should be encouraged to include arbitration clauses in their contracts.
CJI also said that naturally, this will also call for arbitrations to be more reasonably priced. The Fourth Schedule of the Arbitration and Conciliation Act of 1996 significantly improves the accessibility of arbitrations for all parties.
Please follow and like us: