INTRODUCTION
A controversy has ensued following an incident at a college in Hyderabad where female students were instructed to remove their burqas prior to entering the examination hall. Consequently, these students were denied entry upon their refusal to comply with the request. The Telangana Home Minister commented on the matter, emphasizing the importance for women to maintain modest attire and avoid wearing revealing garments.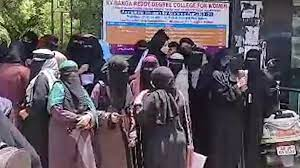 ENTRY IS RESTRICTED FOR WEARING A BURQA
An incident occurred at KV Ranga Reddy College in Santosh Nagar, Hyderabad, where a few female students participating in the Urdu medium degree examination were allegedly asked to remove their burqas before commencing the exam. On Friday morning, as some students arrived at the college gates wearing burqas for the examination, the college staff reportedly requested them to remove the burqas before entering the examination hall.
The students claimed that they were prevented from entering the hall for approximately thirty minutes. Eventually, in order to participate in the exam, they had to comply with the request and remove their burqas. One student stated that the college authorities had instructed them not to wear burqas starting the next day, which contradicted the examination rules.
The parents of the students lodged a complaint regarding the incident with Home Minister Mahmood Ali, who expressed disapproval of not allowing female students wearing burqas to enter the examination center. Subsequently, several families of the students filed complaints with Telangana Home Minister Mohammad Mahmood Ali about this matter.
RESPONSE BY MOHAMMAD MAHMOOD, TELANGANA HOME MINISTER
Telangana Home Minister Mohammad Mahmood Ali sparked controversy with his comments regarding women's clothing in response to allegations made by burqa-wearing students in Hyderabad. These students claimed that the staff at KV Ranga Reddy Degree College for Women had denied them entry to appear for an exam on Friday. Addressing the allegations, the minister expressed his belief that women should aim to cover themselves to the greatest extent possible.
The minister stated that their policy is one of complete secularism, emphasizing that everyone has the right to dress as they, please. However, he advocated for adhering to clothing practices aligned with Hindu or Islamic traditions rather than adopting European culture. He emphasized the importance of respecting cultural norms regarding attire, particularly for women who should refrain from wearing short dresses and strive to cover themselves as much as possible. The minister assured that the issue would be investigated, and appropriate actions would be taken. These remarks were made during a conversation with reporters in Azampura.
CONCLUSION
In conclusion, the incident at KV Ranga Reddy College in Hyderabad, where burqa-clad students were allegedly denied entry to the examination hall, has raised concerns and sparked a heated debate. The remarks made by Telangana Home Minister Mohammad Mahmood Ali regarding women's clothing have added fuel to the controversy. While the minister emphasized the importance of adhering to cultural practices and advocated for modest attire, his statements have been met with mixed reactions. This incident highlights the ongoing tension between individual freedom of expression and cultural norms. It raises questions about the balance between personal choices and societal expectations.
It is crucial to foster an environment where individuals can exercise their rights while also respecting cultural sensitivities. Efforts should be made to address such incidents sensitively, ensuring that examination policies and rules are fair and inclusive for all students, regardless of their religious or cultural backgrounds. Education institutions and policymakers should engage in open dialogue to develop guidelines that accommodate diversity while upholding the principles of equality and respect.
Ultimately, it is essential to promote a harmonious coexistence that values personal freedom, cultural diversity, and respect for one another's choices. Through constructive discussions and proactive measures, it is possible to navigate these complex issues and create an inclusive environment that fosters understanding and tolerance.
Please follow and like us: