Current Affairs Weekly: National & International News ( 9 Jan 2023 – 14 Jan 2023)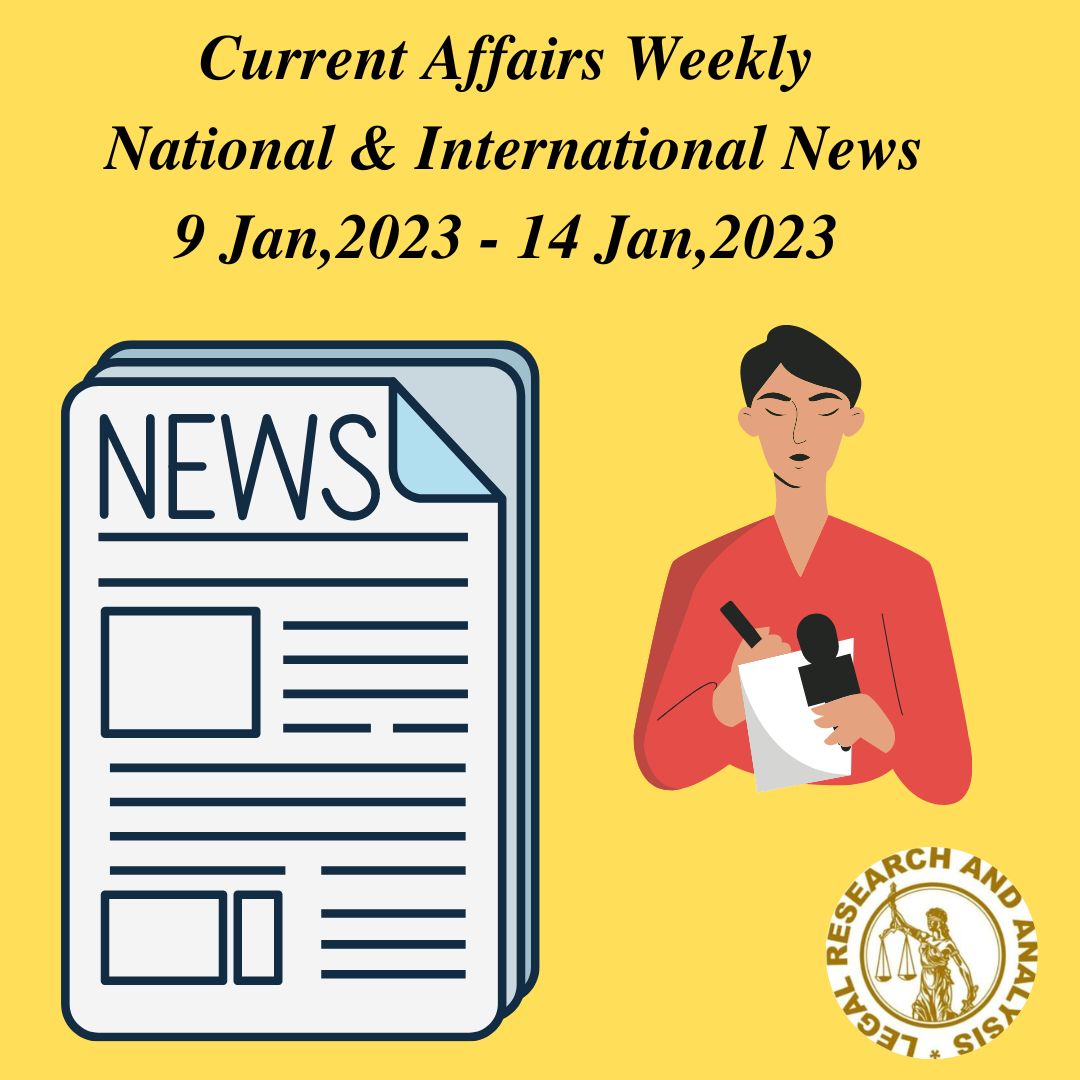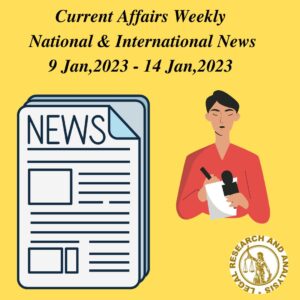 (09-01-2023)
The Harvard Law School Center on the Legal Profession has decided to confer Chief Justice of India DY Chandrachud with the 'Center on the Legal Profession Award for Global Leadership'.
The Madras Sanskrit College, an over century-old educational institution was selected for the 'Spirit of Mylapore' award. The award is given by the non-banking finance company Sundaram Finance.
Adar Poonawalla, CEO of Vaccine manufacturer Serum Institute of India has received the Patangrao Kadam award for his contribution to the fight against COVID-19. Poonawalla is the first one to be conferred with Dr Patangrao Kadam Memorial Award.
Indian-origin Manpreet Monica Singh became the first female Sikh judge in the US in January 2023. She was sworn in as a judge of the Harris County Civil Court at Law No. 4 in Texas.
The International Kite Festival 2023 officially started on January 8th in Ahmedabad, Gujarat, with a theme centred around the G20 countries. The Festival is being held in Ahmedabad annually since 1989 as part of the official celebration of Uttarayan.
SS Rajamouli won the top prize — Best Director — at the New York Film Critics Circle for his film RRR. The New York Film Critics Circle is an American film critic organization founded in 1935 by Wanda Hale from the New York Daily News.
Indian Navy has recently announced a collaboration with Sagar Defence Engineering Private Limited for the development of armed autonomous boat swarms. The platform will be able to conduct a variety of navy and security tasks, including high-speed interdiction, surveillance, constabulary operations, and intelligence, surveillance, and reconnaissance. Indian squash prodigy Anahat Singh clinched the girl's Under-15 squash title at the most prestigious British Junior Open tournament in Birmingham, in January 2023.
Kerala CM Pinarayi Vijayan on Jan 7, 2023, declared Kerala as the first state in the country to go fully digital in its banking service. Kerala has received 3 Digital India awards for its advancement in the digital sector.
The Global Investors Summit will take place from February 10-12, 2023 in Lucknow. It will bring together business delegations, corporate and industry leaders, policymakers, academia, and political and government leadership from around the world.
UP government has launched a 100-day "UP Global City" campaign ahead of the Global Investors Summit and G20 summit. The campaign aims to bring urban areas in the state up to global standards, with a focus on improving urban facilities, air quality, cleanliness, and beautification, as well as proper garbage disposal.
Osmanabad District Court has become the first court in Maharashtra to introduce an e-system of functioning. Under this system, all the court-related work including filing, payment and other court services, etc. can be done through mobile apps or online modes. India-US Trade Policy Forum (TPF), set up to resolve trade and investment issues between the two countries, will hold a meeting in Washington on January 11,
Indian undersea cable landing stations increase their capacity by nine times from 2016-2021: TRAI
Delhi government to launch a new mobility card for commuters to pay fares electronically on both buses and the metro.
The first orbital satellite to set off for space from Western Europe will be launched in southwest England
Pakistan set to dispatch 159 Containers of Ammunition to Ukraine
China carries out combat drills around Taiwan again in the second such exercise in less than a month.
(10-01-2023)
The RBI has accepted the nomination of senior banker Surinder Chawla as the new Managing Director (MD) and Chief Executive Officer (CEO) of India's homegrown Paytm Payments Bank, according to One 97 Communications on January 8, 2023.
On January 12, 2023, Prime Minister Narendra Modi will launch the 26th National Youth Festival in Hubli, Karnataka. The event is being conducted on National Youth Day, which is commemorated on Swami Vivekanand's birth anniversary, to honour and respect his values, teachings, and accomplishments.
The Prime Minister has launched the government's Aspirational Block Programme (ABP), which is aimed at improving the performance of blocks lagging on various development parameters. The Aspirational Blocks Programme is on the lines of the Aspirational District Programme that was launched in 2018 and covers 112 districts across the country.
Indonesia issued a tsunami warning for almost three hours after a powerful 7.6 magnitude earthquake struck off Indonesia's Tanimbar islands on Tuesday, but no significant changes in sea level were recorded and the warning was lifted.
Amul Federation's managing director RS Sodhi, who has been leading the dairy giant since 2010, stepped down on January 9 as the board decided to end his tenure with "immediate effect". He has been replaced for an interim period by Jayan Mehta, Amul's incumbent chief operating officer.
The Defence Research and Development Organization (DRDO) has developed an unmanned aerial vehicle (UAV) to carry out logistic operations in the Himalayan frontier. The DRDO-developed UAV is capable of flying in the Himalayan Environment with 5kg of payload and even dropping bombs in the areas required. The UAV was displayed at the 108th Indian Science Congress by DRDO.
IDEX has signed its 50th SPRINT contract with Sagar Defence for Autonomous Weaponized Boat Swarms for the Indian Navy. The Autonomous Weaponized Boat is one of the technologies introduced out of the 75 challenges by the Indian Navy under the Azadi Ka Amrit Mahotsav in 2022.
India will host 'The Voice of Global South' Summit on January 12-13, Foreign Secretary
Vinay Kwatra said. As many as 120 countries will participate in the summit.
The Golden Globes 2022 award ceremony took place on 9 Jan 2022. The Power Of The Dog won Best Film (Drama). Jane Campion won the Best Director for 'The Power Of The Dog'.Will Smith won the Best Film Actor (Drama) for 'King Richard'.Nicole Kidman won her 5th Golden Globe for Best Film Actress (Drama) for 'Being The Ricardos'.Best Foreign Language Film was won by Drive My Car (Japan).
Sri Lanka has launched a luxury train service connecting the Jaffna district to the capital city, Colombo, with the help of a Line of Credit offered by India.
Scientists in Cyprus have detected a new variant of coronavirus dubbed as 'Deltacron'combining both the Delta and Omicron variants.
India's real GDP is expected to grow at around 9.5 per cent in 2021-22 on a year-on-year (YoY), according to an SBI Ecowrap report released on 8 Jan '22. India's economy is expected to clock a growth of 9.2 per cent in terms of real GDP for FY22.
RBL Bank has collaborated with Google to strengthen its customer experience strategy and expand its value proposition in order to serve its rapidly growing customer base through its digital platform, Abacus 2.0. It will leverage Google Cloud's infrastructure for the seamless onboarding of customers.
The UP government has declared 4 villages located near the Nepal border in the district as revenue villages. These are Bhawanipur, Tedhia, Dhaka, and Bichhia located in Mihinpurwa tehsil.
The Government has restored the Foreign Contribution Regulation Act (FCRA) licenses of Jawahar Lal University (JNU), Delhi University (DU), 11T Delhi, Ramakrishna Mission, and 70 other non-government organizations (NGOs).
Three Chinese astronauts in the core module of the country's under-construction space station have successfully completed the manual rendezvous and docking experiment with the Tianzhou-2 cargo craft for the first time. The experiment was the first time that the three Chinese astronauts, Zhai Zhigang, Ye Guangfu and Wang Yaping, used manual teleoperation equipment to operate the cargo craft.
China's Change 5 lunar lander has found the first-ever on-site evidence of water on the surface of the moon.
Former RBI Governor Urjit Patel has been appointed as a Vice President of the Beijing-based multilateral funding institution AllB. India is a founding member of the Asian Infrastructure Investment Bank (AIIB) with the second-highest voting share after China.
Vikrant, India's first indigenous aircraft carrier (IAC) set sail on 9 January 2022 for another set of sea trials to carry out complex manoeuvres on high seas.
(11-01-2023)
Union Minister of State Science and Technology, Dr Jitendra Singh released the theme for the "National Science Day 2023", titled "Global Science for Global Wellbeing" at National Media Centre.
Gabon's President Ali Bongo has appointed the country's first female Prime Minister Rose Christiane Ossouka Raponda to the role of Vice-President.
The mission had been dubbed "Start Me Up," channelling the Rolling Stones to herald a new era of British space travel. The rocket was set to make history, carrying satellites on what would be the first-ever orbital launch from the U.K.
Anurag Kumar was appointed as the Chairman and Managing Director of Electronics Corporation of India Limited (ECIL).
Nutrition company Herbalife Nutrition India Private Limited is partnering with international women's cricketer, Smriti Mandhana as a 'nutrition sponsor'.
Axis Bank has signed an agreement with the Indian Institute of Science (IISc), Bengaluru, to establish a Centre for Mathematics and Computing at the institute.
India and Panama have signed a memorandum of understanding (MOU) to encourage cooperation in the training of diplomats.
Fintech platform BharatPe said it has received in-principle authorisation from the Reserve Bank of India (RBI) to operate as an online payment aggregator (PA). The company said that an in-principle nod was awarded to Resilient Payments Private Ltd, a 100 per cent subsidiary of Resilient Innovations Private Ltd (BharatPe). e-NAM, a flagship initiative of the Ministry of Agriculture and Farmers Welfare, has won the Platinum Award in the Digital Empowerment of Citizens Category in Digital India Awards 2022 held in New Delhi.
Vivek Agnihotri's film 'The Kashmir Files' has been shortlisted for Oscars 2023.
According to the latest Henley Passport Index, Japan has retained its position as the most favourable passport in the world, allowing visa-free entry to 193 global destinations. which the country tops for the fifth consecutive year. The Indian passport was ranked 85th.
The Khelo India Senior Women National Kho Kho league is to take place at Chandigarh University, Punjab.
Suryakumar Yadav has become the fastest player to reach 1,500 runs in T20 International cricket in terms of balls faced.
Indian Space Research Organization (ISRO) launch vehicle will carry a satellite built by 750 girls attending government schools across the nation, according to Space Kidz India, a Chennai-based space tech business.
Delhi was the most polluted city in India in 2022 with PM 2.5 levels more than double the safe limit and the third highest average PM 10 concentration, according to an analysis of Central Pollution Control Board data.
India on 11 Jan 2022 successfully test-fired a naval variant of the advanced supersonic BrahMos cruise missile from a stealth guided-missile destroyer of the Indian Navy. It was tested from the newly commissioned INS Visakhapatnam.
The International Monetary Fund has appointed Pierre-Olivier Gourinchas as its Chief Economist.
The Odisha govt has extended the maternity leave benefit from 90 days to 180 days for expecting women staff of aided colleges under the higher education department.
The Tata Group will replace Vivo as IPL's title sponsor from 2023. Vivo had a deal of Q,200 crores for title sponsorship rights from 2018-2022 but after the 2020 Galwan Valley military face-off, it was replaced by Dremel l. From now, Indian Railways' Kevadiya station will be known as Ekta Nagar Railway Station.
(12-01-2023)
The 28th edition of Saarang, India's largest student-run festival begins at 11T Madras on 11th January 2023. Saarang 2023 will feature more than 100 events with participation from 500 colleges across the country. The theme of this year's Saarang edition is 'Mystic Hues' which celebrates how intertwined colours are with culture and tradition.
In a rare announcement, the United States said its ballistic missile submarine, USS West Virginia, visited its Indian Ocean military base at Diego Garcia. Before it visited the base at Diego Garcia, the submarine had surfaced in the Arabian Sea and participated in a joint, US Strategic Command-directed communications exercise to validate emerging and innovative tactics in the Indian Ocean.
The United States announced that it will extend COVID-19 pandemic-era restrictions, known as Title 42, to expel migrants from Nicaragua, Cuba and Haiti caught crossing the U.S.-Mexico border back to Mexico.
The 'Year of Enterprises' Project was recognized as the best practices model at the National Conference on Micro Small and Medium Enterprises. The 'Year of Enterprises' aimed to create enterprises and has successfully created 1,18,509 enterprises and got investments worth 0,261.54 crores.
India's growth is expected to slow to 6.9 per cent in Financial Year 2023, a 0.6 percentage point decrease since June, as the global economy and rising uncertainty weigh on export and investment growth, according to the World Bank
The 23rd of this month will see the Aadi Shaurya — Parv Parakram Ka Tribal Dance Festival and Military Tattoo at Jawaharlal Nehru Stadium in New Delhi. The two-day celebration, according to the Defence Ministry, would display the strength of the Armed Forces and the cultural beauty of India's tribal cultures.
The Japan Air Self-Defense Force (JASDF) and the Indian Air Force will participate in the joint air exercise "Veer Guardian-2023" starting on January 12 at Hyakuri Air Base in Japan.
Defence Acquisition Council(DAC) approved three proposals worth 4,276 crore rupees to strengthen the country's deterrence and combat readiness.
An Indian-American aerospace industry expert has been appointed as NASA's new chief technologist to serve as principal advisor to Administrator Bill Nelson on technology policy and programmes at the space agency's headquarters.
Hockey India has launched a new metaverse product to tie in with its hosting of the Men's World Cup in Bhubaneswar and Rourkela from January 13-29. 'Hockey Verse', which Hockey India claims marks a first for a national sports federation, has been launched across the governing body's social media platforms and is designed to enhance the tournament experience for fans around the world.
Prime Minister Narendra Modi will launch the world's most extended river cruise, the MV Ganga Vilas, in Varanasi on January 13, 2023. This luxury cruise will exhibit India's natural beauty, cultural richness, and spiritual splendour over the next 50 days and showcase India's potential for cruise tourism.
Skyhawk, India's first 5G-enabled drone capable of vertical take-off and landing, has been built by Noida-based IG Drones. The firm arose from the Veer Surendra Sai University of Technology in Odisha.
Cabinet has approved a Q,600-crore incentive scheme to promote Rupay debit card and low-value BHIM-UPI transactions. Under the scheme, banks would be provided financial incentives for promoting Point of Sale (POS) and e-commerce transactions using RuPay and UPI in the financial year 2023.
Centre has named the new Integrated Food Security Scheme Pradhan Mantri Garib Kalyan Ann Yojana, PMGKAY.
Tripura state government has launched a"Saharsh" special education program to promote social and emotional learning.
The 14th edition of the World Spice Congress (WSC), is to be held in Mumbai from 16-18 February 2023.1t aims to open up newer opportunities to promote the international trade of Indian spices.
Aparna Sen was honoured with a lifetime achievement award at the 15th Edition of the Jaipur International Film Festival on Il January 2023.
The first female fighter pilot, squadron commander Avani Chaturvedi, will participate in the inaugural air exercise Veer Guardian 2023. The exercise aims to improve air defence cooperation between Japan and India.
(13-01-2023)
Union Minister Sarbananda Sonowal, along with Tripura Chief Minister Dr. Manik Saha, inaugurated the School of Logistics, Waterways and Communication in Agartala. This new institution aims to provide world-class education and training to the region's talented individuals, allowing them to excel in the transportation and logistics industry.
Senior IAS Officer A Santhi Kumari has been appointed as the new Chief Secretary of Telangana. Santhi Kumari took charge as the first women Chief Secretary of the State at the Secretariat in BRK Bhavan.
Madhya Pradesh Tourism Board signed a Memorandum of Understanding (MOU) with chapters of 8 countries of the Global Organization of People of Indian Origin (GOP10) at the 17th Pravasi Bhartiya Divas convention. The event was held at MP Tourism Pavilion at Brilliant Convention Centre in Indore.
The Union Cabinet has approved the incentive scheme for the promotion of RuPay Debit Cards and low-value BHIM-UPI transactions (person-to-merchant) for the current financial year. The approved incentive scheme for the promotion of RuPay Debit Cards and low-value BHIM-UPI transactions (P2M) in FY 2022-23 has a financial outlay of Rs 2,600 crore.
Retail inflation declined to a one-year low of 5.72 per cent in December 2022, mainly due to softening prices of food items.
China's Alibaba Group sold a 3.1% stake in Indian digital payments firm Paytm for a total of $125 million through a block deal.
State Bank of India (SBI) has launched an e-Bank Guarantee (e-BG) facility in association with National e-Governance Services Limited (NeSL). India's largest lender said this facility will bring about a revolutionary change in the banking ecosystem, where bank guarantee is frequently used in large volumes.
Former India cricket team captain Mahendra Singh Dhoni and drone market Garuda Aerospace have launched a surveillance drone named 'Droni.' Dhoni is an ambassador-cum-investor in the low-cost drone manufacturer.
The United Arab Emirates has named Sultan al-Jaber to preside over the upcoming United Nations climate negotiations in Dubai.
Vidisha, an aspirational district of Madhya Pradesh became the first-ever district in India for the on-ground deployment of innovative 5G use cases offered by startups.
Centre has claimed that India will contribute 25% of global fuel demand by 2040.1t targets to achieve 20% ethanol blending in petrol by 2025.
Food Safety and Standards Authority of India has notified comprehensive regulatory standards for Basmati Rice for the first time in Jan 2023. As per these standards, Basmati rice shall possess the natural fragrance characteristics of basmati rice and be free from artificial colouring.
Central Mine Planning and Design Institute Limited (CMPDIL), Ranchi invented a "System and Method for Controlling Generation and Movement of Fugitive Dust ".This system can be used in mines, power plants, railway sidings, or other mineral materials stored under the open sky. Apart from reducing dust generation from open sources, it will also provide noise attenuation.
The US government has announced plans to fund the conservation and restoration of 6 Paigah tombs built in the 18th-19th century in Hyderabad. The project will be implemented by the Aga Khan Trust for Culture.
(14/1/2023)
Digital India Startup Hub, through the Software Technology Parks of India, shall set up India's first Centre of Excellence in Online Gaming at Shillong by March 2023. This was announced by Minister of State for Electronics & Information Technology and Skill Development & Entrepreneurship, Rajeev Chandrasekhar, at a function in Meghalaya's capital.
The Minister announced another initiative of MeitY to set up a state-of-the-art facility under the National Institute of Electronics and IT (NIELIT) to provide training on cutting-edge Digital Skills at Shillong. A 10-acre campus shall soon be ready for this purpose which shall cater to the skilling requirement of youth in the North East Region.
European officials and Swedish King Carl XVI Gustaf inaugurated the EU's first mainland orbital launch complex. The European Union wants to bolster its capacity to launch small satellites into space with a new launchpad in Arctic Sweden. The new facility at Esrange Space Centre near the city of Kiruna should complement the EU's current launching capabilities in French Guiana.
The 'Saharsh' was launched in 40 schools of the state on a pilot basis in August last year. The 'Saharsh' initiative is aimed at empowering children to learn with happiness. The state government has trained 204 schools for the 'Saharsh' curriculum while 200 more will be trained in the future.
India's forex reserves declined by USD 1.268 billion to USD 561.583 billion for the week ended January 6, the Reserve Bank said. The overall reserves had increased by USD 44 million to USD 562.851 billion in the previous reporting week after two consecutive weeks of the slide. Indian Coast Guard (ICG) ship 'Kamla Devi' the Fast Patrol Vessel (FPV) which is designed, built, and delivered by Garden Reach Shipbuilders and Engineers (GRSE) Ltd to Indian Coast Guard was commissioned in Kolkata, West Bengal. Indian Coast Guard ship Kamla Devi is officially the fifth and last vessel of the series of FPVs designed and built by GRSE as per the specifications of the Indian Coast Guard.
Startup firm IG Drones, which was born out of the Veer Surendra Sai University of Technology (VSSUT) campus in Odisha's Sambalpur has developed a drone named Skyhawk that can be used in defence and medical applications, among other sectors. The drone can carry a 10 kg payload and has an endurance of around five hours.
Internet connectivity based on its satellite constellation is presently active in Alaska, the 'wider Arctic area', Canada, Greenland and the UK. Services in the US, Australia, the Middle East and Southern Europe will "come online soon".
The MAARG (Mentorship, Advisory, Assistance, Resilience, and Growth) platform will be launched by Commerce and Industry Minister Piyush Goyal. The Commerce Ministry said MAARG, a portal to facilitate mentorship for start-ups across diverse sectors, and geographies will go live on January 16.
Falak Mumtaz, an Il-year-old girl from Jammu and Kashmir has bagged a gold medal in National Sqay Championship. Falak Mumtaz has achieved a gold medal in the National Sqay Championship which was held in Jammu. She is currently studying sixth standard at Aisha Ali Academy in Kulgam.
The state government has built a new hockey stadium in Rourkela ahead of the event.
Odisha is hosting the international event for the second consecutive time, the previous one having been held in Bhubaneswar in 2018
The Armed Forces Veterans Day is celebrated on 14th January since 1953, the First Indian Commander in Chief (C-in-C) of the Indian Army- Field Marshal KM Cariappa, who led Indian Forces to Victory in the 1947 war, had formally retired from the Services.
Researchers at Massachusetts Institute of Technology have developed and successfully tested an Al tool called "Sybil" that effectively predicts lung cancer risk.
Leading steelmaker Jindal Steel & Power has been awarded the prestigious Golden Peacock Award 2022 for its excellence in Corporate Social Responsibility activities in the Steel Sector, on 13 Jan 2023.
Prime Minister Narendra Modi will flag off the Vande Bharat Express train connecting Secunderabad with Visakhapatnam on 15 January 2023.
State Bank of India (SBI) launched e-Bank Guarantee (e-BG) facility in association with National e-Governance Services Limited (NeSL) on 12 January 2023.
Please follow and like us: