INCE DROPS OUT OF THE TURKISH PRESIDENTIAL ELECTION
MUHARREM INCE
Veteran member of Parliament and well-known politician Muharrem Ince has been involved with the Turkish government since the early 2000s. He was raised in a low-income household and was born on May 4, 1964, in Yalova, Turkey. Before entering politics, he worked as a high school teacher after completing his physics teaching degree at Uludag University in Bursa.
As a representative of the western province of Yalova for the Republican People's Party (CHP), Ince was first elected to the Turkish parliament in 2002. He won three more terms in office in 2007, 2011, and, 2017 and established a reputation as a charismatic campaigner and passionate speaker. He ran as the CHP's presidential candidate in the 2018 election, but Recep Tayyip Erdogan ended up winning.
Ince was well-known for his disapproval of the Justice and Development Party (AKP), the government, and its policies when he was a member of parliament. He was especially forthright in his criticism of Erdogan's totalitarian governing approach and the suppression of dissident voices in Turkish society. Additionally, Ince has been a steadfast supporter of Turkey's scepticism human rights, and legal system.
VATAN PARTISI
Ince has risen to prominence within the CHP over the past several years and became known as a prospective rival to Kemal Kilidaroglu, the party's current leader. Ince left the CHP in 2021, claiming differences with Kilidaroglu on the party's strategy and leadership. The Homeland Party (Vatan Partisi), which he has defined as a "third way" between the AKP and the CHP, was the political party he eventually created.
Ince has pursued a number of business endeavors in addition to his political career. He has run a number of little companies in Yalova, including a boarding house and a cafeteria. In addition, he has been active in the media, hosting a well-liked talk show on Halk TV, a news channel that supports the opposition.
INCE AND FOREIGN POLICIES
Ince has been referred to as a nationalist and a social republican, and his political philosophies are often on the center-left. He has urged more government investment in social programs, education, and healthcare, as well as more enforcement of environmental laws and workplace rights. Additionally, he has criticized the AKP's handling of the Syrian war and Turkey's relations with Russia, as well as the country's foreign policy more broadly.
A prominent and significant player in Turkish politics, Muharrem Ince is renowned for his impassioned speeches, nationalist argumentation, and dedication to democracy and equality for all. Even while his political future is still in doubt, he will probably continue to play a significant role in determining the course of Turkish politics in the decades that lie ahead.
INCE'S WITHDRAWAL FROM THE ELECTION
In an unexpected decision, third-party candidate Muharrem Ince withdrew from Turkey's competitive presidential race on Thursday, 11th May 2023, increasing the likelihood that the opposition will win the first round.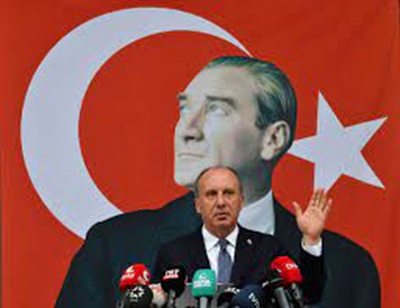 Ince made his choice public after becoming the focus of an internet libel campaign that featured photoshopped depictions of him interacting with ladies and driving posh automobiles.
In the 2018 presidential elections, the secular republican defeated President Recep Tayyip Erdogan with 30.6 percent of the vote.
"I am doing this for my country," Ince said to the reporters. [1]
---
[1] https://www.thehindu.com/news/international/turkish-candidate-drops-out-of-presidential-race/article66839155.ece
Please follow and like us: