Transgression to Christian Minority
Pakistan, a diverse nation with a significant Christian minority, has been grappling with transgressions against its Christian society. Despite constitutional guarantees of religious freedom, Christians in Pakistan face various challenges that hinder their ability to practice their faith and live as equal citizens.
Historical Background:
Christianity has had a presence in the Indian subcontinent, including present-day Pakistan, for centuries. However, with the creation of Pakistan as a separate Islamic state in 1947, Christians became a minority within a predominantly Muslim country. Since then, they have encountered several transgressions that have impacted their rights and well-being.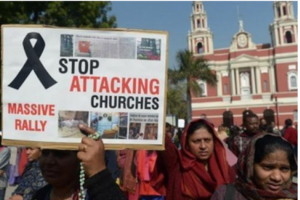 Transgressions Against Christian Society in Pakistan:
Blasphemy Laws: Pakistan's blasphemy laws, although intended to protect religious sentiments, have been misused to target religious minorities, including Christians. False accusations of blasphemy often result in severe consequences, such as mob violence, extrajudicial killings, and imprisonment. These laws create an environment of fear and discrimination, restricting the freedom of expression and belief for Christian
Discrimination and Social Marginalization: Christians in Pakistan face discrimination in various spheres of life, including education, employment, and access to public services. They often encounter systemic barriers and prejudices that limit their opportunities for development and result in socioeconomic disparities. Social exclusion and stigmatization further marginalize the Christian community, clogging their full participation in society.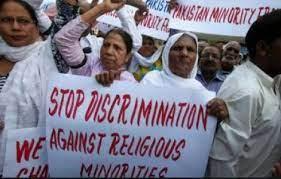 Violence and Attacks: Christian communities in Pakistan have been targeted by acts of violence, including bombings of churches and attacks on religious gatherings. Such acts of terror not only claim innocent lives but also introduce fear within the Christian community, forcing many to live in constant apprehension for their safety and well-being.
Forced Conversions and Abductions: Reports of forced conversions and abductions of Christian girls and women are alarmingly common in akistan. They are often subjected to coercion, abduction, and forced marriages, which not only violate their basic human rights but also disrupt families and traumatize communities. The lack of effective legal measures to prevent such incidents exacerbates the vulnerability of Christian women and girls.
Facts and Figures:
A young Christian girl, Naina Ashraf, was kidnapped by her 38 years old Muslim neighbor at Manga Mandi, Lahore. He converted her Islam and forcefully married her. Ashraf Masih, Naina's father is a sweeper and is only a breadwinner. Tahira, Naina's mother, claimed 18 January 2023 was the darkest day of her life. After missing their daughter, they started searching for her. On 5th March, kidnapper with his companion attacked Tahira. They informed the police, who were investigating the matter but there was no response. The victim family was poor and the culprit were powerful and influential people therefore the police hesitated to take action against them. After that day the family came up with a marriage and conversion certificate of their daughter and they were not even allowed to meet their daughter. The victim family was not educated and did not know about the law.
In Faisalabad a Christian father, Basharat Masih, was murdered out of revenge. In late March he was succeeded in bringing her 12 years daughter, Hoorab home, three months after her kidnapped by two Muslims who forcibly converted her to Islam. A court in Faisalabad (Punjab) freed the girl, who has been kidnapped in December, her father was receiving death threats during and after the court case. His sister filed a First Information Report (FIR) at Nishatabad police station to report an attack on 24 April against her brother in which her brother was killed. While he was taking part in a pigeon-flying competition. This case shown that even after a fair trial, threats against Christians do not end. Being easy targets, religious minorities suffer kidnapping, conversion and forced marriages.
In Okara, 15 years old Pakistani Christian girl Sehar was kidnapped by a Muslim with his companions on broad daylight. She was forcibly converted to Islam and married to one of kidnappers. Those same criminals kidnapped Sehar's younger brother and forcibly converted to Islam three months ago, no serious action was taken against them that encouraged them for further such crimes.
A 12 years old Christian boy was kidnapped, raped and killed by his Muslim neighbor. He was abducted outside from their house on 9 March 2023 and a few days later his body was found in Ashiana ground. The First Information Report (FIR) was registered at Nishtar Colony Police Station. One suspect has been arrested while other is still on run.
Amid a sharp increase in incidents of violence against women in the country, a young Christian healthcare provider in Karachi has sustained burn injuries on her face, arms and legs following an acid attack by her Muslim neighbor for allegedly refusing his romantic overtures. She was attacked on 1 February 2023 at 7:30 am when she left home to get to the work.

To overcome such pathetic cases and to launch a society with equality and respect following amendments can help:
Promoting Equality and Religious Freedom: Addressing the transgressions against Christian society in Pakistan requires collective efforts from various stakeholders.
Legal Protections and Enforcement: Full-bodied legal measures must be established to protect Christians from discrimination, violence, and forced conversions. Strict enforcement of laws is essential to hold perpetrators accountable and provide justice to victims. Governments should review and revise legislation to guarantee freedom of religion and belief for all citizens. Laws that preserve discrimination or restrict religious practices should be abolished or amended to ensure equality and protection for Christian communities
Education and Awareness: Promoting interfaith dialogue, tolerance, and respect through education is crucial in battling prejudice and development understanding among different religious communities. Educational curricula should include teachings on religious diversity, promoting empathy and respect for all religions.
---
References:
Pak Christian News (PCN)
Please follow and like us: