India Bangladesh friendship pipeline is going to be inaugurated through video conferencing on March 18, 2023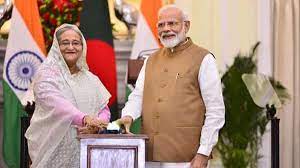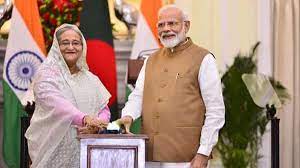 The India-Bangladesh friendship diesel pipeline will be officially opened today by Prime Minister Narendra Modi and his Bangladeshi counterpart, Sheikh Hasina. A video conference will be used at the inauguration. This is Bangladesh and India's first cross-border energy pipeline. Prime Minister Modi and Bangladeshi Prime Minister Sheikh Hasina will launch the India-Bangladesh friendship pipeline at 5 p.m., according to the Ministry of Foreign Affairs (MEA).
The construction of the energy pipeline connecting the two countries is believed to have cost Rs 377 crore, of which the Bangladesh component cost roughly Rs 285 crore. The expense has been funded by the Indian government via grant assistance.
High-speed diesel can go through the pipeline at a rate of one million metric tonnes per year (MMTPA). In the beginning, it will provide high-speed diesel to seven areas in northern Bangladesh.
The pipeline's operation will establish a long-term, dependable, economical, and eco-friendly method of shipping diesel from India to Bangladesh. According to IANS, who cited official sources, it will further improve the two nations' cooperation in ensuring their energy security.
The pipeline is 131.5 kilometres long in its entirety. According to a report in the Hindustan Times, an experimental supply of diesel will begin in June of this year.
A long-term arrangement to import diesel from India to Bangladesh through the pipeline, which runs from Siliguri in West Bengal to a Meghna petroleum depot in Meghna in Dinajpur's Parbatipur, was struck in 2017, BDNews reported.
The article stated that because of issues from the COVID-19 pandemic, the bilateral project, which was initiated in March 2020, had a revised deadline of June 2023. The pipeline extends 125 km into Bangladeshi territory and 5 km into Indian territory. From the Parbatipur depot of Bangladesh Petroleum Corporation to the Siliguri-based marketing terminal of Numaligarh Refinery Limited, diesel would be transported via an international pipeline (BPC).
Diesel was previously imported into Bangladesh by trains from India. According to the report, the two premiers also participated via video conference in the IBFPL's groundbreaking ceremony in September 2018. In addition, India dropped its opposition to Dhaka erecting any structure within 150 yards of Bangladeshi land along the zero lines, according to Momen.
India and Bangladesh share a historical, cultural, and economic relationship. The two countries have shared a border since the partition of India in 1947, and they have had a complex relationship marked by periods of cooperation and conflict.
In recent years, the relationship between India and Bangladesh has been improving, with both countries working together to resolve long-standing disputes and strengthen economic ties. In 2015, the two countries signed a historic agreement to swap land, which had been an issue of contention since their independence.
India has also been providing development assistance to Bangladesh, with a focus on infrastructure development, power generation, and trade facilitation. Bangladesh is an important economic partner for India, and the two countries have been working to increase bilateral trade and investment.
There have also been significant improvements in people-to-people relations between the two countries, with increased tourism, cultural exchanges, and academic collaboration. In addition, India and Bangladesh have been cooperating on regional and international issues, including climate change, terrorism, and maritime security.
Overall, the relationship between India and Bangladesh is important for regional stability and economic growth. Both countries have recognized the importance of working together and are committed to strengthening their relationship in the years to come.
The India-Bangladesh diesel pipeline is expected to play an important role in strengthening the bilateral relationship between India and Bangladesh. Here are a few ways in which the pipeline is expected to help in this regard:
Economic cooperation: The pipeline will facilitate the transportation of diesel fuel from India to Bangladesh, providing a more cost-effective and efficient mode of transportation. This is expected to promote economic cooperation between the two countries and increase trade and investment.
Energy security: The pipeline will enhance energy security for Bangladesh by reducing its dependence on oil imports from other countries. This will help to stabilize the country's energy supply and reduce its vulnerability to external shocks.
Environmental benefits: The pipeline will help to reduce the environmental impact of transporting diesel fuel by road, which is currently the primary mode of transportation between India and Bangladesh. This is expected to improve air quality and reduce carbon emissions.
Trust-building: The pipeline project is a significant example of cooperation between India and Bangladesh on a major infrastructure project. Successful completion of the project is likely to build trust and confidence between the two countries, paving the way for further cooperation on other projects in the future.
Overall, the India-Bangladesh diesel pipeline is expected to have a positive impact on the bilateral relationship between the two countries by promoting economic cooperation, enhancing energy security, reducing environmental impact, and building trust and confidence.
Please follow and like us: