Jocelyn Wildenstein v. Plastic Surgeries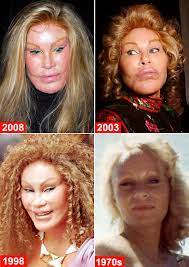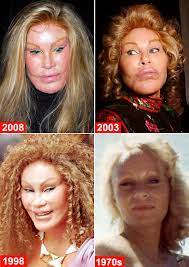 Recently, Jocelyn Wildenstein, who is a Swiss socialite bashed people, on her social media account, who constantly keep on suggesting that she has had quite several plastic surgeries. She went on to accuse people of photoshopping her images. She is famously called 'Cat woman' due to her cat-like facial features, which many people claim are the result of plastic surgeries. Sharing a childhood photo of hers, she attempted to clear the air of her being getting under the knife to change her appearance. While some encouraged her by showering messages of belief rendered on her, some bashed her more for being a liar. Whether she had plastic surgery or not is for her to know. But the question which arises here is about plastic surgery's ethical standing. Firstly, it is important to know that plastic surgery is a wide field inclusive of two procedures- cosmetic surgery and reconstructive surgery. While the former relates to the fulfilment of aesthetic purposes, the latter involves an emphasis on repairing problems arising due to congenital issues, removal of tumours, etc.
SURGE IN COSMETIC PROCEDURES SINCE 2021
Plastic surgeons, worldwide in the year 2021, reported that appointments for surgical as well as non-surgical treatments have seen an upward trend since the imposition of lockdowns. This brings a limelight to those who are the stakeholders in these procedures. The society, the plastic surgeon, and the person undergoing such a procedure are the major stakeholders here. Cosmetic procedures have gained immense popularity in the recent past, which is due to their overwhelming demand. Extremely aggressive channels of media have influenced our society making it ambitious and propagating the idea of what is attractive. The misuse of laid-down principles in the plastic surgery industry is now being surfaced making it clear how the emotions of patients are being manipulated. While reconstructive surgeries are a boon, cosmetic procedures are being highly misused to correct the features deemed imperfect by a group of people. Getting under the knife to improve one's appearance is what has become a casual affair in the lives of actors and socialites.
QUEST TO BECOME DESIRABLE
It has to be kept in mind that working on aesthetics cannot be ignored while doing reconstructive surgery. Also, reconstructive surgery is an important requisite in a cosmetic procedure. The way people are getting influenced by seeing everything enveloped in beauty filters around them is worrisome because people are getting trapped in the projected image of what is desirable and beautiful and what is not. Ultimately, they start finding imperfections in themselves and there begins a quest to become more appealing. The quest ends at the doors of a cosmetic surgeon. However, not everyone can undergo cosmetic surgery owing to financial constraints. Those with finances may opt for such procedures but in the process are exposed to various medical risks, be it the risk of infection, risk of death, or otherwise.
What people opting for these surgeries fail to understand is that people's opinions seldom change. The people who admired you before would continue to do so while those who earlier were opinionated about your appearances would continue to tread on the same path. It is important to ponder on whether it is worthy to go under the knife merely because someone is objectifying you. A healthy person deliberately choosing to get his appearance changed by surgery merely for a reason to become attractive is perhaps a separate category of disease that ought to have some serious counselling.
There is a segment of people who equate cosmetic surgeries with being therapeutic. Some term it the reconstruction of the soul as it is capable of having deep impacts on the body as well as the spirit of the one undergoing surgery.
A person undergoing plastic surgery needs to be informed that the results of such a procedure may be modified but cannot be reversed. There may remain enduring scars after the surgical procedure. The entertainment industry is rife with people who have had several surgeries to enhance their appearances. These surgeries set particular beauty standards on which common people readily put a stamp and jump on a bandwagon of getting those particular beauty standards, even at the cost of plenty of medical risks. People seeking plastic surgery procedures for aesthetic reasons need to understand that everyone is a masterpiece and does not need to be part of the same mould. There is no need to mindlessly aim to acquire so-called beauty standards formulated and advocated by certain groups of persons.
Please follow and like us: