Rohingya Refugee Crisis: A Humanitarian Call for Justice.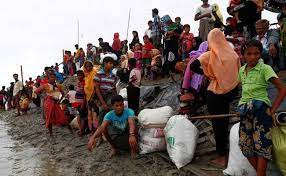 The Rohingya Tragedy: Unveiling a Humanitarian Crisis
The Rohingya refugee crisis stands as one of the most pressing human rights challenges of our time. For decades, the Rohingya people, a Muslim minority group from Myanmar, have faced persecution, discrimination, and violence, leading to a mass exodus from their homeland. This article sheds light on the magnitude of the crisis, the reasons behind it, and the urgent need for international intervention.
Root Causes: Unmasking the Rohingya's Plight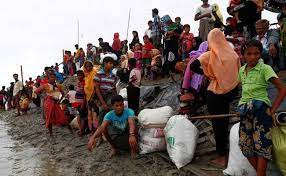 The plight of the Rohingya community can be traced back to the systematic discrimination they have faced in Myanmar for generations. Denied citizenship and subjected to severe restrictions on their freedom of movement, education, and healthcare, the Rohingya have been marginalized and dehumanized. The 2017 military crackdown escalated the situation, resulting in widespread violence, arson, and sexual violence against the Rohingya population.
The Exodus: Seeking Safety and Shelter
Driven by fear and desperation, thousands of Rohingya men, women, and children embarked on treacherous journeys, risking their lives in search of safety. Many embarked on perilous boat voyages, enduring harsh conditions and exploitation.
Neighbouring countries like Bangladesh, India, and Malaysia have provided shelter to some Rohingya refugees, but the sheer scale of the crisis has strained their resources and capacity to offer long-term solutions.
Humanitarian Consequences: The Suffering Continues
The Rohingya refugees face dire humanitarian consequences, including inadequate access to healthcare, education, and basic necessities. Overcrowded refugee camps pose significant challenges, with issues of sanitation, malnutrition, and limited healthcare services prevailing.
Women and children are particularly vulnerable, facing the risk of trafficking, child labour, and sexual exploitation. The mental health and psychological well-being of the Rohingya, having endured traumatic experiences, also require urgent attention.
International Response: A Call for Solidarity
While some nations have extended support to Rohingya refugees, the crisis demands a comprehensive international response. Urgent action is needed to address the root causes, ensure the safe and voluntary return of Rohingya to Myanmar, and hold those responsible for human rights abuses accountable.
The Way Forward: Justice, Empathy, and Hope
To resolve the Rohingya refugee crisis, justice must prevail. Myanmar must grant citizenship rights, dismantle discriminatory policies, and ensure the safe return and reintegration of the
Rohingya community. International organizations and governments must work together to establish sustainable solutions, including livelihood programs and infrastructure development, to enable the Rohingya to rebuild their lives in dignity.
Empathy and compassion are vital in addressing the Rohingya refugee crisis. Raising awareness, mobilizing resources, and supporting organizations on the ground can make a difference. It is our collective responsibility to lend our voices to advocate for justice, human rights, and a better future for the Rohingya people.
Education and Empowerment: Unlocking Opportunities for Rohingya Youth
Education plays a crucial role in empowering individuals and rebuilding communities. Rohingya youth, who have been deprived of educational opportunities, face a bleak future without the necessary skills and knowledge to thrive.
Efforts must be made to ensure access to quality education for Rohingya children and young adults in refugee camps and host countries. Education programs can provide them with essential skills, nurture their talents, and equip them to contribute meaningfully to society.
Engaging Regional Partners: Sharing Responsibility and Burden
The Rohingya refugee crisis requires a collective effort from countries in the region. Regional partners, such as ASEAN (Association of Southeast Asian Nations), should collaborate and develop a comprehensive approach to address the crisis.
By sharing responsibility and burden, these countries can work together to find long-term solutions, including sustainable resettlement programs, livelihood opportunities, and social integration for Rohingya refugees.
Media Spotlight: Amplifying Voices and Raising Awareness
Media has a crucial role to play in shedding light on the Rohingya refugee crisis. Journalists and media organizations can amplify the voices of the Rohingya, share their stories of resilience, and bring attention to the urgent need for action.
Responsible reporting, accurate information dissemination, and investigative journalism can help generate empathy, awareness, and public support, urging governments and international bodies to take decisive action.
Long-Term Solutions: Addressing the Rohingya's Right to Citizenship
At the heart of the Rohingya refugee crisis lies the issue of citizenship. To achieve a sustainable resolution, the international community must pressure the government of Myanmar to recognize the Rohingya's right to citizenship.
Granting them citizenship would not only provide legal protection but also dismantle the systemic discrimination that perpetuates their marginalization. This step is crucial for ensuring their inclusion, dignity, and full participation in society.
Supporting NGOs: Funding and Collaboration for Effective Assistance
Non-governmental organizations (NGOs) play a vital role in providing essential assistance to Rohingya refugees. They offer healthcare, shelter, food, and psychosocial support, filling gaps where governments and international bodies fall short.
Supporting NGOs through funding, collaboration, and capacity-building initiatives is crucial for enhancing their effectiveness and enabling them to meet the growing needs of the Rohingya population.
Lessons Learned: Preventing Future Refugee Crises
The Rohingya refugee crisis serves as a stark reminder of the urgent need to address systemic discrimination, protect minority rights, and prevent future refugee crises. It highlights the importance of early intervention, diplomacy, and proactive measures to prevent the escalation of conflicts and human rights abuses. By learning from this crisis, governments, international organizations, and civil society can work together to create a world where all individuals can live in peace, freedom, and dignity.
Conclusion
The Rohingya refugee crisis demands a multifaceted approach, combining diplomatic efforts, international collaboration, and grassroots support. By addressing the root causes, advocating for justice, and providing essential assistance, we can work towards resolving the crisis and ensuring a brighter future for the Rohingya people. Let us stand united in our commitment to human rights, empathy, and compassion, and strive to create a world where every individual is valued, protected, and empowered.
Please follow and like us: