Scotland's ruling SNP picks Humza Yousaf to succeed Sturgeon
The Scottish National Party (SNP) has recently announced that Humza Yousaf will be replacing Nicola Sturgeon as the party's leader. This decision is an important one for Scotland, and it signals a new direction for the country.
Humza Yousaf was born in Glasgow and is of Pakistani heritage. He has been involved in politics since his teens when he became active with student politics at the university level before joining SNP in 2003. In 2007, he was elected to represent Glasgow Central in the Scottish Parliament and quickly rose up through its ranks to become Minister for External Affairs & International Development by 2011.
Yousaf brings a unique set of skills to this role that could help shape Scotland's future trajectory under his leadership: from having extensive knowledge about international affairs gained from his ministerial experience; being able to build bridges between different communities due to his diverse background; as well as bringing fresh ideas based on current global trends which can benefit all Scots alike regardless their backgrounds or beliefs.
His appointment marks not only an opportunity but also a challenge one which requires him to rise above any political divides while maintaining focus on what matters most: delivering tangible results beneficial both locally and globally while creating opportunities without leaving anyone behind along the way.
Yousaf's appointment is seen by many as an incredibly positive step forward towards achieving greater diversity among high-ranking government officials throughout Scotland; especially given that he comes from an ethnic minority background himself!
His strong track record when it comes to tackling issues such as knife crime, racism and Islamophobia makes him well suited for this role – something which will no doubt be welcomed by many people across both sides of the political spectrum who are keen on seeing more representation amongst those leading our nation forward into 2021
In a brutal five-week campaign that exposed profound divisions within the pro-independence Scottish National Party, which is at a standstill in its efforts to remove Scotland from the United Kingdom, Yousaf narrowly defeated competitor, Kate Forbes.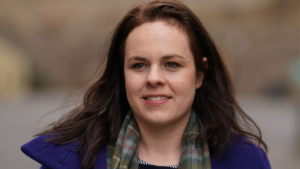 The 37-year-old Glasgow-born son of South Asian immigrants is poised to be confirmed as first minister during a session of the Scottish parliament in Edinburgh on Tuesday. Yousaf, Scotland's current health minister, prevailed over two other Scottish parliamentarians to succeed First Minister Nicola Sturgeon.
After eight years as the party's and Scotland's semi-autonomous government's head, she abruptly announced her resignation last month. Yousaf defeated Scottish Finance Minister Forbes by a vote of 52% to 48% among SNP members, who had already rejected third-place contender Ash Regan in the first round of voting. 70% of the 72,000 members showed up to vote.
Yousaf paid tribute to his late grandparents, who more than 60 years ago immigrated from Punjab to Glasgow. He claimed that they had no idea that two generations later, two of their grandchildren would become Scotland's first minister. We should all be proud of the obvious message we conveyed today: that your race or religion should not be a barrier to governing the nation we all call home.
Yousaf is sometimes regarded as a "continuity Sturgeon" candidate who agrees with the outgoing leader's liberal social positions. Forbes, an evangelical Christian, has come under fire for claiming that if she had been a legislator in 2014 when Scotland legalised gay marriage, she would not have voted in support of allowing same-sex couples to wed because of her beliefs. The proposal that Sturgeon supported to make it simpler for people to legally alter their gender in Scotland was rejected by both Forbes and 49-year-old Regan.
Transgender rights advocates have lauded the gender recognition measure as a groundbreaking piece of legislation, while other SNP members objected, claiming it neglected the need to maintain single-sex facilities for women, such as domestic abuse shelters and rape crisis centres.
Opponents assert that Yousaf, who held a number of positions in Sturgeon's administration, is partially to blame for Scotland's lengthy wait times for medical services, homelessness issue, and high drug fatality rate.
While the SNP members who chose Yousaf are fervently committed to independence, according to independent pollster Mark Diffley, the new leader "will now have to pivot really very sharply towards what popular priorities are, which are not the same."
Please follow and like us: