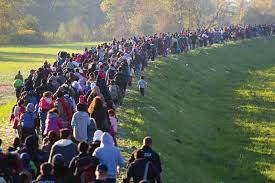 Article . Human RIghts
The Dynamics of Migration: A Comprehensive Analysis of Migrants.
On May 19, 2023 by Kanishka Choudhary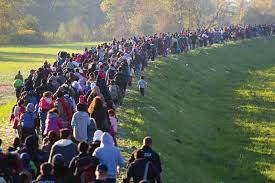 Introduction
Migration is a complex and multifaceted phenomenon that has shaped societies and cultures throughout history. In this essay, we will explore the diverse aspects of migration, focusing on the experiences, challenges, and contributions of migrants.
By delving into the motivations behind migration, the impact on sending and receiving countries, and the social, economic, and cultural dimensions, we aim to gain a comprehensive understanding of the dynamics of migration.
Migration is a fundamental aspect of human history, driven by various factors such as economic opportunities, political instability, social networks, and environmental changes. It encompasses the movement of individuals or groups from one place to another, either within a country or across international borders. Throughout the ages, migration has played a crucial role in shaping societies, economies, and cultures worldwide.
The objective of this essay is to provide a comprehensive analysis of migrants and the dynamics of migration. By exploring the multifaceted nature of migration, we aim to understand the motivations that drive people to leave their homelands, the effects of migration on both sending and receiving countries, and the social, economic, and cultural dimensions associated with this phenomenon.
Understanding the motivations behind migration is key to comprehending the complex factors that influence individuals' decisions to relocate. Economic factors, such as seeking better job opportunities or escaping poverty, often drive migration.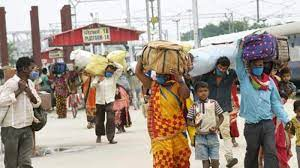 Political instability, conflict, persecution, and environmental challenges, such as natural disasters and climate change, also contribute to people's displacement. Additionally, social networks and family ties play a significant role in the decision-making process, as individuals may follow the paths of family members or join established communities in new locations.
Examining the impact of migration on sending and receiving countries provides insights into the advantages and challenges associated with migration. In sending countries, migration can lead to brain drain, demographic changes, and social disruptions. Conversely, receiving countries may experience economic growth, labor market dynamics, cultural diversity, and demographic shifts.
Moreover, migration has profound social, economic, and cultural implications. Socially, migrants face challenges related to integration, social cohesion, discrimination, and human rights. Economically, they contribute to the labor force, entrepreneurship, and remittances, influencing the development of both sending and receiving countries.
Culturally, migration leads to cultural exchange, hybrid identities, and the enrichment of societies through diverse perspectives, traditions, and practices.
In the following sections of this essay, we will delve deeper into these aspects, examining migration patterns and trends, the socio-economic implications for both sending and receiving countries, the challenges and opportunities faced by migrants, and the policy frameworks governing migration.
By gaining a comprehensive understanding of migrants and the dynamics of migration, we can foster inclusive and informed approaches that address the needs and potentials of diverse populations in an interconnected world.
Understanding Migration
Definition and Types of Migration
Definition and Types of Migration: Migration refers to the movement of individuals or groups from one place to another, typically involving a change in their residence. It is a complex and diverse phenomenon that can take various forms. Here are some types of migration.
Internal Migration: This type of migration occurs within the boundaries of a country. It involves individuals moving from one region or locality to another, often in search of better job prospects, improved living conditions, or access to education and healthcare. Internal migration can be rural to urban, urban to rural, or within urban areas.
International Migration: International migration involves the movement of people across national borders, either permanently or for an extended period. It includes various categories, such as labor migration, family reunification, forced migration, and asylum seekers.
Labor Migration: Labor migration refers to the movement of individuals seeking employment opportunities in another country. It can be temporary or permanent and encompasses both low-skilled and high-skilled workers. Labor migration is influenced by economic disparities, demand for specific skills, and labor market dynamics.
Forced Migration: Forced migration occurs when individuals are compelled to leave their homes due to factors beyond their control, such as conflicts, wars, persecution, or environmental disasters. It includes refugees, internally displaced persons (IDPs), and asylum seekers.
Seasonal Migration: Seasonal migration involves the temporary movement of individuals for specific seasons or periods of the year, often for agricultural or tourism-related activities. It is prevalent in areas where there are distinct seasonal labor demands.
B. Factors Influencing Migration Decisions: Several factors influence individuals' decisions to migrate, and these factors can be classified into push and pull factors.
Push Factors: Push factors are conditions or circumstances in the origin or sending areas that compel individuals to leave. Common push factors include: a. Economic Factors: Lack of job opportunities, low wages, poverty, and limited economic prospects. b. Political Factors: Political instability, conflict, repression, and human rights violations. c. Environmental Factors: Natural disasters, climate change impacts, droughts, or environmental degradation. d. Social Factors: Lack of access to education, healthcare, social services, or cultural restrictions.
Pull Factors: Pull factors are the conditions or opportunities in the destination or receiving areas that attract migrants. Common pull factors include: a. Economic Factors: Better job prospects, higher wages, economic growth, and opportunities for upward mobility. b. Political Factors: Stability, political freedoms, democratic governance, and respect for human rights. c. Social Factors: Access to education, healthcare, social welfare benefits, and a more inclusive society. d. Cultural Factors: Tolerance, diversity, and the presence of established migrant communities.
Push and Pull Factors in Migration: Migration decisions are often influenced by a combination of push and pull factors. Push factors create the impetus for individuals to leave their home countries, while pull factors attract them to specific destinations. It is essential to consider the interplay between these factors and the individual's circumstances, aspirations, and networks when analyzing migration patterns.
For instance, an individual facing economic hardships (push factor) in their home country may be enticed by the promise of better job opportunities and higher wages (pull factors) in a destination country. Similarly, a person fleeing conflict and persecution (push factors) may seek safety and protection (pull factors) in another nation.
Understanding the push and pull factors in migration is crucial for policymakers, as it helps them design effective policies to address the root causes of migration, provide support for migrants' integration, and foster sustainable development in both sending and receiving areas. Additionally, recognizing the complex interplay of these factors allows for a more nuanced understanding of migration dynamic.
Please follow and like us:
You may also like
Calendar
June 2023
M
T
W
T
F
S
S
1
2
3
4
5
6
7
8
9
10
11
12
13
14
15
16
17
18
19
20
21
22
23
24
25
26
27
28
29
30