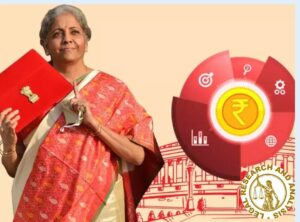 The last full-fledged Union Budget for the year 2023-24 was presented before the Lok Sabha elections of 2024 by the Finance Minister of India, Mrs Nirmala Sitharaman. The Union Budget for FY 2023-24 aims to strengthen India's economic status. In the 75th Year of India's Independence, the World has recognized the Indian Economy as a 'bright star' with its Economic Growth estimated at 7 per cent, which is the highest among all major economies of the world.
The Vision for 'Amrit Kaal' articulated in the Union Budget has centred around:
Opportunities for Citizens with a focus on youth
Growth & Employment
Strong & Stable Macro-Economic Environment
The seven priorities, termed 'Saptarishi', adopted in the Union Budget for FY 2023-24 to guide the country towards 'Amrit Kaal', thus providing a blueprint for an empowered economy, are:
Inclusive Development
Reaching the last mile
Infrastructure & Investment
Unleashing the potential
Green Growth
Youth Power
Financial Sector
The Highlights of Budget 2023-24?
The key theme of Union Budget 2023-24 is the focus on inclusive development- "Sabka Sath, Sabka Vikas" which specifically covers;
Farmers, Women, Youth, Scheduled Castes, Scheduled Tribes, Other Backward Classes (OBCs), Divyangjan (PwDs), and Economically Weaker Sections (EWS),
Overall priority for the underprivileged (vanchiton ko variyata),
There has also been a sustained focus on UTs of J&K and Ladakh and the Northeast Region (NER).
The Budget is along the lines of the two-pronged growth strategy first unveiled in 2019:

Incentivizing the private sector thereby creating jobs and pushing growth.

'Minimum Government, Maximum Governance'; increasing capex and raising more revenues via disinvestment.
The Budget's Vision for Amrit Kaal?
HuAmrit Kaal:
The Finance Minister of India called it the first Budget in Amrit Kaal. The vision for Amrit Kaal is an empowered and inclusive economy that is technology-driven and knowledge-based with a robust economy.
The Budget identifies four transformative opportunities to be leveraged before reaching India@100:
Economic Empowerment of Women through SHGs
PM VIshwakarma KAushal Samman (PM VIKAS)
Tourism Promotion in Mission Mode
Green Growth
National Data Governance Policy to be brought out to unleash innovation and research by start-ups and academia.
Key Takeaways of the Budget:
Changes in the new income tax regime (in rebate limit and tax slabs).
Changes in customs duty; reduced import of certain inputs for mobile phone manufacturing, shrimp feed, etc., and increased on cigarettes, gold articles, compounded rubber, etc.
Capital outlay for the railways increased to the highest ever – Rs 2.40 lakh crore.
Atmanirbhar Clean Plant Program with an outlay of ₹2200 crore to be launched to boost the availability of disease-free, quality planting material for HV crops.
500 new 'waste to wealth' plants under the GOBARdhan (Galvanizing Organic Bio-Agro Resources Dhan) scheme to be established for promoting a circular economy at a total investment of Rs 10,000 crore. 5 per cent compressed biogas mandate to be introduced for all organizations marketing natural and biogas.
Pradhan Mantri Kaushal Vikas Yojana 4.0, to be launched to skill lakhs of youth within the next three years covering dynamic courses for Industry 4.0 like coding, AI, robotics, mechatronics, IOT, 3D printing, drones, and soft skills.
30 Skill India International Centres to be set up across different States to skill the youth for international opportunities.
iGOT Karmayogi, an integrated online training platform, was launched to provide continuous learning opportunities for lakhs of government employees to upskill and facilitate a people-centric approach.
Three centres of excellence for Artificial Intelligence to be set up in top educational institutions to realize the vision of "Make AI in India and Make AI work for India".
One-stop solution for reconciliation and updation of identity and address of individuals to be established using DigiLocker service and Aadhaar as foundational identity.
Please follow and like us: