Whoever does not miss the Soviet Union has no heart. Whoever wants it back has no brain-Vladimir Putin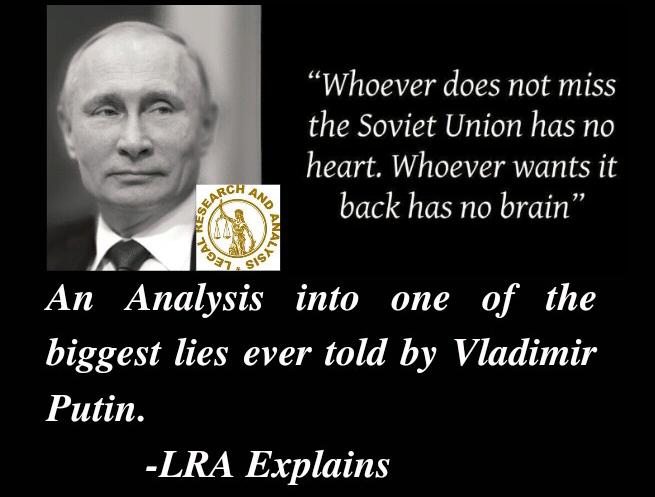 .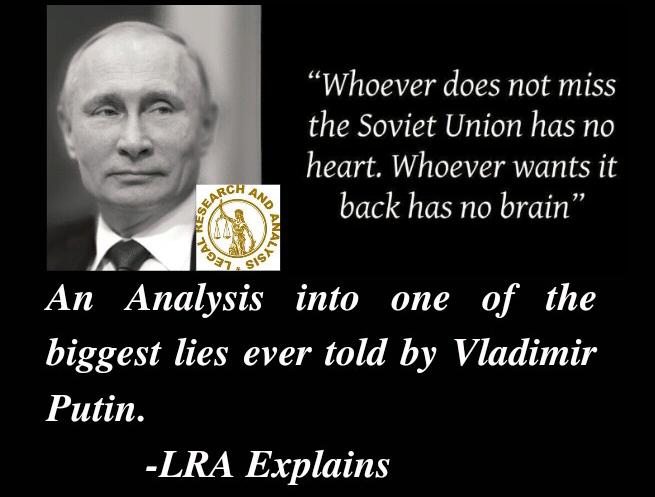 Whoever does not miss the Soviet Union has no heart. Whoever wants it back has no brain-Vladimir Putin
Whoever does not miss the Soviet Union has no heart. Whoever wants it back has no brain.
Vladimir Putin.
No wonder Putin has forgotten these words famously quoted by the former KGB Boss, and current President of the Russian Federation. Himself. The above-mentioned quote and the unfolding of current situations at eastern European fronts are two different things. One of the main remains is that it reflected Putin's stance on the desire for the reunification of former Soviet territories. To which the entire world would rely and Putin would Play smart and evade any suspicions. Things started immediately after Putin formally noded Chechen sovereignty back in 1999, but secretly plundered Chechenia in one of the worst atrocities ever committed by the very newly incorporated Russian Federation. Chechenia however was stabilized after Grozny and Kremlin agreed to a final peace treaty. In the disguise of becoming a Neutral and democratic leader, only to end up becoming a sole dictator, a dictator with ambitions makes them a really dangerous threat to peace and security of the planet earth. The second thing this quote suggests is that it was Indeed rightly said, those whoever doesn't miss the demise of the former soviet union have no heart, here Putin's intentions could be interpreted as, He does have a heart which certainly misses the demise of the former. But in the very next line, he would Scandalously, perhaps with malicious intents says Those who care to reunite it(Soviet Union), has no brain, now either Putin was lying about this or now he completely has descended into some sort of paranoia and has lost all his sense cuz surely, having any such desires of reunification will only end with a further bloodbath in Europe. Now Europe can't keep becoming a victim of Some mad dictators who would fulfill their wildest fantasies, keep hammering and pounding European fronts, Europe already had enough in two great wars. Now either Putin has forgotten this very factor or has some real evil intentions which whatever may result in, surely would cost many human lives, not just that, the entire ecosystem impacted by war efforts. The time is really very crucial to think, the global community certainly can't afford to let Europe become the main battleground for yet another global conflict world leaders must stop it before it turns out of control, history can't repeat fire the worst, global politics can't keep facing consequences of some ruthless policies, sent to motion a man with almost no known human conscience, Putin's mind seems to be all filled with that one last desire to see Mother Russia at the top, the superpower, The Greater Russia carved by Catherine the Great. Why does this world in a period of such a greater consciousness than our ancestors has to bear such ever-lasting lasting sufferings and destruction by someone with fewer abilities, there are certainly more people admiring peace than those who want a world in conflict. Similar thoughts were of the Third Reich, led by the most notorious war criminal. Adolf Hitler. He would consider him and his race as superior to any other race and his Germany's the only potential to dictate the entire globe, which ultimately caused more than sixty million dead, injured missing, escaped, flee, displaced. Out of which 29 million casualties were on the Russian side alone, it was total hell, Stalingrad saw more than 200,000 dead, on both sides in just matter of two to three hours, waves upon waves would be sent only to be cut through the powerful German MG42 machines, "even the stray bullets were hitting the target one Soldier Remembers" The war has no ends, none has seen its end, only dead have seen its end. There is countless horror which not even got reported, It shouldn't be repeated, humanity must collectively take it as a paramount priority and must stop with all grounds possible. It must be At any cost but not by means of further war, World leaders must very carefully coordinate and help facilitate and possible truce to stop further damage to lives and property.
If this is how Putin plans to head, in the very traditional way, in the way Hitler would do, the global community must act swiftly in order to stop Europe from becoming the battleground for the third world war. Like Putin has moved since their invasion of Crimean peninsula and has almost occupied Kiev, in the name of Russian linguistic and ethnic similarities, one thing is sure if this is how Ukraine would end up being ultimately annexed into Russian Federation, People in Ukraine might have contrary thoughts, because they now are actively functioning as a democratic country which gives them the right which would now siege to exists, this violates several conversations and international laws, The United Nations can only keep calling for immediate siege fire, but none of the belligerent party would care, In the meanwhile when we are observing this, by being an independent writer and activist also a global citizen, If i can observe that Putina is again heading disastrously in the same direction other European dictators would end up heading, But those were days with less technological assistance almost with no gadget world was far less globalised, people were prone to believe in rumours and hoax, propaganda spread by belligerent parties to creat panic and exploit any chances. That was Indeed 20th century, with fewer technologies, but this time, everyone can assess any lies ever told by these filthy corrupt politicians like we were able to trace back this quote told by Vladimir Putin.
Since now we are more than ever connected, things can be verified independently more precisely if again we fall prey to these ruthless dictators' devastating policies which only results in enormous human casualties resulting in Human Crisis of a different kind, let's just act very precisely together we'll #sanctionrussia use this to show our protest, World must prevent any scourge of war, Lets together we act in defiance of Vladimir Putin's madness.
Please follow and like us: