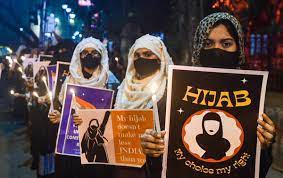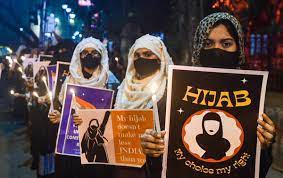 "Hijab" is a term used for the cloth which is used to cover the head, neck and chest. The practice of wearing hijab is not unique to Islam but has been a part of various cultures and religions over history, but it is in the Islam community that the Hijab is considered a form of religious identity. The issue of the Hijab has a long history and has evolved over generations. However, in the 20th century, it can directly be related to the rise of Islamic fundamentalism and political movements. The Iranian Revolution of 1979, in which the Islamic Republic of Iran was established, marked a turning point in the discussion of hijab and its role in public life, following which, the hijab became a highly politicized issue, with some Muslim countries requiring women to wear the hijab in public spaces, while others, such as Turkey and Tunisia, banned it in certain public spaces. In some Western countries, there have been debates about whether women should be allowed to wear the hijab in public institutions such as schools and government offices. In recent years, the hijab issue has continued to be a topic of debate and controversy, with some
Muslim women choose to wear the hijab as a symbol of their faith and identity, while others reject it as a symbol of patriarchal oppression. The issue has also been complicated by the rise of Islamophobia and anti-Muslim sentiment in many parts of the world.
With reference to the Indian context, in recent years, there have been several instances of discrimination against Muslim women who wear hijabs in public spaces. For example, some employers have banned the hijab in the workplace, and there have been instances of schools and universities not allowing Muslim girls to wear the hijab on campus, especially in the north-eastern parts of Karnataka state there was a row among the Hindu and Muslim community where the Hindus in response to the Hijab started to wear a saffron dupatta/wale along with their uniforms. To this, the proponents of the hijab argued that it is a personal choice and an expression of religious freedom and that women who choose to wear the hijab should be allowed to do so without discrimination. However, opponents argue that the hijab is a symbol of patriarchy and oppression against women and that women should have the freedom to dress as they choose without being forced to conform to religious or cultural practices. Further, the state government also added that HIjab would symbolize the religious backgrounds of the students and would not constitute part of the uniform.
Therefore a general consensus that would arise from this issue is that to maintain the secular structure of the state it should be left to the practitioner whether to wear the Hijab or not. This would uphold the integrity of the nation as well as protect the personal rights of the person.
Please follow and like us: