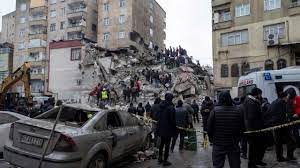 Article
Countries pledge to assist Turkey and Syria during the crisis
On February 8, 2023 by Sriya Pradhan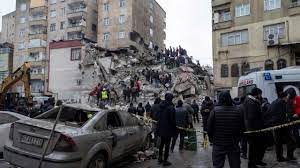 Countries pledge to assist Turkey and Syria during the crisis
With a magnitude of 7.8 quakes, the most powerful earthquake strikes Syria and Turkey, causing disaster and crises in the countries affected. Almost 8,300 people were killed by the aftershocks. The medical reports state that 6,234 people died in Turkey and 2,470 in Syria, bringing the total to 8,704 deaths in total.
The earthquake in Turkey and Syria has turned into a humanitarian disaster that has led to the massive killing of people. The Turkish government called for a state of emergency and level 4 alarms for international help and assistance.
Some people have been ripped from the buildings, and rescuers are digging through rubble to find survivors. Rescuers face difficult situations with crises during these harsh winters. According to preliminary information from local authorities, the quakes destroyed 224 buildings in Syria and partially destroyed at least 325 others in 17 different sub-districts.
The United Nations has sent its humanitarian crisis team, especially UNDAC, which has deployed its team to Turkey and Syria. The UN has deployed its 1,400 personnel and 45 search dogs to Turkey, and more assistance will be available by Wednesday. The WHO has set up health camps in various districts and sub-districts for health care aid. It is providing voluntary health care to injured people and survivors.
The United States had sent humanitarian assistance to Turkey and Syria on the day the earthquake hit those countries.
South Korea gave a helping hand to Turkey as it remembered the 1950–53 Korean War troops sent by Turkey. The country sent a 60-person rescue team and medical supplies to Turkey via military aircraft on Tuesday. India has sent a helping hand to Turkey and Syria with four C-17 Globemaster heavy lift aircraft carrying over 100 personnel from the National Disaster Response Force and a 99-member team from the Army's Agra-based army field hospital to Turkey and Syria.
Search dogs are also sent with the aircraft to search for unrecovered bodies and survivors. Drilling machines and drilling equipment are sent with the aircraft for the rescue team.
The European Union is sending 27 rescue and medical teams from 19 member states, comprising more than 1,150 rescuers and 70 rescue dogs, to assist Turkey.
A 78-member rescue team made up of rescue specialists, firefighters, paramedics, doctors, canine search teams, and structural engineers were sent by the Los Angeles County Fire Department. Germany's international search team is helping the rescuers in Turkey find the survivors that were buried under rubble.
German Foreign Minister Annalena Baerbock called on Russia to help pressure Syria into allowing humanitarian aid into the country amid its civil war. Hundreds of deaths and injuries have been reported in both government and rebel-held areas of Syria as a result of the earthquake. Aid from many countries was unable to reach Syria due to the ongoing civil war. The borders must be opened for humanitarian aid.
International borders are important for assistance to be reached for Syrian survivors and injured people, so the guns should be silent. Syria should focus on humanitarian aid. Northwest Syria, which has been facing humanitarian crises for a very long time, has doubled in size due to the earthquake that occurred. However, in the wake of the devastating earthquake, many neighbouring countries are now vowing to help.
Russia will be sending direct humanitarian aid to Syria and will be providing assistance in the aftermath of its natural disaster.
Iraq pledged to send two planes of emergency relief aid to Syria, as well as civil defence teams and 150 paramedics to Turkey, as a government spokesman expressed Iraq's support for "our brothers, the Syrian people."
The UAE is establishing field hospitals in these areas to provide humanitarian aid to survivors. With over 1000 children killed and thousands more injured in this natural disaster, these field camps and hospitals are providing vital assistance to survivors.
A child was born in the rubble without a home, and the number of deaths is increasing day by day. The rescuers and local residents are desperately searching for the survivors. The local residents are searching for their family lost and buried. People in living different countries can help the country by donating funds to IHH Humanitarian Relief Foundation a Turkish NGO.
Please follow and like us:
You may also like