The United Nations Representation from Kailasa by Vijayapriya Nithyananda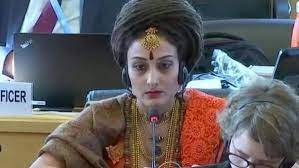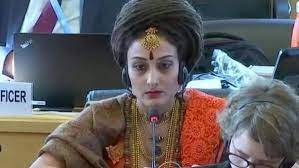 A woman named Vijayapriya Nithyananda represented Kailasa as a permanent ambassador to the United Nation. At a meeting of the Committee on Economic, Social and Cultural Rights (CESCR) in Geneva on 22 February.
Who is Nithyananda;
Nithyananda is considered a spiritual Godman and the founder of Kailasa. It is also said that an FIR was filed against him for the accusation of rape and kidnapping and fled from India in the year 2019.
He bought the micro-nation Kailasa which he self-proclaimed as a nation and it's said that it has a Reserve Bank and e-citizenship is given to people who are interested. The micro-nation was formed for persecuted Hindus. Who has faced human rights violations due to caste, creed and sex?
Kailasa is named after Mt Kailash and the movement in this self-proclaimed country was formed by the Hindu Adi Shaivite minority community from Canada, the United States, and other countries. It has a website which claims that it's a safe haven for all the people who are practising, aspiring or persecuted Hindus. It is considered to be a Hindu nation where people can practise religion, and culture without any fear.
REPRESENTATION IN UNITED NATION
The representative of Kailasa in the United Nation stated that people following Hinduism are being part of persecution and human rights violations. They have been exposed to violations of human rights for reviving the traditions and lifestyle of Hinduism. Its speech was to defend the Godman by requesting the UN to stop the persecution of Nithyananda and the population which is almost 2 million in Kailasa.
Kailasa is located off the coast of Ecuador and it has its own flag, passport and Reserve Bank. It is a fictional country and the ambassador of Kailasa represented herself during the CESCR meeting.
Please follow and like us: