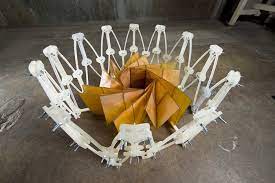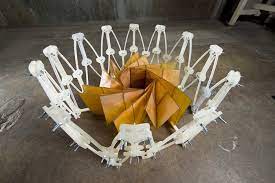 It is also known as paper folding, which is the art of folding paper into two- and three-dimensional things. Although some European historians believe it lays undue weight on the Japanese roots of a style of art that may have arisen independently around the world, the word origami is made from two words "oru" and "kami" where they mean "to fold" and "paper" respectively, which has become the generic description of this craft. It has various styles such as realistic, minimal, modular, composite, practical, pure land, tessellations, wet folding, and crumpled.
Little sheets of cells are one of the various materials that can be folded in origami. The self-folding structure developed by Kaori Kuribayashi-Shigetomi at Hokkaido University is coated in this strange substance. She claims that as the cells are examined, they constrict, turning flat objects into cellular "Lego blocks" that could one day help with the development of organs.
Particular promise exists for biomedicine with origami. For instance, a group at the Massachusetts Institute of Technology led by Daniela Rus, director of the Computer Science and Artificial Intelligence Laboratory, created a robot that can fold up to fit inside a pill capsule. After being swallowed, the capsule's adjustable magnetic fields allow the bot to unfurl and move about the digestive system. One potential application was shown in an initial test: extracting button batteries that have been eaten from the stomach, a potentially fatal illness that affects thousands of kids every year. Rus suggests, "Consider embedding medicine or using it to patch a wound." Imagine a day in the future when there are no incisions, no discomfort, and no infections to worry about.
The first origami solar array was used in a 1995 launch of a Japanese spacecraft. The Miura fold is a type of rigid origami where a material only bends along predetermined fold lines, resulting in a tessellation of parallelograms on the surface. By creating Starshade, a shield for use on space telescopes, researchers at NASA's Jet Propulsion Laboratory are similarly using origami to assist capture images of planets outside of our solar system. Space telescopes may be unable to image the faint light reflected off exoplanets due to starlight. This novel invention might protect a telescope's camera from the light of a faraway star like how we screen our eyes from the Sun's glare by holding our palms out in front of our faces at arm's length. The Hybrid Observatory for Earth-like Exoplanets is the name of the idea. The exact construction of Starshade allows it to fly tens of thousands of kilometres in front of a space telescope, blocking light from a star so that the telescope can photograph the planets orbiting the star. Starshade is currently in development, and specifics are far from being finalized but you can create your paper origami model of Starshade's inner disc optical shield by following the instructions on the Jet Propulsion Laboratory website.
At Meiji University's Department of Mechanical Engineering, Dr Sachiko Ishida, an associate professor, conducts research in the area of origami engineering. She examines how the features of origami can be used to improve everything from vehicle tires to seismic isolation systems. Many different honeycomb and honeycomb-like structures have been created, and Ishida and her team study these formations in their lab using cylindrical shapes.
They made a tire out of paper that could hold the weight of an entire car using a honeycomb structure. The experiment with the paper tire wasn't meant to produce a paper tire for use in commerce because they wouldn't hold up well in rain, but rather to demonstrate the following idea: If they are created properly, light, sturdy structures that can hold large things can even be made from flexible materials like paper.
To build a structure based on a flat-foldable paper origami spring design, Ishida and her colleagues integrated cut metal with readily accessible coil springs and mechanical joints. This research on anti-vibration mechanisms may help avoid earthquake damage. This experiment, in Ishida's opinion, shows that origami has uses beyond only folding things and altering their shapes. The finding is important because it gives origami the ability to act as an anti-vibration device, opening up new possibilities.
Please follow and like us: