Balloon flight to space view tours; Japan Technology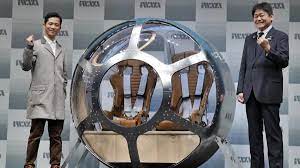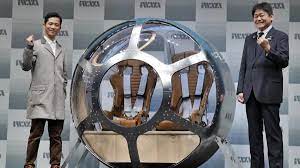 Japan startup is offering a chance to fly high into the stratosphere in a two-seater cabin attached to a helium balloon. The company wants to send people near the Karman line using a helium-filled balloon and to do so affordably, but the chosen passenger cabin leaves much to be coveted.
The company, Iwaya Giken, based in Sapporo in northern Japan, has been working on a project for a decade and it has developed an airtight two-seater cabin and a balloon capable of rising to an altitude of 25 kilometres (15 miles) in space, where the curve of the Earth can be contemplated. While passengers won't be in outer space, the balloon only goes up to the middle of the stratosphere higher than a jet plane flies, and have an unobstructed view of outer space.
While Japanese space ventures have fallen behind U.S. companies like SpaceX, Iwaya said he aims to make space more reachable.
The company works with major Japanese travel agency JTB Corp., which announced plans to collaborate on the project when the company is ready for a commercial trip. Initially, a flight would cost about 24 million yen ($180,000), but Iwaya said he aims to eventually bring it down to several million yen (tens of thousands of dollars).
Company CEO Keisuke Iwaya said passengers do not need to be billionaires, go through meticulous training or have the professional skills needed to fly in a rocket. He said, "It's safe, economical, and gentle for people". "The idea is to make space tourism for everyone", he added. He said to the reporters that he wants to "democratize space".
The two-seater balloon can carry a pilot and a passenger, it would take off from a balloon port in Hokkaido, ascent for two hours to as high as 25 kilometres (15 miles), and stay there for an hour then a one-hour descent. The barrel-shaped plastic cabin is 1.5 meters (4.9 feet) in diameter and has several large glass windows to allow a view of space above or the Earth below, the company said.
The Japanese startup isn't the first to come up with this kind of balloon-ride concept, but like its competitors' offerings, this project remains a work in progress and out of reach for common people. Moreover, it's also significantly less comfortable than the alternatives.
The Arizona-based company, World View Enterprises is working on its stratospheric balloon ride, with an expected cost of $50,000 per passenger. Instead of the claustrophobic two-seater, World View's capsule is far more commodious and the journey will last from six to 12 hours, according to the company. On the higher end of balloon rides, Space Perspective has been developing a luxury balloon-held capsule to transport passengers to the stratosphere at a hefty price of $125,000 per person. The concept design is luxuriant, spacious, and superabundant, serving passengers cocktails as they marvel at the edge of space while lounging in their comfortable seats.
Compared to these balloon rides, the offering being developed by Iwaya Giken looks a bit clumsy. That said, the company could visualize a steady stream of customers if it manages to get the price down to its target price of a few thousand dollars. But the idea of being strapped into a tiny, pinball-looking capsule and getting lifted to such great heights does not agree with claustrophobia—even if it is to view our planet from a life-altering perspective.
The company officials said, applications for a space viewing ride opened on Tuesday, and will continue through the end of August. The first five passengers selected will be announced in October and flights will be approximately a week apart, depending on the weather conditions.
Please follow and like us: